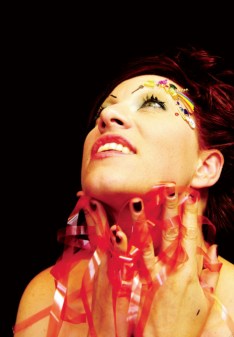 On July 20th, Amanda Fucking Palmer released a cover EP of popular Radiohead hits aptly titled Amanda Palmer Performs The Popular Hits of Radiohead on Her Magical Ukulele. Have you heard it? Go stream it. Got a spare 84 cents or more? Download it!
I'm telling you about this record a few weeks late because I left BOTH pairs of my best headphones on Riese's couch – which is located on the other side of the world – and without them I don't really know how to function, music doesn't sound good anymore. But I'm going to suck it up now and do my job and tell you about this fun record that Amanda Palmer has created.
When I first heard about it I reacted with equal amounts of excitement & fear. Excitement because I really, really dig Amanda Palmer and love when she whips out the uke. And fear because I also really, really dig Radiohead, their music is so perfect and has so much sentimental value that I'm a little sensitive about people toying with it, you know? Covers in general make me nervous, it's possible I've just heard too many great songs butchered in American Idol auditions. Jeff Buckley, Van Morrison and The Beatles also fall into this category, although John Lennon is fair game.
But then I looked back to the last time I felt this same fear/excitement, it was at an Amanda Palmer concert at the Sydney Opera House earlier this year. The night was going really, really well, AFP was up on stage giving it everything she had and I was riding a music high that I hadn't felt in quite a while. But then she announced she was going to play one of my favorite songs ever, Nine Inch Nails' "Hurt" and I got nervous, I knew subconsciously I'd compare it to the original and Johnny Cash's cover and honestly didn't know how it'd fare, it had the potential to go so wrong. But then sat down at that grand piano and she fucking slayed that song, she made it hers and it was one of the most beautiful, haunting things I'd ever heard and I was sorry that I ever doubted her, even if it was only for a second.
So did she do the same for Radiohead? Well, for starters she's playing a ukulele and not the Sydney Opera House's Steinway, so apples and oranges, people. But I truly do enjoy what she's done here, the record's fun and clever and there's a cute story behind it. It opens with "Fake Plastic Trees", a song I've been in love with since buying the Clueless movie soundtrack – one of the first albums I ever owned that wasn't released by Green Day. It was a musical turning point, which makes it difficult to listen to AFP's rendition without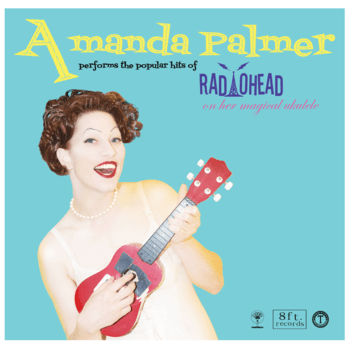 getting a little sentimental.
If you go and download the EP, here's what else you'll find:
1. Fake Plastic Trees
2. High And Dry
3. No Surprises
4. Idioteque
5. Creep (Hungover at soundcheck in Berlin)
6. Exit Music (For a film)
7. Creep (Live in Prague)
I loved loved loved every track on this album, with the exception of the covers of "Creep". I realise it's an AFP crowd favourite but the notes just go so high, you guys, so high, it's not for me. But it might be for you! Did I mention you can get a digital version of this EP for as little as 84 cents? Or as reader Ista points out, if you pay a little more than that then you'll be helping to put a little money in Amanda's pocket. A limited edition vinyl and an amazing tshirt is also for available via the website.