The first thing I noticed when I walked into Lollapalooza Friday afternoon was the distinct smell I have dubbed "festival stench." It's a combination of mud, sweat, tobacco, marijuana, and vomit. Gross, I know, but it brought back a flood of Bonnaroo memories, which was kind of comforting.
I later found out that while I was searching for the press check-in booth and getting my bearings at the festival, I missed a RIDICULOUS Semi Precious Weapons show. Intern Elizabeth saw it, the lucky bitch. LOOK, THIS HAPPENED, AND I WASN'T THERE: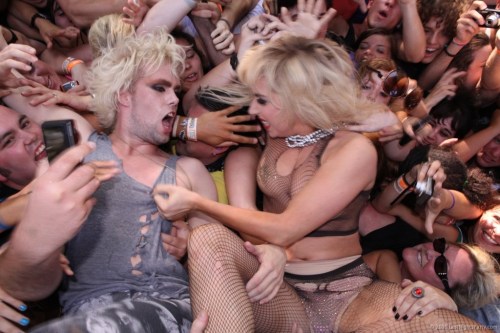 IF I HAD GONE, I COULD'VE TOUCHED LADY GAGA'S SKIN MAYBE OMG SO MANY REGRETS.
Instead of experiencing what could've been the highlight of my entire life forever, I went to The Black Keys. They were good, I'm sure. It was hard to tell because of all the rowdy hipsters screaming around us. My friend Emily and I left in the middle to look for refreshments, and after a quick Stella in the beer garden, we booked it to the main stage to try get a good position for Gaga.
The main field looked like this an hour before the show, so I'm glad we showed up when we did!
Getting close to the stage obvs required a few elbows and I'm always down for that. I was expecting her to abandon the Monster Ball concept/set for this show, but actually it was mostly unchanged. Some sections were shortened, nothing major, except for there was no fire piano! Wtf, that's the best part. At least she still donned her spark-spouting bra & panty set and brought out the car-piano. Unfortunately, this was the best photo I got all night (all ensuing photos are via our wireimage membership) At least you can see her monster pose: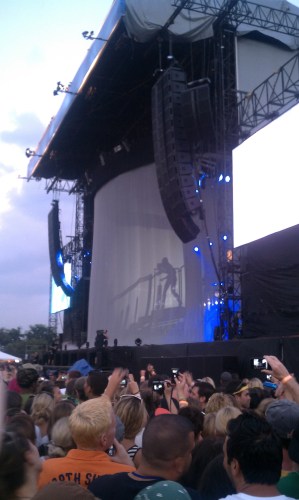 To put it lightly, Lady Gaga EFFING ROCKED. I saw her in St. Louis in July, and the concert was pretty good, but it doesn't compare to Lolla. This show meant a lot to Gaga. The last time she was at Lolla was in 2007, and everyone just stood there and looked at her like she was completely nuts. Which is true, she is, but now we love her for it.
Three short years later, she's the headliner, playing the main stage to 80,000 people.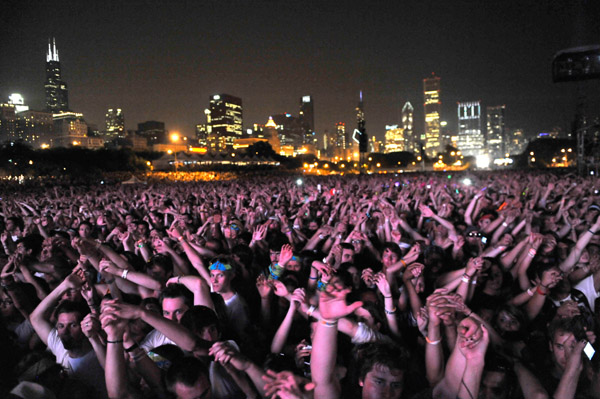 She wore the same mirror disco bra as she did in 2007 (see above photo) to commemorate her ridiculously steep rise to fame. She also brought out her friend DJ Lady Starlight, who was at the '07 show and also DJ'ed Autostraddle's 2009 Rodeo Disco!
To celebrate old times, the two did a "heavy metal dance break" to Metallica, which obvs included some hairspray and lighters:
It was pretty inspiring to share what felt like a huge triumph for Gaga. She dedicated "Speechless" to her dad, who was in the soundbooth, and at one point exclaimed "We did it Dad, I'm a f*cking star!" She's right. No one does quite like her.
Today, I'll be seeing Stars, Metric, Cut Copy, Spoon, and Phoenix. Maybe also Warpaint, if I can fit them in!