Saturday Night, 8pm: RODEO DISCO PRIDE PARTY
We had just enough time to rush home and change and get to Mason-Dixon for the party! Lickity-split, let's do it! First the whole Team arrived and fought with each other, just like Gimme Sugar! From there on out, I'm not entirely sure what happened. I believe there was tequila involved, hugging, dancing, and love. Well it's all on our blogs/hearts, yeah?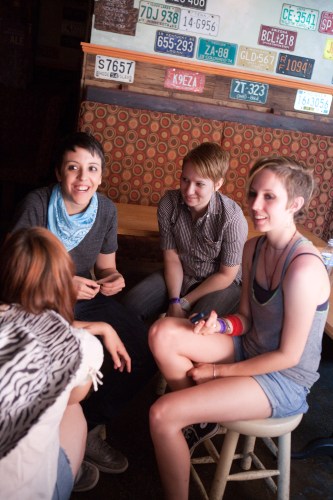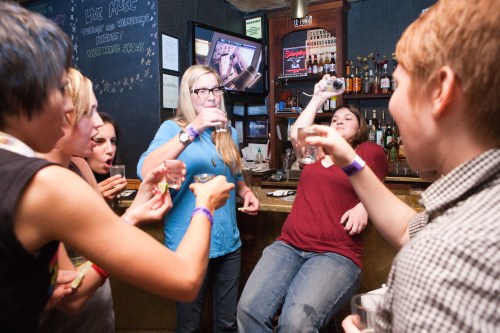 Q: Do you feel differently than you did before this weekend?
Intern Heidi: "Yes I do! And I feel so good about it. Friday morning I (and my whole family) questioned myself before I got on the plane: " Heidi your flying five hours away to go meet numerous people you've never actually met from the internet?" But I can tell you that I am so happy I did. I feel so great about my outlook on life right now, I want to tell everyone about the magical weekend that happened and about autostraddle.com. Getting to experience this weekend in person has made me totally more secure and stable in my thoughts and who I really am and who I want to be. I really do miss everyone and the great times we had… when's the next party?"



Intern Jess: What… a whirlwind. Mechanical bull riding competition. Vodka shots…Shooting games. "I Want You Back" by the Jackson 5. Cute cowgirls. Lady Starlight.L Word episodes in the background (no Max, obvs). DJ Carlytron. Bandanas. Denim skirts. Disco jackets. Mason Dixon. Dancing to MJ.  Boys and girls getting thrown off a mechanical bull.  Tequila.  Cowboy boots.  Raising funds for the future of Autostraddle. OMG, hold up… did I win a raffle prize?!

Intern Katrina: What I've learned lately is that no night out for me is truly complete if I don't get in some sort of trouble. Usually it's like "Hey, we're in a rush, stop smoking cigarettes with that homeless guy!" or "No flasks on the Metro!" or "Only four people in a cab!" The special first annual Autostraddle Rodeo Disco version of this, it was, "Quick, hide, the cowboy bartender is coming for you again!"

Listen, it's hard being an under-21 intern in a 21+ world. And should I probably have left the first time I was politely asked to please exit the bar? Yes. But do I also kind of do that drunk thing where I keep repeating the same actions/phrases over and over again like no one's going to notice? Yes. So apologies to everyone who had to deal with my less-than-stealthy ass running into the bar every time no one was looking.

But I have to admit, it did feel kind of epic being escorted outside time after time on the arm of a frustrated cowboy.

I had a good run though, and it was totally worth it. After finally being kicked out for the last time, I got to spend the remainder of my evening chatting up partygoers and getting some lovely one-on-one time with various members of Team Autostraddle. And by that I mean embarrassingly gushing about how much I love everyone.

So Mr. Cowboy Bartender, if you're reading this, thanks for the giving me the opportunity to become better acquainted with such lovely ladies. Sorry for the trouble. Drinks on me next time, okay?

Q: How was this weekend different from your everyday life?

Intern Tirna: My daily life is pretty routine: wake up, go to work, come home, read the daily fix, go to bed. Repeat. Repeat the next day. It sounds dull & depressing … 'cause it is. This weekend was the complete opposite experience. It was my first Pride … ever. And it gave me a totally different perspective on life.
You can imagine — first of all, I've never been to a Dyke March and therefore I've never seen a topless woman strolling down the middle of the street adorned in only a hot pink, fishnet one piece.
I attended my first EVER Pride Parade and I smiled just being surrounded by so much color & love & happiness. It's not ever day that I get to walk in a parade while thousands of people look on … and cheer! Enthusiastically!
Obvs Sunday night was the first Rodeo Disco I've EVER attended. I mean first of all I never go out on a Sunday night, and it's absolutely not every day that I witness a mechanical bullriding competition.
It just felt great to be surrounded by people who share similar interests with me. I felt so comfortable … like I could really be myself. It's not every day that I meet a bunch of young successful lesbians who are awesome and inspiring to be around. I wish my every day life was more like this past weekend.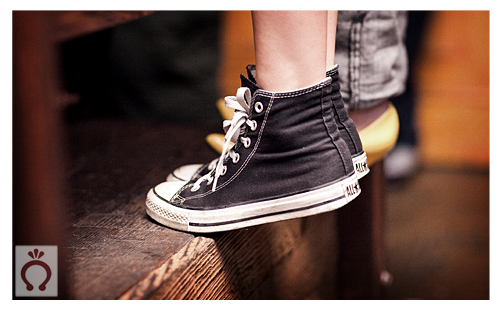 Pages: 1 2 3See entire article on one page