Toni Collette has that quirky/eccentric thing on lockdown. This Emmy-Award winning actress is at her best when she's playing a total weirdo, which she's done many times over the course of her 20-year acting career.
From indie darlings (Clockwatchers, Muriel's Wedding) to critical & box office hits (Little Miss Sunshine, The Hours) to big-studio blockbusters (The Sixth Sense, In Her Shoes), Collette has lent her talent to some of Hollywood's most complicated female characters. And on her first television series, United States of Tara, she gets to play three complicated women and one pretty simple dude. The world is in agreement: she's really fucking good at this.
United States of Tara, which premieres its second season tonight on Showtime, stars Toni Collette in her Emmy winning role as Tara Gregson, a suburban wife and mother with DID (dissociative identity disorder, formerly known as multiple personality disorder). The show's central theme is, therefore, identity — sexual, gender, and personal. Characters on UofT are accepted for who they are rather than defined by their differences.
Last season established Tara's son Marshall as an openly gay teenager but in season 2, premiering March 22, he begins to question his sexuality. What's interesting about the show is how Marshall's sexuality a complete non-issue for Tara or her husband (played by Sex and the City's John Corbett). Other series have built entire story lines surrounding parental struggles with their child being gay, while this show completely bypasses that area and moves forward, breaking new ground. Showtime has obvs never shied away from gay themes with Queer as Folk and The L Word well under their belt.
In Season 2, United States of Tara kicks the gay cred up a notch: a gay couple moves into the neighborhood but more importantly, Tara's male alter "Buck" gets involved with Pammy, played by Joey Lauren Adams (known for playing gay in Chasing Amy).
I met up [yes! live & in person! I know! It was awesome!] with the woman of a thousand accents and characters to talk about "Buck" and Pammy straddling the line of gender roles and norms, her preparation for playing multiple characters within the same TV series, what major role she turned down, and more.
Jess: There's obviously MUCH more gay content this year, with Tara's relationship with Joey Lauren Adams, your son exploring his sexuality and the new gay couple as neighbors. Did this come as a request from Showtime to gay it up or from writers?
Toni Collette: Yea, I think they knew that The L Word was finishing and they needed to pump it up somewhere else! [laughing] Umm, I'm not sure, I think it was just an innate part of the writer's evolving interest in the show. Certainly with the character of Marshall [Tara's son], I think it's really natural for a teenage gay person to question things, or a teenage person no matter what their sexual orientation is to question things because it's all new and your hormones are going crazy and that's life. I guess there's a relationship between Buck and Joey Lauren Adams' character, Pammy. Someone said "well, what about the lesbian relationship" – I don't see it as being a lesbian relationship because Buck is very much a man and he's fallen in love with a woman. So, to him, that's a heterosexual relationship. But, I really don't know if there was some major intention to be inclusive of gay themes but it's definitely part of the show.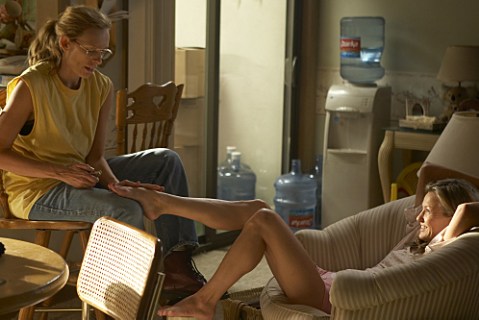 Jess: Joey Lauren Adams' character doesn't identify as gay. She is a "straight" woman but she knows that Buck is biologically female, so their relationship does challenge the typical notions of gender roles and gender identity.
Toni Collette: Yes!  I think it challenges a lot of things! I guess that's why it's exciting to watch because it does become very sort of confusing and it crosses so many different lines. I mean, imagine waking up as Tara and suddenly you realize you've been involved in something that you didn't actually want to participate in or have any idea that it was coming – it's completely shocking. From Pammy's [Joey Lauren Adams'] perspective, I think she's overwhelmed but going with the flow. She's never been in a situation like this before, but she's open to it because she feels like they have a connection and ultimately that's what it's about.
.
Jess: Tara's husband [John Corbett aka Aiden/Sex and the City] is aware of Buck's involvement with women [last season he referenced getting crabs from a woman Buck was with]. Is it realistic that he accepts and forgives Tara for Buck's behavior?
Toni Collette: Tara's husband goes through HELL, he's so strong and so supportive and such a rock for his wife and has oodles of patience and it's starting to wear thin and there's only so much he can take, so his responses are starting to fray a little. And, despite his best intentions, I think he's probably gonna make a few mistakes himself.
Jess: It's also interesting that the town doesn't have a homophobic reaction to Buck who is clearly a woman dressing as a man, hitting on other women in bars.
Toni Collette: I think one of the most brilliant things [creator and writer] Diablo Cody could have done is make it about acceptance and not sensationalize everything. I think that's been a really clever and smart decision. In the first season Tara's sister didn't want to go there and held it at a distance, which I think may represent some of the new audience who watch the show, but eventually she's kind of won over – not that she's on Tara's side, she's still resisting it, but she at least believes and accepts what Tara is going through. And there are those in the community who don't now [Buck's] family and would be shocked and confused.
Jess: It's amazing to see how the parents are so accepting of Marshall, Tara's son struggling with his sexuality.
Toni Collette: I think it's great that it is not sensationalized either. We love him for whoever he is, that's it, bottom line.
.
Jess: Is it more difficult to prepare for this role than others because you are really preparing for multiple characters?
Toni Collette: It was just a little more preparation, but I have the luxury of working with fantastic material and no matter how many characters I'm playing – if it's really well written it comes off the page and I have an immediate understanding and response of at least where to start with the character.
Jess: Is it hard to get into character if you're doing 2 or 3 different personalities within an episode?
Toni Collette: I played 5 in a day! It's easy now. Once they're in, they're in. It was just a matter of understanding them as whole individuals and making them as real and relative as possible so the audience can relate to them and respond and invest in them as whole people. And, I think in season 2, when the alters don't have their "costumes" and you see Tara in them at the same time, I think that gives it SO MUCH and enhances the context and makes it more realistic and a little sadder and maybe even a little funnier.
Jess: Have you ever turned down a role that you later regretted or went on to become a huge hit?
Toni Collette: I turned down Bridget Jones's Diary because I was busy working on Broadway, but ultimately I really don't regret anything because we each have our path and I had great things come into my life when I would have been shooting that film. I think things happen for a reason.
Jess: Have you ever been pressured to look a certain way in Hollywood?
Toni Collette: Never. My career has never been about the way I look and I revel in that now cause…
Jess: –You're a real actress!
Toni Collette: [laughs] Well, I just think if that's your aim, then you're gonna be pigeonholed and have a short-lived career. I love what I do and telling stories in this way and my role within that, and I want to do it for a long time….it makes me feel alive and it really feels like it's been a true calling for me, which sounds wanky and odd, but in all seriousness I started doing this when I was a teenager and I can't believe it's still going. I think about what life would be like if I didn't do this and I don't know what I'd be doing.