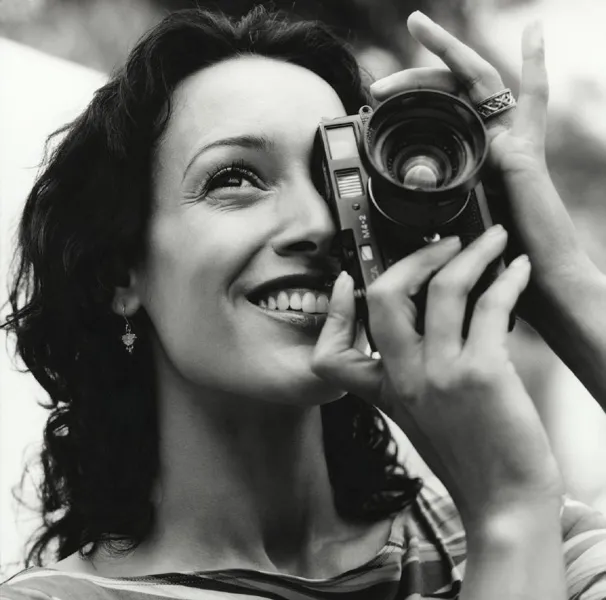 As you already know, Jennifer Beals is a supreme being. She's beautiful, talented and her body is a temple of organic vegetables, yoga and marathon endorphins. When not running impossibly long distances in tight spandex, being a Mom or acting (most recently in the film Book of Eli, and on the TV in Lie to Me and The L Word), Beals has been honing her photography skills. An avid photographer since high school, J-Beals has developed a tradition when she's working on a film or TV project especially close to her heart — she takes her camera on set and ultimately uses the pictures to make a gift book for the cast & crew at the project's end.
Because of the intense fanbase spawned by Showtime's The L Word, Beals decided she'd make her L Word photo journal available to fans, too. The book provides a deeper look into the daily life of the show with 400 never-before-seen photos, commentary from her castmates, script bits, call-sheets and production memos.
All of the proceeds from the book sale will be donated to three charities: the Matthew Shepard Foundation, Mia Kirshner's organization I Live Here Projects, and The Pablove Foundation.
The hard cover book is available for order at lwordbook.com.
After my six years of obsessing and deconstructing The L Word, I had a TON of questions for Jennifer [that's Dean Porter to you].  We spoke about her disappointment in Obama, the Johnny Weir controversy, the possibility of an L Word movie, the TiBette phenomenon, closeted Hollywood actors, and just what makes her so goddamn perfect.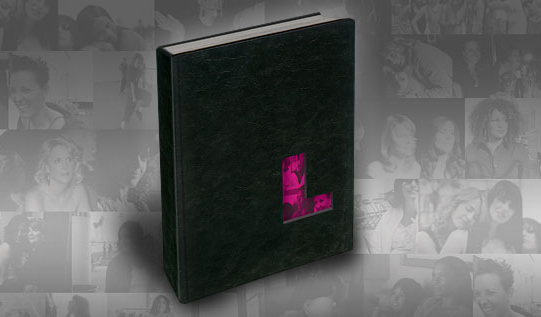 On the L Word Book…
.
Jess: What was the cast reaction when they found out you were putting together the L Word photography book?
J. Beals: Oh, they were excited!  I went to all of them and I showed everybody their pictures and let them edit their pictures and their text and let them know if there's anything they wanted to say to send it to me and I'll put it in the book. I gave people a list of questions to get started but it seemed like the photographs themselves were the biggest prompt for the cast to remember specifics.
Jess: Was there anyone in particular who was excited about it?
J. Beals: Everyone was, really… Mia was, Kate was, Leisha was…and Laurel just wrote me cause she was very excited, especially now that it's finished and they get to see it. But everyone was excited cause it's all their history, ya know? It's a family photo album.

Jess: Do you have a favorite photo from the book?
J. Beals: I have a couple favorites. One of the ones I really love is the one of Laurel very, very pregnant in my trailer, I think it was just a couple days before she gave birth, and that to me is very meaningful and it was such a lovely time in the show and for her, and for me – for all of us. We were all on the cusp of everything. I also love the ones from the Vanity Fair shoot of Kate and Leisha. I like the ones where we're all together. It's also cumulative sometimes. Sometimes there are pictures that don't mean much as a photo, but as a cumulative document in a way it adds to the story.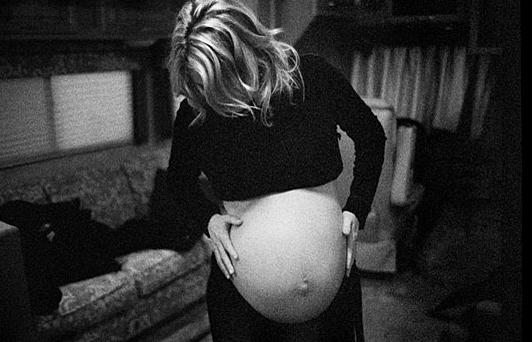 Jess: Who do you speak to regularly from the cast?
J. Beals: I talk to pretty much everybody, really. Rachel [Shelley] and I email each other a lot, and Pam [Grier] and Alex Hedison. And, I hear from Laurel [Holloman] every now and again. I was so out of the loop on her paintings! [Laurel has been auctioning off several of her paintings for charity].  Like, my god, look at these paintings that she's done!  They're amazing!  And Mia [Kirshner] I talk to all the time, and Kate [Moennig] I just heard from. It's everybody kind of in a cycle.
On the Possibility of An L Word Movie…
.
Jess: Any update on an L Word movie, if that's happening?
J. Beals: You'd have to call Ilene on that one, I don't know…
Jess: If a movie should happen, where would you want the story to pick up on?
J. Beals: I think Bette and Tina should get outta dodge. I think it should be in New York.
Jess: Have the other cast members expressed interest in a movie?
J. Beals: Yea, everybody's interested, but we have other stuff that we're doing so to make this happen is really gonna require quite a bit of effort in terms of scheduling, so it will be interesting to see if and how that happens.
Jess: In the L Word book you and Kate Moennig talk about the Six Feet Under series finale. Would you have wanted the L Word characters lives and stories to be finite in the way that Six Feet Under ended?
J. Beals: Well, I loved the way Six Feet Under had ended. I have never seen anything like that on TV. It was phenomenal. Because what it did was, you were appreciative of these people's lives as individuals and then you all of a sudden became aware of a trajectory of an entire life. Not only an individual life, but how those lives are woven around family and friends and it became about the sum of all the parts, and that's profound and incredibly moving.
Jess: Would you watch the new reality show on Showtime produced by Ilene?
J. Beals: I want to go to Ilene's house and watch it! I'd love to go watch it with the cast; I think that would be really fun!
On Imparting Her Wisdom on The L Word:
.
Jess: If you had the opportunity would you have wanted to write an episode?
J. Beals: No… [laughs]  No one would've wanted me to write an episode, that wouldn't have been a good idea!
Jess: Did you have a favorite episode or storyline?
J. Beals: For me, it was really all about 607 [Last Couple Standing, the dance marathon]. Like, in terms of celebration, to have the cast together in that dance episode that Rose Troche directed, it was really about having everybody together and celebrating and watching people do their work and watching them do things that were sort of our of their purvue, and it was exciting. It was my favorite episode to shoot.
.
Jess: Did you ever bring anything to the table with ideas for storylines or plot points? [aside from making Bette biracial]
J. Beals: Well, I just brought ideas in as far as tweaking things. I liked being surprised by Ilene and rather than dictate to her from my imagination I liked seeing what she would bring and then tweaking things, not huge plot points. After seeing Marlee [Matlin] on Dancing with the Stars I joked that we should have a dance episode at The Planet and …. [607].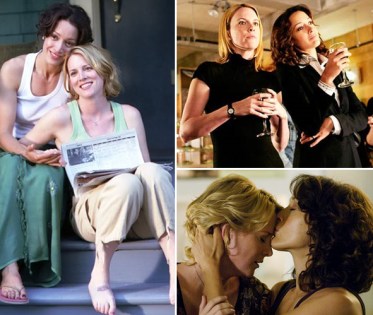 Jess: You mentioned in an old interview that you stood up for Bette refusing to kiss the Dana Delaney Senator character so you did influence the story in that way. Were there any other instances like that where you put in your two cents for Bette's choices?
J. Beals: It's funny, there were so many that I don't even think I can name them. There were so many times that the baby isn't even present and Laurel and I would look at each other [laughing]… You never see our child! How is this possible?! [laughing]  And behold, Angelica would be part of the scene.
On the Tibette Phenom…
.
Jess: Any insight as to why Bette and Tina inspired the largest fan base in comparison to the other couples on the show?
J. Beals: Gosh, I don't know… Why do you think?
---
.
Next: "I feel in some way Johnny Weir is being punished for his presentation, and I feel he continues to present himself as authentically as possible, and franly I believe he's unbelievably fabulous and I would love to meet him one day!"

Pages: 1 2See entire article on one page