It's Hey Did You See That Comment Friday, the most irritatingly self-absorbed moment of the week!  Are you ready to be celebrated? I don't think you're ready…
This week, we brought you the second episode of Julie & Brandy In Your Box Office, the next Calendar Girl, and interviews with NOH8 creator Adam Bouska and celesbian Dani Campbell. We learned what Maria was wearing, wtf was happening on Chatroulette and we got our Skins recap on.
We also witnessed gossip tabloid gender panic over Shiloh Jolie-Pitt's kickass style, the first day of gay marriage in Washington DC, a pro-gay bullying campaign from the ex-gay movement, Adam Lambert hiring lesbian Camila Grey on keyboards,
And now for some awards!
---
On Shiloh Jolie-Pitt's Tomboy Look Scares Media Just Like Ours Scared Our Grandparents:
The Luckily Leggings Are In Right Now Award to Al: My mom bought all my clothes from catalogs because I refused to go shopping! Then my friends started making fun of me because I only wore leggings, so I got a pair of plaid pants and wore them to the school dance. I'm sure they would be considered very stylish for an aspiring clown. When a boy asked me to dance I picked up a chair and waved it at him.

On Julie & Brandy In Your Box Office #2: Paranormal Activity:
The Good Eyes Award to Mo: Julie- Want to U-Haul with me? I'm really good at baking and I have an awesome rack. Take your time thinking about it. I can wait. I'll just watch this series on repeat until you get back to me. No worries.
P.S. Did no one else notice the naked dude suit?
Love-
Mo
On We Surrender: "Room in Romewp_postsTrailer Wins NSFW Lesbian Sexy Award of Forever:
The Vagina Monologue Award to JentheJew: Okay, so the number 4 lesbian sex secret is compliment her genitalia? You know, maybe I'm alone in this, but if a girl is going down on me and all of a sudden is like: "It's the entrance to an ancient and holy temple! Or a rosebud in the spring! I feel inspired to paint!wp_postsmy response is going to be less romantic swooning and more "What is this I don't even…"
On Autostraddle Calendar Girls: Carmen is Miss March:
The Smooth Operator Award to carmen: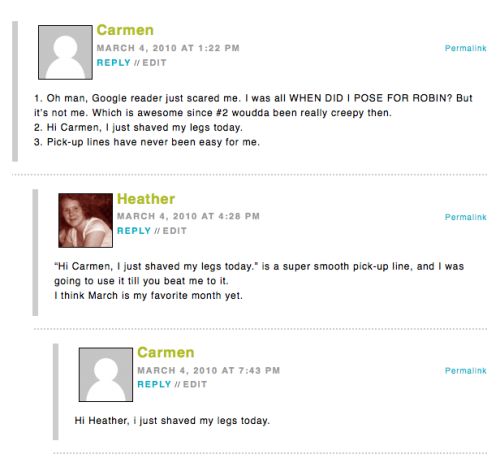 On Adam Lambert Snags UHH's Camila Grey for Magical Gay Mystery Tour:
The Someone Get That Girl Some Vaseline Award to MsNJS: Lindsay Lo is what we call ashy in that picture. She needs to find her inner Beyonce and get some petroleum jelly or Crisco for them knees STAT!!
On Chatroulette Explored: Images of an Internet Frontier Town:
The Scarred for Life Award to Katie for I SAW A MAN FUCKING A HEAD OF LETTUCE. I WISH I WAS JOKING.
On It's OK to Hate Gays: Exodus International Counters GLSEN's Tolerance Campaign:
The Oh No You Didn't Award to DemiArianna: Okay Ms. Beverly Hills. Haha at the TV's caption saying "9021-NO". That made me think about someone like the beautiful B. Scott stepping in and saying "9021-no honey! you better break yourself before we break it for you! You got SOME nerve!…wp_postsetc. Ok, it's 3:41 AM, guys, this is the kind of comments you shall get.
On Lesbian Lifestyle Unpopular Today: Maureen McCormick, Kim Zolciak, Alicia Keys h8 the Rumors:
The Future Is Bright Award to Liz: Anti-coming out day made me so sad, I came out to a cousin via txt. It was the least I could do to cheer up my AS buds.
On PS3's Outage Failpocalypse, iPad's Inventory & LG's Smartphone:
The Rainbow Sparkle Fairy Award to merryweather: I…I…where am I? The end of Bill & Ted's Excellent Adventure when Wyld Stallyns brings about world peace? I have a sudden urge to pop The Neverending Story in the VCR, watch Rainbow Brite and the Star Stealer, and read a couple chapters of The Last Unicorn.
Robot Unicorn Attack = Awesome to the nth degree.
On On Kathy Griffin's Lesbian Law & Order Episode: As Good As It Gets:
The High Hopes Award to TSwizzle: I wanna get knocked up JUST in the hope that my kid grows up to be like Johnny Weir. That would rock.
On Experts Agree: Life & Style's Shiloh Jolie-Pitt Gender Panic is OFFENSIVE:
The THANK GOD YOU'RE BACK Award for bcw to bcw: hello disembodied voices of the internet! i had to brave a TSUNAMI while i was gone and the only thing that got me through it was knowing that somewhere, something gay was happening and autostraddle was writing about it and i had to live in order to find out what that thing was.
On Dinah Shore: Sarah Shahi and DJ Samantha Ronson Will Face Lesbians Gone Wild:
The bcw award for bcw to bcw: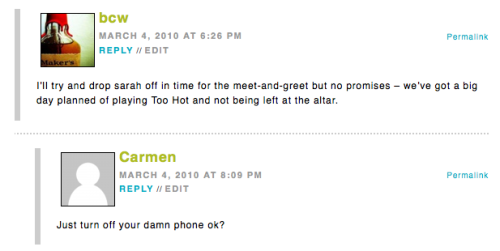 on Kanye's surprisingly insightful blog post:
maybe kanye just seems more insightful because he finally found his capslock key. that must've taken some focus.
on Life & Style Magazine's Cover Borderline Offensive: Should We Care?
Focus People FOCUS Award to Erin-Nicole I guess the world will go up in flames if the Child of the gods (Angie and Brad) turns out to be a les… the world is collapsing because the angel child wants to wear comfy clothing and not prance around in heels. These tabloids..go back to covering John and Kate.. they have 8 kids. You can figure out the rest.