TOMBOY PANIC
At what point does media panic regarding Shiloh's Radical Androgynous Haircut cross over into Officially Offensive Territory? Do we care that Life & Style's magazine cover, which screams WHY IS ANGELINA TURNING SHILOH INTO A BOY? (our number one feeling on this topic is "we want her sneakers, we wish our parents had given us such a rad tomboy wardrobe") is… something-phobic? Is it transphobic? Peter-Panaphobic? Homophobic? Awesomephobic?  We couldn't really care less that it's the child of our Lady Angelina Jolie, this is inappropriate language to use when talking about anyone's child!
Admittedly we don't read or buy these magazines typically so perhaps this is typical fare and were GLAAD or its kin to attack Life & Style on the reg, they'd need a whole new department.
However, our little Google Image Search suggests 80% of Life & Style magazine covers are about someone losing 10-200 pounds, Jennifer Aniston vs. Angelina Jolie, The Kardashians getting married/having a baby, John & Kate Plus 8, Kristen Stewart's hypothetical relationship with Robert Pattison, someone maybe being pregnant or The Kardashians losing 20 pounds after having a baby. Though all those topics are a waste of trees and brainspace (and reinforce similarly archaic ideas of gender and the female body, though more insidiously so) none of them rub us the wrong way quite like this: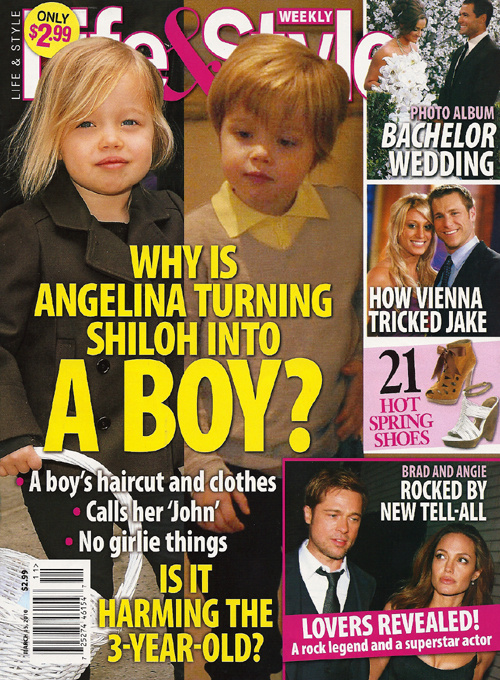 Here's the rub: Although the print magazine industry is hemmoraging at present, Life & Style isn't. In 2006, Life & Style was the fastest growing magazine in the country and currently boasts well over a million copies circulated per week. These are the magazines you see at the dentist, hair salon, and on the floor in your shared dorm bathroom under someone's Caboodles. These headlines scream at you from every grocery store checkout counter.
"Shiloh is pushing the boundaries of a tomboy look and crossing over to cross-dresser territory," Alana Kelen, senior fashion stylist at VH1, tells Life & Style. Celebrity stylist Gili Rashal-Niv agrees. "I get that times are tough but does Angie really need to have Shiloh sharing clothes with her brothers? Hopefully we won't be seeing Maddox in one of Shiloh's dresses any time soon."
AN ACTUAL QUOTE FROM FOCUS ON THE F*CKING FAMILY: "Little girls have never been women before," Glenn Stanton, director of Family Formation Studies at the conservative organization Focus on the Family, tells Life & Style. "They need help, they need guidance of what that looks like. It's important to teach our children that gender distinction is very healthy."
In C.Lynn Carr's 2007 study "Tomboyism or Lesbianism? Beyond Sex/Gender/Sexual Conflation," Carr found that the fact that "a large majority of women recalled wanting to be boys (sex) in order to do things that boys got to do (gender) may be testament to the relative powerlessness of children, who are often told how to act and what they can and cannot do by peers, parents, and educators." In other words — girls "dressing like boys" is less about "adopting another gender" than it is about desiring the power enabled by the other gender.
This is in line with studies which show that although recalled childhood tomboy behaviors are relatively high amongst adult women (between 51% to 67%), less than five percent of adult women identify as tomboys and even fewer as lesbians or transgender.
Regardless, who cares what Shiloh turns out to be — trans, straight, gay, robot — what irks us about this cover is its frightening reinforcement of some of the gender binary's most damaging assumptions.
The magazine goes on to question why Shiloh & Suri have "such different styles" — I don't know, because they are different people? Because Suri's Dad is gay? (JK!) Apparently Joey Potter is not a radical bisexual monster like Angelina, although Joey was quite the tomboy when she still lived on Dawson's Creek.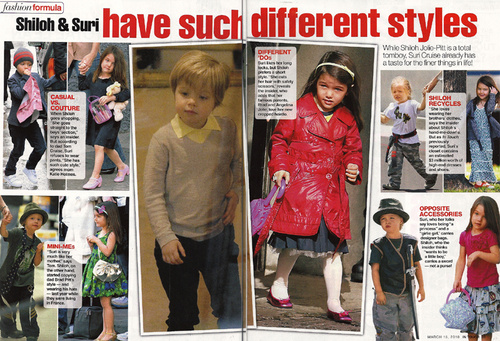 What do you think? Problematic, or not worth the time? If you'd like to complain, the PR people for Life & Style are Lindsay Ferraro (LFerraro@bauer-usa.com) and Sarah Drabick (sdrabick@bauer-usa.com) and the editor of Life & Style is Dan Wakeford (DWakeford@bauer-usa.com).
THE NEWS TODAY:
The editor of Pink News UK is totally straight you guys:
I'm straight. There, I said it. I've been editing the gay news website Pink News for a year, and people are still shocked to discovered that I'm not actually a lesbian, despite the fact that only one of the website's last three editors have been gay. Reactions to the discovery of my heterosexuality have ranged from gentle ribbing to disbelief and even occasional anger.
What's your reaction, kiddos?
PRESIDENTIAL REUNION: Funny Or Die presents "Presidential Reunion," starring Darrell Hammond as Bill Clinton, Jim Carrey as Ronald Regan, Chevy Chase as President Ford, Dana Carvey as George H.W. Bush, Dan Akroyd as Jimmy Carter, Will Ferrell as George W Bush,  Fred Armisen as Barack Obama and Maya Rudolph as Michelle.
OLYMPICS:
They say that imitation is the most sincere form of flattery, but some ice dancing routines might be verging on the territory of offensive (@racialicious)
SO GAY:
In the words of the revered Better Porter, "An honest homophobe, how nice." – "Just because you didn't intend a slur to make someone feel vulnerable and unsafe, doesn't mean it didn't. Just because your careless, prejudiced language use didn't intend to offend, trigger or annoy people doesn't mean it didn't." (@womanist musings)
FRAPPES AND FIREARMS:
Apparently peoples have been testing their right to carry guns by wearing their guns into Starbucks across the country – "No longer will Starbucks be seen as a safe haven for liberal pussies!" (@gawker)
ABORTION:
Anti-Abortion Groups' New Tactic: Paint Abortion as Ethnic Cleansing – "Latinas and other women of color don't need to be protected by paternalistic ideologues motivated by a political agenda that disregards the needs of women of color and their families. So thanks for your concern, anti-choicers, but I think the women of color advocates working within the reproductive justice movement have got it covered. We're working in those clinics you attack, we're helping to shape policies and provide services in our communities, services that allow us to decide what our needs are." (@jezebel)
ADVERTISING:
Smoking rates among LGBT people are 200 percent higher than straights and now We're being targeted by tobacco companies. (@medill)
OUR HOME AND NATIVE LAND:
Gay history and gay rights have been written out of the new study guide for Canada's citizenship study guide and the Minister of Citizenship and Immigration is getting called out. – "We have fought hard to have our rights recognized, and we will not be censored out of our country's history." (@theglobeandmail)