"I THOUGHT IT WAS ARMAGEDDON":
Mega top-level tragedy is happening right now. This morning Chilè had an earthquake measuring 8.8 on the Richter scale, killing at least 80 people.
Now a tsunami is heading towards Hawaii. You can get breaking coverage from Hawaii News Now.
If you are looking for a person in Chile, you can use the Google People Finder. Here's how you can help earthquake relief:
Donate to the Children's Emergency Fund: Save the Children is readying to send its emergency assessment team to Chile.
Donate to AmeriCares Response to the Chilean Earthquake and its Aftermath, American Red Cross's International Response Fund, International Medicorp's emergency response fund or Habitat For Humanity.
TOMBOY:In considerably less important news, apparently our overall disinterest in the lives of the children of famous people has prevented our awareness, until today when it was featured on Jezebel, of Shiloh Jolie-Pitt's f*ckin' kickass tomboy style. In Why The Gossips Find Shiloh's "Tomboy" Attire So Odious:
Doesn't she realize she's the crown princess in the fairy tale? She's ruining it with that "wanting to be a boy" thing!… it's so amusing to watch the gossip ecosystem's earnest concern over the fact that Shiloh wears her hair short and prefers traditionally "masculine" attire. Sure, it gives them something to tsk-tsk Angelina over, a favorite pastime. But there's also an undertone of frustration, as if Shiloh doesn't realize the role she's supposed to play as the "most beautiful baby in the world."
If you were a little tomboy kid, this anxiety is, perhaps, familiar, as your gender-neutral fashion choices may have once upon a time troubled your relatives & friends. Apparently pants looked even worse than your tear-stained face, exhausted after your physical struggle against The Dress? But how is anyone supposed to climb trees in a f*cking dress, you know? WTF? Parents just don't understand.
However, the reaction to Shiloh's look has been mostly positive, if still kinda weird:
Gather: "Shiloh, 3, with her newly-cropped hair and neat outfit, resembled nothing less than an adorable little French boy wandering about a posh store."
from US Weekly's article actually entitled "Stylist's Rate Shiloh's Princess Charming Haircut": Cozy Friedman "absolutely" predicts new client requests for the "Shiloh cut." She should know: "we get a lot of requests for the Maddox cut. We're doing tons of faux baby faux-hawks all the time."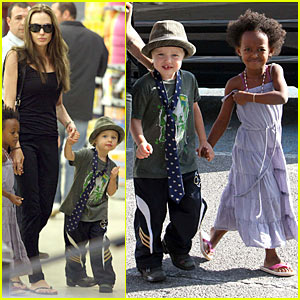 But some people have been freaking out and saying weird things:
Brangelina – What Are You Doing to Poor Shiloh Jolie Pitt? "She is being guided into a bisexual role. Her mother is projecting this onto this particular child—she has chosen her as her favorite. I think this is an issue."
from The Irish Daily Mail: "The little girl is young to be losing her milk teeth already, but as she seems to be turning into a tomboy, perhaps it's not surprising."
Betty Confidential: "She's got a new Peter Pan 'do and doesn't like to dress up like a girly-girl. Does Brad Pitt and Angelina Jolie's daughter secretly want to be a boy?"
Stuff: Shiloh is known for her tomboy ways, and is said to look up to her older brother Maddox, eight. She recently had her flowing blonde locks cropped into a short, boyish style, and is never seen wearing skirts. It has previously been reported the toddler refuses to wear girls' clothes… she is so enamoured with her brother she will only wear his old soccer boots on her feet, apparently refusing to take them off even when she is at ballet and tap dancing lessons.
But what's wrong with these people? From the glbtq encyclopedia on tomboys:
Burn, O'Neil, and Nederend argue that tomboy behaviors help girls acquire traits such as assertiveness and self-reliance that become useful in adulthood. Higenkamp and Livingston link self-perception of being a tomboy with "masculine" traits such as competitiveness and leadership ability, and postulate a correlation with expectations of career success.
The lesson to learn from all this is that if only your parents had embraced your forward-thinking fashion sense AND had a few million to spare on your wardrobe, you could've looked way cooler! Check out this kid's kicks!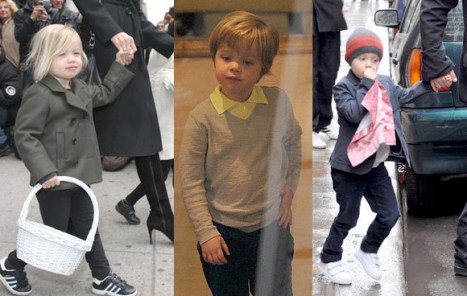 Shiloh Jolie-Pitt has become better dressed than all of us. Other young tomboys may recall youths of hand-me-downs and soccer-jerseys-as-formalwear, but now Shiloh is debuting Young Tomboy Chic. Lucky kid. SERIOUSLY LOOK AT HER SNEAKERS JEALOUS.
THE LEZZIES:
Have you voted for us yet? 'Cause you should!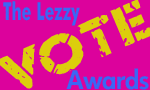 . Grace wrote a funny post about it.
NAACP IMAGE AWARDS:
The 41st Annual NAACP Image Awards were hot and lots of famous people were there! Precious based on the novel Push by Sapphire snagged outstanding film and outstanding independent motion picture, lead actress for newcomer Gabourey Sidibe, supporting actress for Mo'Nique, motion picture writing for Geoffrey Fletcher and directing for Lee Daniels.

Chris Rock, my favorite comedian besides Julie Goldman, won best documentary for Good Hair (the reaction to the film was a bit more divisive but the discourse around it was fascinating– check out Racialicous's Dispatches from Nappyville: What is Good Hair, Anyway? and Jezebel's What Did You Think of Good Hair? and Good Hair Doesn't Get to the Root of the Issue and PopWatch's Good Hair? Hardly. How Chris Rock Gets it Wrong) and in his speech said:
"Most people make movies to make money, and then make more movies to make more money. I made this movie for black people!"
Also in attendance: the GLEE kids because no awards show is complete without them.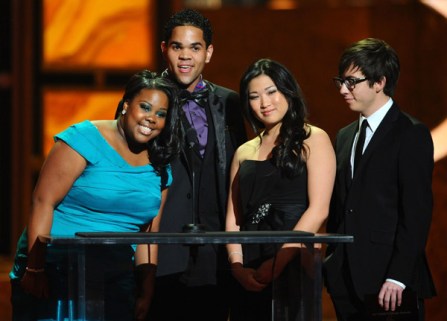 SCHOOLED:
South Africa school dormitory closes after lesbian kiss: Two girls got caught kissing at boarding school, and then 27 pupils got expelled for also having same-sex relationships and the entire school was shut down. (@bcc)
LAW AND ORDER: SVU:
"While I have yet to see the entire episode, I have a good idea what I'm going to get: Lesbian man-hating, anti-feminist clichés and the perpetuation of both as mainstream ideals of gay women." (@bitch)
UNIVERISTY GAYS:
U-Penn wants gays: "Penn is identifying gay admits through information they provide on their applications — groups that they are members of, or statements they make about themselves in their essays," relays Inside Higher Ed. "One question on the Penn application asks applicants about the communities they would like to be active in at the university, and the answers include academic interests, social and cultural organizations, and — for some students — gay life at the university."
TOE TO TOE:
Emily Abt's film Toe to Toe is the story of Tosha, a poor African-American girl in a private prep school aiming to get into Princeton who meets Jesse on the lacrosse team, which Tosha's grandmother has encouraged her to participate in. Jesse is white, rich, troubled, and "sexually provocative." After a strong reception at last year's Sundance Film Festival, the film opens this week in NYC and next week in LA. Abt got her idea for the movie because she's "intensely interested in race relations… and the surprising fact that interracial friendships end at age 14 for 87% of Americans — that really goes against how we like to think of social dynamics in our country." That statistic blows my mind.
GUILLERMO DIAZ
Guillermo Díaz speaks to OUT Magazine:"My managers wanted to put a halt on me being out,wp_postshe says. "I just don't have the patience for that shit. It seems like so much fuckin' work to keep lying. I remember them saying, 'We need to build up your body count.' They wanted me to kill more people on film. I was like, 'You guys would rather I kill more people on film than tell people I'm gay?' Needless to say, I'm not with them anymore."
LADY GAGA:
Producer Rob Fusari Dishes on Lady Gaga, Beyoncé:"When a friend phoned him from a New York club late one evening in January 2006 with a tip on an undiscovered, then-raven-haired rock singer/songwriter, Fusari was dubious, but his career had stalled and he was in no position for snobbery. A few days later, the two met, and Germanotta performed a couple of her songs for him on piano. "In 20 seconds," Fusari says, "I knew this girl would change my life."
THE NET:
Back in 1995, Newsweek was very wrong about the future of the internet: Do our computer pundits lack all common sense? The truth in no online database will replace your daily newspaper, no CD-ROM can take the place of a competent teacher and no computer network will change the way government works.
TEGAN AND SARA:
Also, Tegan & Sara performed in Austin and statistically chances are that you missed it: