Last month when Myspace announced their Secret Show with Florence & The Machine, Autostraddle reader Mon and I rushed into the city to join a very very long queue of hopefuls who were desperate to make it through the venue doors. Unfortunately we didn't. While that may have been an epic fail, the one thing I did succeed in doing was fulfilling my dream to meet Jess, my internet crush the editor of Defamer Australia.
So why am I telling you? This chance meeting is possibly where Jess got the idea that I might be interested in attending the next Myspace Secret Show and writing a report for Defamer. Said Secret Show would feature one of my all-time favourite bands, Placebo, and so I was exploding with joy & excitement. Was I dreaming? No, I was not, because I got that email at work rather than on a rainbowcloud. It was real life! Jess wanted to give me her media pass and so I obviously said yes!
See, I've been a Placebo fan from the moment I heard "Pure Morning" on the Triple J Hottest 100 Vol. 6, an album I purchased to impress my 15 year-old Converse-wearing alt-rocking peers. It was love at first listen, and upon further research my eyes and ears were opened to a world of genderbending androgyny and sexual ambiguity and above all, feelings! So many feelings! It was like Livejournal set to music, but by people who've never used Livejournal. "36 Degrees" quickly became the soundtrack for the rest of my tortured adolescence.
The "secret" part of Myspace's secret show was the fact that it was to be held at the Enmore Theatre, my favourite Sydney live music venue and coincidentally the very same place I first saw Placebo perform live, on 2003's Sleeping With Ghosts tour. By 5pm a rather long queue of fringed, pierced and black-clad teenage Placebo fans and look-a-likes had wrapped around the block, many trying hard to look indifferent even though they'd been enthused enough to start queuing at 10am. I'm not mocking them. I myself wear black almost exclusively, in fact Brian Molko and I have sported some very similar hairstyles since the mid-90s.
Once inside I was able to secure a spot front and centre, crammed up against young boys who smelled like sweat, hair wax and Maybelline Great Lash™ mascara. I was front row and feeling fifteen again, which felt a lot better than when I actually was 15. After 45 minutes, a ripple went through the crowd when a member of the Placebo road crew walked out and placed a cup of tea next to the microphone. Twinings, I believe. The boy to my right predicted that the band should take the stage any minute now, as Brian wouldn't want his tea to get cold. Good point, young man. What rockstar would.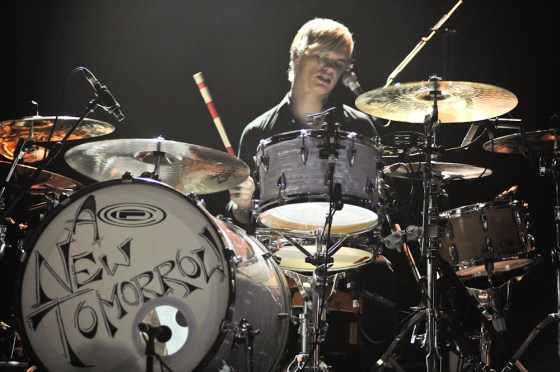 When it comes to boys, typically the only ones I'm ever really interested in are the ones that a) sparkle and b) look like girls. Placebo pulled off both wonderfully, strolling onto the stage sharply dressed in black pant suits and dress shoes. Bassist Stefan Olsdal particularly, decked out in a gold tank top and sparkly single-breasted jacket.
Placebo opened the show acoustically with "For What It's Worth", the first single from their 2009 album Battle for the Sun. It was met with a thunderous applause and teenage boys shouting "I just came!" Dirty buggers.
During the 25 – 30 minute set very little was spared in terms of production, the stage was fully rigged and at times up to 6 musicians were performing including a lovely girl on violin. It must be noted that not only are Placebo a dead sexy band – particularly with the new addition of drummer Steve Forrest – but they also play some dead sexy gear, including a Gretcsh Firebird and Fender Jaguar.
Placebo ripped through a 5-song set list that favoured their 2006 album Meds –
"For What It's Worth
"Because I Want You"
"Blind"
"Meds"
"Twenty Years"
Brian Molko was in his own world for the duration of the set, staring straight ahead and only addressing us when it was time to say goodbye and walk off stage.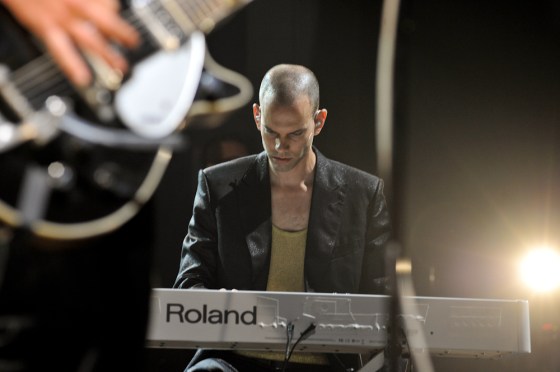 When they walked back on for an encore, Molko broke the silence with "In the old days – in the 90s – this is how we used to write songs. Now we just pay a bunch of robots to do it." That's when he ripped into the piano-led rendition of "Teenage Angst" from self-titled debut album and it was beautiful. He said thank you, flashed a peace sign and walked off stage. It was over.
Notably absent were many crowd favourites, including "Pure Morning", "Every You Every Me" and "Nancy Boy." Notably present was the cup of tea, which had gone untouched. They gave me a taste and I definitely wanted more, but I'm sure not complaining. The show was short, sweet and free. Myspace, you're a tease, and I have some concerns about some of your adolescent members. But I tip my hat to you for providing all kinds of amazing.
You should probably check out Placebo's latest album, Battle for the Sun.