It's September 2017 and Australia still doesn't allow same-sex marriage. Rather than ask politicians to do their damn jobs, self-serving gutless wonder prime minister Malcolm Turnbull has spent $122 million on a postal survey to gauge whether Australians reckon that LGBTQ people are real humans with valid, loving relationships, who deserve the same liberties as everyone else.
The survey asks if the law should change to allow same-sex couples to marry. The "Yes" outcome (predicted) will allow politicians to vote on and pass same-sex marriage legislation. A "No" outcome will result in marriage equality being taken off the table until the next election.
This whole thing is indefensible. It's a government-approved platform for conservative and religious groups to spew hateful homophobic and transphobic bullshit, which is dangerous and hurtful to queer folks and their families, many who already live their lives in Australia feeling alienated and less than. It's truly abhorrent.
I've personally found comfort in the fact that during this humongous shitshow, the homophobes are staying true to form and making no sense whatsoever, such as creating campaign ads ranging from the absurd to delightfully, confusingly queer. Here they are, ranked.
---
4. This ad about gay seat belts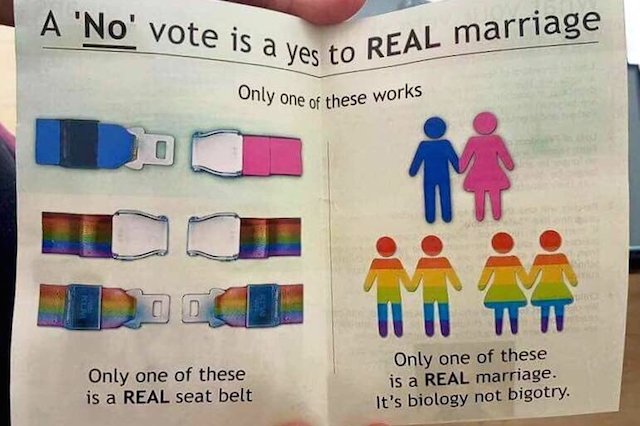 Ah yes, the ol'… seat belt argument against marriage equality. What's next, are they gonna let square pegs marry round holes!?!?
How queer is it?
Not queer, just dumb as hell. Is this about sex? Is this how straights think we have sex? We're all just rainbow buckles and buckle ends, fruitlessly clacking against each other in sin.
---
3. Flashes of light
Just, wow.
How queer is it?
Reading this ad actually made me one bazillion times queerer, how about you.
---
2. Hm yes very heterosexual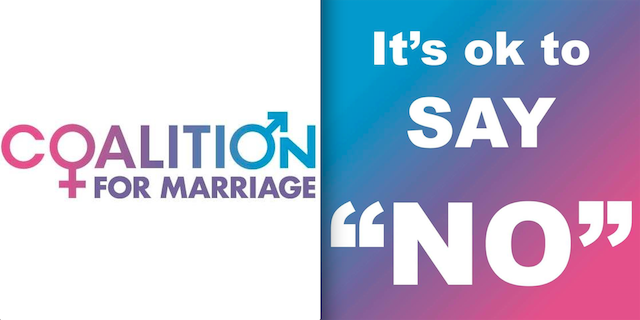 The Coalition for Marriage wants you to know that it's OK to stand up for what you believe in! Don't let the PC Police bully you into being a decent and compassionate human being.
How queer is it?
It's literally the bisexual flag. Hard to say whether the designer is oblivious or we've found Australia's greatest smartarse.
---
1. Gay Trojan Horse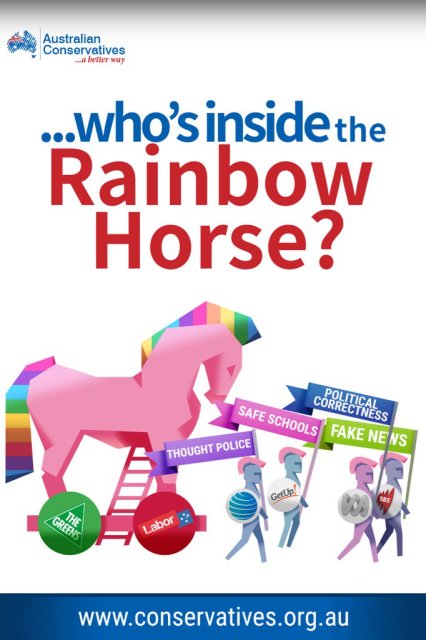 Marriage equality is obviously just a ruse that will open the gates for other awful, terrible things, like… safe schools.
How queer is it?
This is horse is fabulous, I'd definitely get in. I want to see Gay Trojan Horse marching at next year's Mardi Gras, and turned into an enamel pin for my denim jacket. Also this analogy places us on the winning side, so.