Hi! I'm Crystal from Australia and I'm here as your foreign correspondent. Why am I involved with a bunch of Americans, you ask?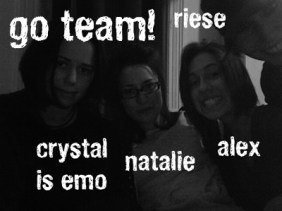 Well, I met Riese on the internet which I hear is the best way to meet special people. Then on my way to SxSW last year, I dropped into her Harlem apartment and stayed for a while. And at her L Word viewings, I met Alex, Carly, Stef and Natalie. And now here I am.
Following Riese's orders and Carly's example, today I will be sharing an interview I've done with myself. It will cover everything you could possibly want to know about me and perhaps a few things that you don't.
Q: Crystal, thanks for joining us.
A: It's a pleasure to be here.
Q: So, how old were you when you first started smoking crack?
A: I thought we agreed that we weren't going to talk about crack.
Q: I thought this was a site for women AT THE EDGE!
A: [sighs, grabs bag] I'm gonna edge on out.
Q: Where are you going? Back to your den of iniquity?!!
A: [brief hesitation, stony silence.]

Q: Soooo anyway, why are you here? Are you a subject matter expert on girl-on-girl culture?
A: Not really. I've never read Tipping The Velvet, and I didn't watch The L Word until I met Riese in 2008. But I do sleep with women, so that's reasonably queer.
Q: How many?
A: [leaps up, pointing] Look! A plane! boomerang!
Q: What will you bring to the Autostraddle table?
A: Mainly music content, because that's what I love. I'll also be the first writer to bring an international perspective to Autostraddle, 'cause things are different here on my underside of the world. This week I'm going to do a report on Sydney's lesbian culture/scene/landscape, which will involve donning my best leather wristband and bar-hopping my way around town. [If you live in Sydney and plan to be out on said town, drop me an email] At the moment I also have interviews planned with comedian DeAnne Smith and all-girl punk pop band called the Spazzys. There are lots of interviews that I'm keen to have a crack at.
Q: Have a "crack" at? Do you realise that people rarely understand what you're saying?
A: Yes, I do. It's because I'm from Australia.
Q: So do you live anywhere near Josef Fritzl? Did you know him? What a monster! 24 years in the basement!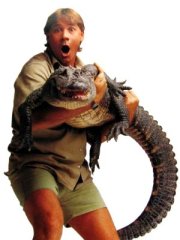 A: No, Fritzl lives in Austria. I'm from Australia – think Missy Higgins, Portia de Rossi, Heath Ledger, Steve Irwin. And Vegemite, Speedos, the Hills Hoist, note pads, cask wine….
Q: And Nicole Kidman, right?
A: No thanks. Did you see the Baz Luhrman epic Australia?
Q: Back to music then. I'm really so so busy – why should I read your music content when Stef's is so darn good?
A: I'll cover different artists than Stef, mainly Australian and UK acts. You should probably expect to see a mix of news, gossip and recommendations.
Q: Is there anything we shouldn't expect from you?
Consistency. Subtleties. Succinctness. Or anything that involves a lot of objectivity.
Q: I heard you were fired once over a review you gave Kelis' 'Milkshake'. Did you really write, "this song is catchy, but it may not catch on to mainstream radio?" I mean, really? That song was a global hit.
A: You heard about that!? It's true – but I wasn't fired, I was demoted. I upset a lot of important people that day, it was sort of career-limiting.
Q: But Autostraddle is still willing to take you on despite this reputation?
A: Yes.
Q: Why?
A: Because of crack and most likely something related to my milkshake.
Q: Is there anything we shouldn't expect from you?
Consistency. Subtleties. Succinctness. Or anything that involves a lot of objectivity.
Q: If you were a boxer, what song would you walk down to the boxing ring to?
A: Great question! Remarkably, my lovely co-worker asked me the exact same question this morning. Say I lost my mind and did become a boxer, my song would be 'Take The Power Back' by Rage Against The Machine. Or if I felt like dancing or skipping down to the ring with the same commitment, it would be 'Addicted To Bass', by Josh Abrahams (ft. Amiel).
Q: Now the dinner party question. Who are you inviting, and why?
1) Bret Easton Ellis, because I have a lot of questions about Less Than Zero.
Q: Did you know that Riese did not like that book?
A: I did not write this question. But to answer it, yes. Riese has mentioned this once or 20 times since I met her.
Q: Okay then. Who else for the dinner party?
A: 2) The editor of Defamer Australia, because she's the funniest writer that I do not know.
Q: Who is the funniest person that you do know?
A: I didn't write this question either.
Q: It's Riese, isn't it?
A: Of course! Anyhow —
3) Raine Maida, because I've been in love with his songs for about a decade now.
Q: What would you serve for dinner?
A: I'd probably get the food delivered.
Q: Oh look, we're out of time.
A: Cheers.
______________________________
And we're back to writing about things that I'm really into right now, specifically from Australia. Everything below will be old, old news for Australians – but as most of you are overseas, we're good to go. Consider it an Australian pop cultural awakening, of sorts.
My interview has taken up a lot of space already, so I'll keep this short. Enjoy the brevity, it doesn't happen very often.
Luke Steele, Empire of the Sun and their debut album, Walking On A Dream
Are any of you familiar with Luke Steele, the frontman of The Sleepy Jackson? Well he's a musical prodigy of sorts, I don't know how he does it. His new act is Empire Of The Sun, and their debut album Walking On A Dream is absolutely incredible – laid back, easily consumed and perfect for pop lovers. It's released in the US next month. Check out its title single below.
---
Sarah Blasko's Planet New Year
Love a good video clip? Yeah me too. This one is probably my favourite of all time. Below, Aussie singer Sarah Blasko meets a piano named Keyth – they fall in love, get married and give birth to a baby piano. What more do you need to know?
---
Evermore's third album, Truth Of The World: Welcome To The Show

So I mentioned Evermore in the Daily Fix last week, but I'm going to give them another shout out. These boys were the very first band I worked with, and their latest album 'Truth Of The World' is making my heart burst with pride. Not because this is my favourite style of music, but because they've released a concept album and it was a mighty ballsy thing to do. Here's their latest single, 'Hey Boys And Girls':

---
Ruby Rose
Ruby Rose, an MTV VJ, is one of Australia's favourite lesbians. Never heard of her? Well, you will soon. Here's a TV interview she recently did with Rove: