So, this is my first post on Autostraddle, which is pretty exciting. I'll be covering TV and Technology here but I wanted to start off today with a little bit about myself. Here's a recent interview I did … with myself. Should clear up a few things.
Q: So Carly, how are you today?
A: I'm pretty good. Trying to get rid of a headache. Enjoying my Sunday. Thanks for asking!
Q: Sure thing. So I wanted to ask you, what qualifies you to talk about … whatever it is that you'll be talking about? [Shuffles papers uncomfortably]
A: Hm, you didn't do your homework before this interview, did you? Well, I'll be covering tech and TV. I'm not sure if I'm necessarily "qualified" … but I love gadgets and tech and TV quite a lot, which helps. My unique point of view is enhanced by my television watching habits. I watch an inordinate amount of TV.

Q: Interesting — so what shows do you watch?
A: Well, a little bit of everything … and by "a little bit" I mean "a lot" — bad reality shows, sitcoms, anything gay. Right now my DVR's got How I Met Your Mother, Heroes, Gossip Girl, RuPaul's Drag Race, the Real Housewives of NYC, Damages (which I am like 2 months behind on), America's Next Top Model, Celebrity Apprentice, Dollhouse, Battlestar Galactica, the United States of Tara, Chelsea Lately, Ugly Betty, 30 Rock, The Office, Kath & Kim, Grey's Anatomy, SNL, Desperate Housewives, and some random others every now and then. So, yeah … way too much TV.
Q: And what will you be writing about exactly? Why would I want to read your stupid posts instead of like, TV Guide or some other lesbian-focused entertainment site or whatever?
A: Oh, you should keep reading those, but you should also read my posts — my commentary will be infused with my Televisionary (Robin came up with that word, not me) POV.  I'll be recapping what you missed in TV the previous week and giving out what I like to call the Carlytron Awards each week in various categories, which I'll get into later.  Oh one more thing: read Television Without Pity, too, cause it's totally rad.
Q: And tech… what's up with that?
A: Great question, Carly.
Q: Well, I try.
A: And you succeed! I'm a big gadget freak, a huge Apple supporter, and a total computer nerd. I'm gonna be talking about tech/gadget advancements that I think are cool. Hopefully you'll think they're cool too.
Q:Super, super. Really. OK, now on to some really in-depth questions. I was reading Damien Hirst's interview with Lily Allen in Interview Magazine and I liked his questions a lot, so I'm going to ask you some of them now.
A: O… kay.
Q: Super. So how old were you when we met?
A: You're kidding, right?
Q: Oh fine. So would you say you were an overnight success?
A: I mean, I've been a bit of a superstar since I was a kid. If you recall, the recent resurfacing of the Carly Band concert video has really helped me in reestablishing my music career. I've been going strong ever since.
Q: I do love that video. "Super Mario Brothers" is one of my favorite songs, I've been rocking it on my iPod at the gym for months now.
A: Thank you, really. I think it has a great beat for the treadmill. Or even the elliptical.
Q: Do you have writers and producers who you work with?
A: Sure, that's how all TV is made.
Q: So how is this new album different from your first album?
A: This new album is a bit of a departure for me. I'm using more synths and the songwriting is really more personal now.
Q: The attention is good, isn't it?
A: Of course it is. Everyone knows that attention — any attention — is a good thing. Even if it involves booze. Especially then.
Q: Was the drink getting out of control?
A: I … don't think that's any of your business.
Q: God, you're exhausting. I'm done with you.
A: Yeah, I get that a lot…
---
Ok then. Moving on… let's talk about television! So as I mentioned in that really amazing interview before, in addition to telling you about This Week in Television, I'm going to be giving out the Carlytron Awards. Let's get started!
The Carlytron TV Awards for the Week Ending on 3/14/09
The Good Riddance Award
I guess I have to give this one to VH1's Tool Academy, a show I [somehow] watched in its entirety. While I enjoyed it a lot, I don't think I can take watching massive tools on TV every week. So I'm glad to have a break now. I'm curious as to how they're going to do a 2nd season, since a big part of this first season was the fact that the guys had no idea what they were getting themselves into. Oh well. This show reminds me that I'm very happy to be gay.
The FINALLY!! Award
Finally! This week, Heroes was actually pretty good. It's common knowledge that this show has been slipping quite a bit since, like, its first season (sad) but I've stuck with it because I'm convinced that it'll actually be awesome again soon. This week's episode was pretty awesome. Some nice twists and plenty of shady behavior to keep me entertained. And Mrs. Petrelli (Cristine Rose) was totally badass, and that's really all I look for from this show anymore.
A close second here is that they finally diagnosed Izzie's tumor on Grey's Anatomy, which was long long LONG overdue. Please get rid of her already, I'm so over it.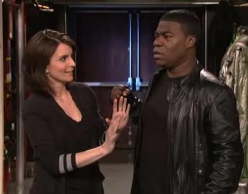 The AWESOME Award
Tracy Morgan sweeps this category this week. Between 30 Rock's awesome "Funcooker" episode, to his hosting SNL, he definitely deserves a week-time Awesome Acheivement Award. My favorite part of SNL was the return of Brian Fellow's Safari Planet. And Kristen Wiig was in like, almost every sketch, and she's the best part of SNL, so that was a big plus. Oh, Barbie!
Also awesome was Ellen DeGeneres getting a twitter account. I know this has been covered everywhere already, but I'm still very excited about it and wanted to share that with you. The video of Ellen and Portia getting ready for Portia's big interview this week was completely adorable, and I can't wait to cover it in next week's post.
The 'Why Isn't This Gayer'? Award
You know things are bad when like, the only lesbian stuff on TV is happening on Grey's Effing Anatomy. I don't know why I still watch this show; I guess per ushe I'm hoping that one day it'll be good again.
They should put this show out of its misery … but not before they let Callie actually have a girlfriend for more than like, five minutes.
This week, Callie got as far as … finally agreeing to go on a date with Arizona!
Matthew [my roommate]: "Is that lesbian code for scissoring or something?"
Me: "Yes."
Breakneck pacing here, folks. Let's gay it up a little more, ok Grey's? Thanks.
The Funniest Thing I Saw All Week
I'm going to give a shoutout to Kath & Kim, NBC's Thursday night underdog. Of course 30 Rock and The Office were hilarious this week; they always are. But I'd like to implore everyone to give Kath & Kim a chance (and yes I know, it's "not as good as the original." Ugh, whatever. Many critics didn't really like The Office during its first season, but look how well it's doing now!). The cast is hilarious and the plotlines keep getting wackier.
Last week, the ladies drank some crazy tea and ended up tripping at Kath's bachelorette party. Eventually they ended up in a pet store — they thought it was a 7-11 — and wore pet sweaters and tried to buy lotto tickets from a lizard.
This week, after her fancy Florida house failed to impress some Gays (not just any gays, these gays were judges for the Parade of Homes competition), Kath re-did her kitchen which caused the entire house to burn down. Also the soundtrack featured Tegan & Sara's "Where Does the Good Go," which is always a bonus. Give Kath & Kim a try, I guarantee you'll like it.
Close second? Liz Lemon as Princess Leia, once again trying to get out of jury duty. That never gets old. Oh, and Barney falling out of the booth from laughing so hard at Marshall on How I Met Your Mother. NPH rules, as always.
The Hot Girl of the Week Award

I guess this can go to Eliza Dushku, cause… why not? This week's episode of Dollhouse wasn't very sexy (sadly, no leather pants) and was kinda dark, but she's still uber hot. Apparently next week's episode is supposed to get MUCH better, so I'm glad I've been sticking around thus far. I'd like to write about Dollhouse in a bit more depth at some point here on Autostraddle, so I'm open to suggestions as to what angle I should take.
The One Sandwich Short of a Picnic Award
This award will go to the dumbest thing I saw all week. I have yet to watch The Real Housewives of New York yet so I can't say for certain, but I can almost guarantee it happened on this show. Actually it might have happened on America's Next Top Model, since the girls got their makeovers and proved — yet again — that these girls cannot handle a damn haircut. I have no favorites for this cycle yet. I think all of these girls are kinda crap.
The One Commercial I Saw and Remembered
I DVR everything so I rarely watch promos and ads anymore. So this category will be used for any commercial I can remember actually watching. This week I decided that I really hate those Old Navy mannequin ads. They're super duper creepy you guys.
The Emmy-Worthy Award
I couldn't think of a better name to give the show or scene or actor who was genuinely awesome this week. I will give that to Ugly Betty this time out, it was a strong episode and Christine Baranski can play a bitch like no one's business. Mark and Justin had cute gayboy moments too, and those always make me happy. And maybe RuPaul's Drag Race could get nominated for the Reality Competition Emmy … a girl can dream.
Allrighty, that's all for the first installment of Carlytron's TV Roundup. These will go up at the beginning of every week, so check 'em out. Let me know what you think of the format, and if you have ideas for any awards I can give out in future posts.