Hi Everyone!  I'm Robin and I'm thrilled to be photoblogging and writing here on Autostraddle!!
You can expect my photoblog, "Auto-focus", to be full of interviews and PHOTOS and thoughts and MORE PHOTOS and musings and STICK FIGURE DRAWINGS because if you're anything like me; when you get a long-winded email from a friend or co-worker or your mom, you really wish there were just accompanying pictures rather than all those silly words. Maybe it's 'cause I'm an artist that I'm such a circular thinker, but I've always tended to visualize my experiences rather than logically analyze them … or maybe it's 'cause my attention span is about equal to a first grader riding a Pixie Sticks high. In any event, Auto-focus will be dedicated to all my visual peeps out there that wish the world was just one big (and often times gay) picture book.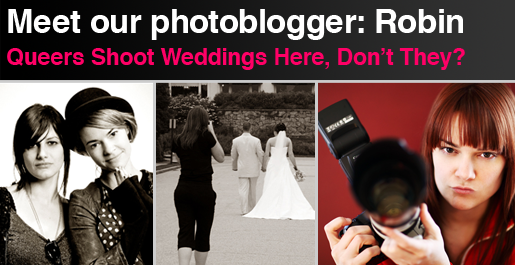 First a little backstory …
After some time working for various photo studios and as a photographer/photo editor for MTV networks, I started Robin Roemer Photography LLC and now work as a professional photographer of people. Basically I spend most of my work-time either shooting subjects on location or lounging in my pajama pants in my home office. The pajama pants are red with gingerbread people on them, FYI. In addition to some of the flashier parts (that's coming), much of my current work involves shooting everything from boudoir to family portraits to weddings.  I love my job 'cause I get to take naps, meet interesting people, travel and dig into a craft I'm really passionate about.
I've photographed celebrity icons like Cyndi Lauper, Annie Lennox and the B-52s and awesome musical talents like Uh Huh Her, Sarah McLachlan and Lady Gaga and this one time when there were no suitably dressed extras on set in Jersey, I had a pretty major role as an actress in a Redman video.  I've shot for TV and ad campaigns working with brands including LOGO, Levi's and Disney and have published my work in major magazines like Sports Illustrated and Manhattan Bride as well as in reality and music television. In addition to three websites, I'll now have four blogs which is kinda crazy, but also sexy and cool.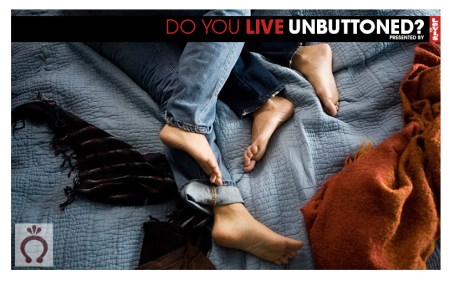 Now … the topic of the day/decade: Somebody's Getting Married …
It's springtime, which means a lot of wedding clients. I honestly believe being a wedding photographer is as crucial and exciting as any other job I can have as an artist and I value being employed to document a day that only comes once — a day that can never be re-enacted, styled or choreographed. It's real. And most of the time, it's also really beautiful.

But it is odd sometimes — photographing weddings and being gay.
It is strange to devote so much of my time fueling and supporting an institution that excludes us queers. In this country, the wedding industry isn't simply non-progressive (for the most part), it's downright discriminatory.
But before you roll your eyes, lemme tell you that I'm not about to get on a soap box. I've never had one, and I imagine if I was super political or angry — which I'm sure many argue I should be — I wouldn't be shooting the 25 weddings I have booked for this coming year, only one of which is a union of two loving ladies.
In fact — I actually love photographing weddings.
There's the superficial reasons — I love girlie things. I do. I like shoes and party dresses and I like flowers and I like nice linens. I like design and I like color palettes. I like being in a room with a bunch of super happy well-dressed and well-groomed people acting genuinely and giving me a wide range of emotions to photograph. Making people look good when they're already looking & feeling their best? Not a bad gig at all.
And on a deeper level there's something really wonderful about the fact that after years of putting up with our own idiosyncratic family structures, there comes a point when we get to make our own. After witnessing (and focusing on) over 250 vows being exchanged, even the deepest cynic might find themselves humbled.
So when is it tough?
I still have this internal struggle regarding the idea of a traditional marriage. And by that I mean the "between a man and a woman" definition preached by all the right-winging, God-fearing conservatives. In one traditional wedding ceremony after another, I hear sermons and requisite lines from religious texts that seek to solidify the belief that there is a God who doesn't believe in Gay. Not only do I not see enough gay weddings, I don't see enough gay-friendly weddings!
It feels bizarrely old-fashioned to be an independent self-employed woman who's legally barred from participating personally in the industry I passionately work within.
Now, lets get one thing straight. (hee hee) Even before my own sexuality was fully realized, I was never one of those girls who dreamed about a white dress, a Ken-doll bride and a conventional fairy tale wedding.  So, one might ask, why would photographing traditional weddings ever be a conflict if I never wanted one in the first place?  I think it's because the industry as a whole doesn't represent gay marriage.  There's a lack of visibility that makes you feel like as a Gay Person, you're on the outside of this idea of honoring and witnessing love and commitment.
If I do have a wedding one day, I'll likely wind up rocking a blue dress to a loft party MCed by drag queens. Another lesbian might want to wear a white flowing dress and hold a bouquet of pink roses. But either way, people need to see queer weddings as something of importance, significance, and an event — and a love — that is equally celebrated by all people. I believe I have the right to be in love with a woman and someday enjoy the same legal rights to create and protect my very own family as any straight couple has today, and it feels bizarrely old-fashioned to be an independent self-employed woman who's legally barred from participating personally in the industry I passionately work within.
So, we're gonna do something about it!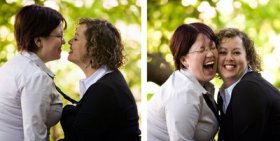 This November, Proposition 8 was passed, making it once again illegal for gays and lesbians in California — who'd just months earlier been granted the right to marry — to enter into marriage. And today the same-sex marriage bill in Vermont — well on its way to passing — was set back when the governor announced he would veto the bill.
This is obviously not the first victory and then failure of our justice system.  I've seen enough love through my lens to know that we all have the same feelings when we make a life-long commitment to another person — that's part of what I love about my job. So, as the ebb and flow of laws and regulations has us being lifted up only to be let down again, the best we can do is support each other until the majority catches up, wakes up, and realizes that by imposing laws on our love, the only thing they are breeding is hate.
I'm not the first one to suggest that legalizing gay marriage would be a perfect way to stimulate the economy, and so that's my proposal. Do you know how much money gets poured into small business every time a chapel bell chimes?  It'd be cool with me if we legalized civil unions across the board and left marriage up to the churches.   Either way, I'll be registering at Pottery Barn.  (See Roemer-Usdin registry at the additional stores; Crate and Barrel, Apple, Kid Robot, B&H Photo….)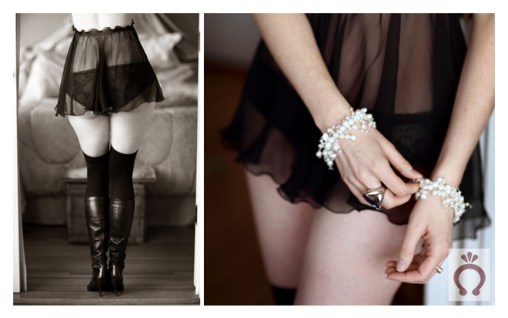 This is why I'm starting an organization specifically for gays and gay allies in this crazy industry of his-and-hers rings and man-woman cake toppers. Because, firstly, I want to see how many of us there are and secondly, as I said I'm not a soapbox kind of gal. I don't just wanna talk about change, I want to see change — well, there's that visual thinking thing again. I want to change something for the better.  My organization is called W.I.F.E. and it stands for "Wedding Industry for Equality" (that sounded better than G.R.O.O.M. "Gays Really Oppose Opposing Marriage", which just doesn't make much sense).
I hope this organization can be both a networking resource and a possible philanthropic venture.  Lets use W.I.F.E. as a support system but also a forum for generating our own ideas.  I need your help!  Join the group on facebook and share your ideas and suggestions on how we can make a difference within the industry.  Marriage should be an option for everyone and equality shouldn't even be a question.
Thanks for listening and maybe next time, if you're lucky, I'll have a few less words and a few more pictures! xoxoxo