–
Hello everybody! It's a super Funday here on Autostraddle. We published Hi! I'm Crystal from Australia yesterday and in just a few hours our photoblogger Robin will make her big Autostraddle debut. If you are jonesing for a fix however do not fret or call Ken Seely just yet. I have lots of douchebags to tell you about, and also some fun stuff.
1. Today in Extreme EPIC DOUCHEBAGGERY: "Gov. Jim Douglas, R-Vermont, says he will veto the same-sex marriage bill if it passes the Legislature … He said he made the announcement to stop speculation and to focus attention on economy."
I'm not entirely fucking sure how VETOING a f*cking BILL THAT PROMOTES EQUAL RIGHTS FOR ALL HUMAN BEINGS takes MORE FOCUS than just DOING NOTHING and letting the bill PASS. You know? Just saying. ZOMG.
(@wcax vermont)
1a. Today in Significant Douchebaggery: key senator leaning against reviving civil unions bill in Hawaii. Without Democratic State Sen. Brian Taniguchi's support, it's unlikely the bill will be revived, and Taniguchi says the Governor would veto the bill anyhow.
A fabulous snippet from Bishop Carl E. Harris, one of dozens of opponents of civil unions who gathered at the Capital yesterday, in response to comparisons being made between civil unions and the civil rights movement:
"Can what is termed as 'hate crimes' by the gay community, really due to an outcry against their alternative lifestyle, be compared to being water-hosed down, burned, homes burned, beaten, lynched, merely for being born the wrong color? Former homosexual? It's been done, and that's possible. Former black? Never. It's not possible."
There you go! Though I agree that it's not a fair comparison, I think he lost me at "former homosexual? It's been done, and that's possible." (@the honolulu advertiser)
1c. Today in Considerable Douchebaggery:
The New York City Department of Youth and Community Development has failed to consider $253,718 in funding for Sylvia's Place, a project of MCCNY Homeless Youth Services, thus jeopardizing the welfare of over 1,000 homeless and runaway LGBTQ youth in the coming year who would rely on Sylvia's Place services. (@queers united)
There is only one way to fix this problem as I see it: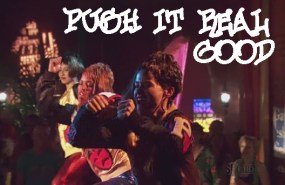 2. I don't know about you, but I need a cocktail. Let's have one with the Best Lesbian of All Time Rachel Maddow on "Late Night with Jimmy Fallon":
3. Lesbians: they know how to move your shit. Read all about it – "Stuff Lesbians Like: Efficiency" I agree. (@grace the spot)
4. Dear Kelly Clarkson et al., here's an example of how to brush off lesbian rumors with conviction, therefore leaving your credibility and amazingness intact (in response to accusations that Parton and her BFF are more than friends):
"We're absolutely, totally honest, open, and comfortable with each other … we've been accused of being lovers. We do love each other, but we've never been like that." (Dolly Parton)
Vintage 2006 Dolly Parton, in response to the hate mail she received for being a gay icon:  "Some people are blind or ignorant, and you can't be that prejudiced and hateful and go through this world and still be happy. It's all right to be who you are." (@pinknews uk)
5. ABC News's "What Would You Do?" asks "What would you do if you witnessed a gay bashing in the making?": ABC News Tests Tolerance, With Surprising Results. (@the advocate)