Oh hello! Can we talk about piercings for a minute?
Not those kinds of piercings. I mean, sort of those kinds of piercings. I mean, okay, I'll start here: When I was little, I mutilated multiple Barbies by sticking pins into their heads. Specifically, in places where one might actually have piercings (I think I was influenced by some of the edgier looks on The Real World at the time). I chopped their hair to the root and colored it with markers, too. My Barbies were kind of like Halsey, only pre-Halsey.
https://www.instagram.com/p/BSMyVx3jNnV/
In high school and college, I tried out several piercings, often without my parents' approval and occasionally via a safety pin in my bathroom. They were not always the best decisions. They were fine. Whatever.
Anyway, all this is to say that while I think my years of wanting skin piercings may be over, I still find myself excited about the pierced clothing and accessories that I keep seeing all over the place. And since I know Straddlers like a little pain with their pleasure, I thought you might be curious about them too.
---
Accessories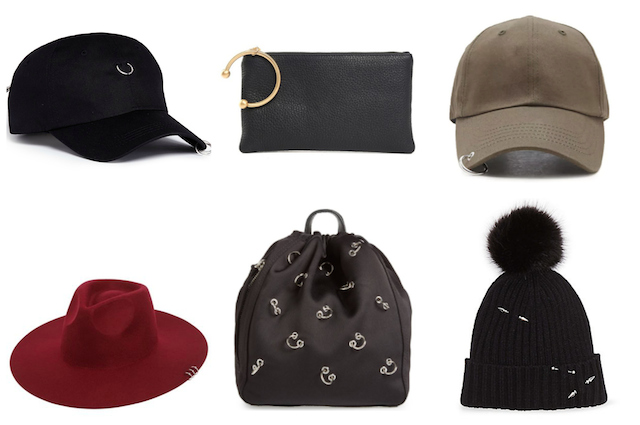 Want to start small? Pick up R. Shemiste's black baseball cap ($95) or Forever 21's simpler olive version ($12.90). For cooler weather, snuggle up to Steve Madden's pom pom beanie ($30) in black or white, or Don's burgundy Mirtha brimmed hat ($180). Or, if messing with your hair isn't an option, try a bag like Phillip Lim's mini backpack ($495) or RED Valentino's curved barbell clutch ($208).
---
Tops and Outerwear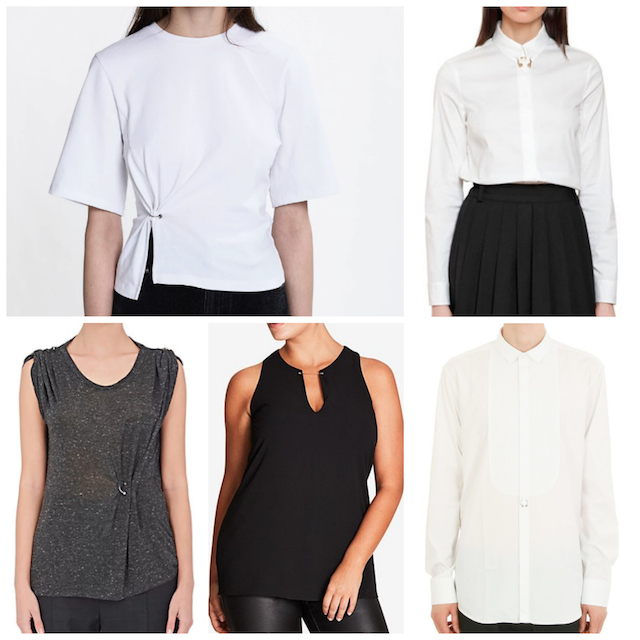 Make the most of the not-freezing weather we have left with Philip Lim's pierced side white tee ($175; sizes XS-L), Isabel Marant's grey slub pierced tank ($220; sizes XS-XL), or City Chic's plus-size barbell closure tank ($59; sizes 14-24). For fancier events, RED Valentino's slim-fit button-down ($395; Italian sizes 36-44) or Neil Barret's tux shirt ($447; neck sizes 39-42) might just do the trick.
Everyday sweatshirts this grey number by Phillip Lim ($295; sizes XS-L) and pink cropped hoodie via Charlotte Russe ($26; sizes 1X-3X) are made edgier with a barbell or two; against the soft knits of Neiman Marcus' black ribbed sweater ($34.50; sizes XS-L) Forever 21's white cropped sweater ($19.90; sizes S-L), or the company's black plus-size sweater (0X-3X; sizes $27.90), the hardware is even better.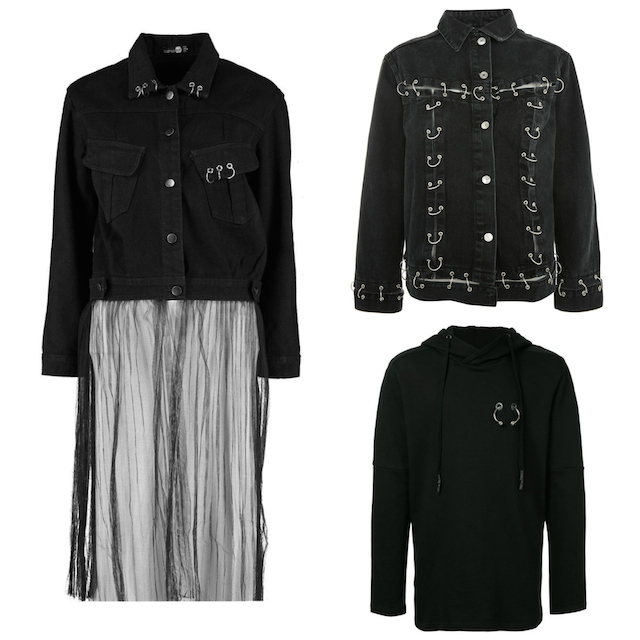 I think there's a consensus around here that denim jackets are the best, so here are a few pierced ones. A sheer, skirt-length layer adds a delicate touch to Boohoo's oversized Laila jacket ($46; sizes 2-10), while Topshop's pierced panel jacket ($160, sizes 0-14) is pure tough stuff. Strateas Carlucci's black hoodie ($538; men's sizes XS-L) also looks like an excellent DJ alternative.
---
Bottoms and Jumpsuits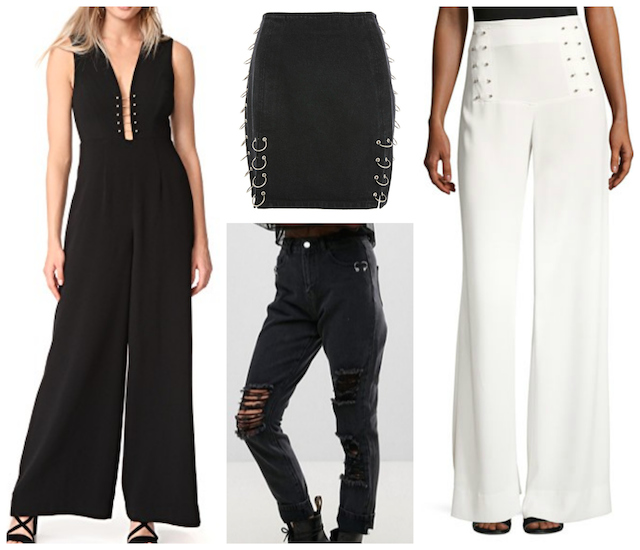 Why yes, executive lesbians, that is a deep-plunge neckline held together by barbells! Get your 2017 Bette Porter on with this formal jumpsuit by Zimmerman ($397.50; sizes 2-10) or Derek Lam 10 Crosby sailor pants ($495; sizes 0-10) in black or white. Outside the boardroom, Topshop's denim miniskirt ($75; sizes 0-14) and Noisy May's pierced pocket mom jeans ($57; waist sizes 25-32) are the move.
---
Shoes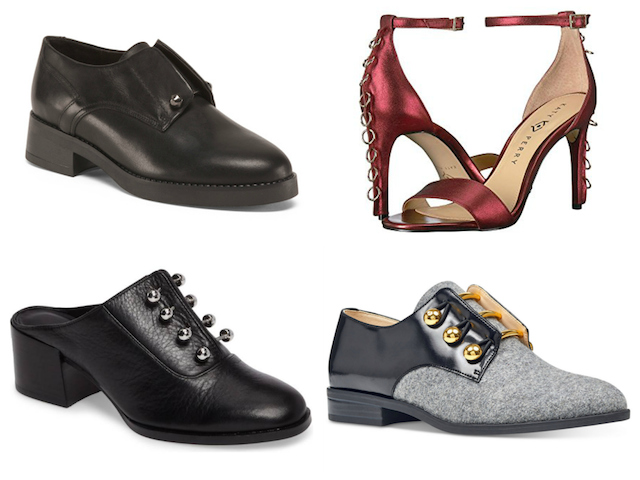 Fabianelli's chunky leather loafers ($49; sizes 6-10), the heeled Everly mule by Rebecca Minkoff ($117; sizes 5-10), and Nine West flashy grey contrast brogues ($89; sizes 4-13) are good bets for the office or other conservative-ish event, while Katy Perry's Cherri sandals ($83; sizes 5-10; also available in black) were, I'm pretty sure, made for kink parties.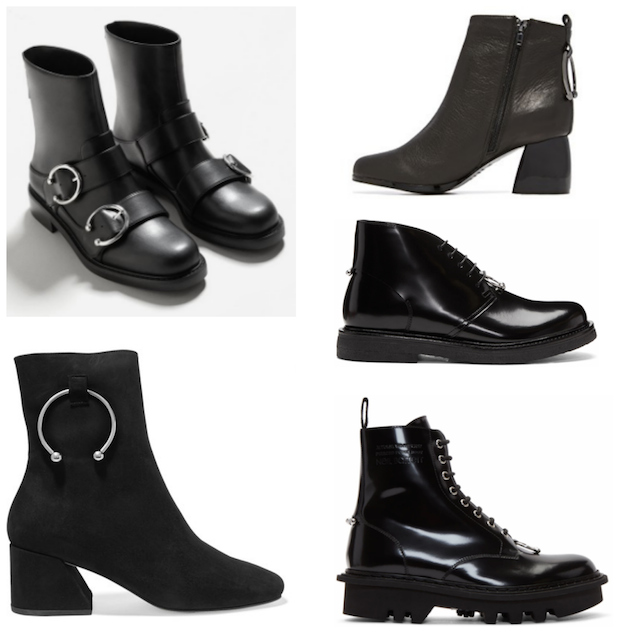 Finally, I love these barbell-buckled Chelsea boots from Mango ($80; sizes 5-10)! My fellow large-footed people may take a liking to these desert boots ($530; Italian sizes 39-45) or combat bootsby Neil Barrett ($670; Italian sizes 39-45). And if you're more into heels, Dorateymur's Nizip side barbell suede boots ($525; Italian sizes 35-41) or Jaggar's rear barbell leather version ($205; Italian sizes 37-41) are both super sexy options.
For real; those boots and I are in a throuple now. Anyway, what's your take on all this?