Maybe our standards are too high at this point. We were spoiled by Telephone and its cigarette glasses, PUSSY WAGON, lesbian makeout and overall campy awesomeness. We were spoiled by Alejandro's gender-bending pseudo nazi-ism. We were spoiled when Bad Romance made music videos relevant again. Her videos give me new appreciation for her songs.
But did I deconstruct Bad Romance so thoroughly at the time, thinking, "Huh! Looks like there's more at work here than meets the eye!"
I don't think I did.
Don't get me wrong. I love all Lady Gaga videos always. But when it comes to recapping, Telephone was so much fun to recap, and it embodied everything I love about this woman. But Born This Way and Judas have been a little bit more challenging.
In fact, Born This Way was SO challenging that I um, didn't recap it. This was as far as I got with that one: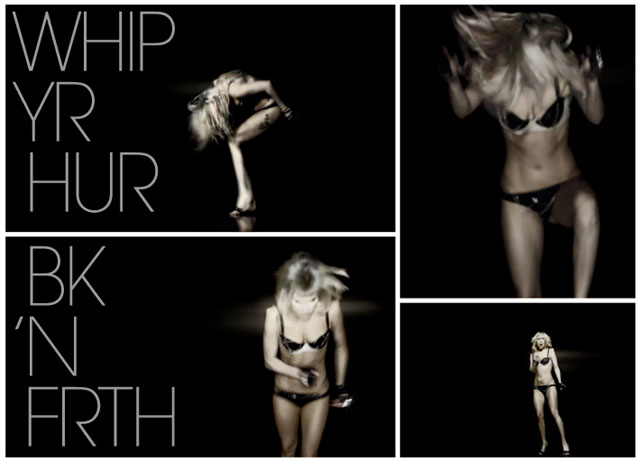 Totally worth the wait, I know.
I'm torn as to whether Lady Gaga is attempting to impart any meaning/importance/social significance/commentary in her videos these days. Is she trying to make a statement or is she just making a crazy music video for her song? Judas is a song about betrayal — a betrayer she's still in love with — and that's a thing we can relate to. Of course we can find the religious imagery in the song and video, and that's fun, but beyond that … I think this is just a … music video.
So the point is that this isn't a traditional recap so to speak, it's mostly screengrabs! However, I suggest/highly recommend reading every. single. comment our readers have left on this open thread about 'Judas' for incredible symbolic/biblical insight on the video. The discourse is amazing, and this is why WE HAVE BETTER READERS THAN YOU.
Okay? We cool? Ready — go!
The curtain opens, and the 12 disciples are on the highway to the dangerzone.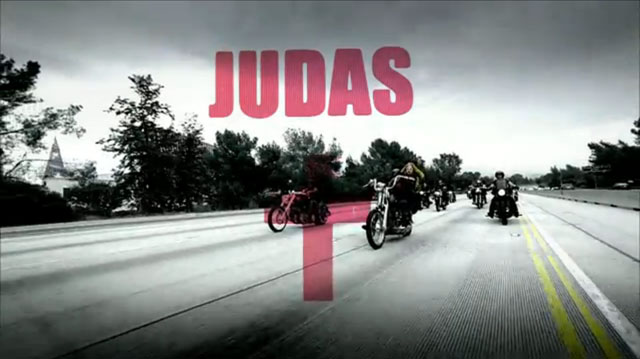 Clearly this is how my Catholic class teacher should've taught the gospel to me: "The 12 disciplines drove into Jerusalem on their motorcycles. Then Mary Magdalene showed us what she's workin' with!" (I went to public school but my parents put my brother and myself into a weekly night religion class so we could learn about Jesus. And I/we did.)
Gaga-slash-Mary Magdalene (because we all know that is who she is portraying here) is lookin' back at Judas all lingering and shit. She probably can't get over him even though he probs done her wrong or something. I don't know, I just have this feeling, yannow?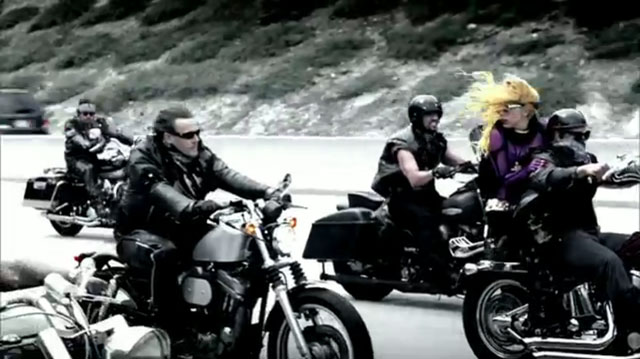 Why do the good girls always want the bad boys? #rhetorical
So pretty much there are two things that make this video worth-watching. And I think you would agree that one of those things is this red underwear get-up she's sporting: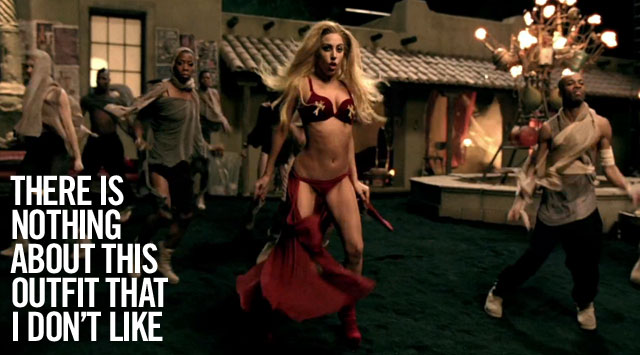 I'll get to the second reason in a hot second … but first — the macarena, duh:
Also. When I first heard Judas on the radio I was confused: "this can't possibly be an actual song," I thought. (That was mostly about the parts where she sounds like a cat. Also at first I thought the lyrics said "I'm just a horny fool.")
I now realize this is a song, a real song, whether you like it or not. I've warmed up to the tune. I like it. The chorus is pop perfection. Also "ear condoms" are given a shout-out in the lyrics. This is the truth, just like the entire Bible.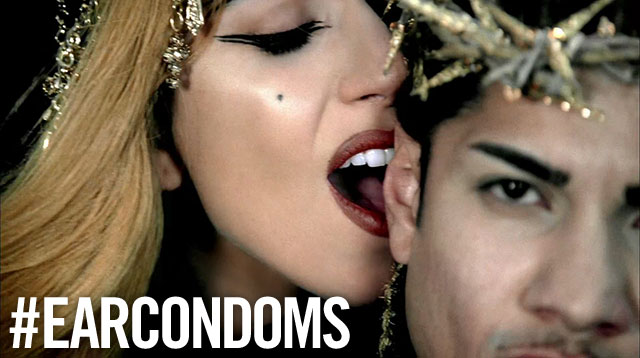 Are you ready for the best dance sequence? Everyone can learn this choreography, even my friends dead cat. I am serious it's awesome and the second best thing about this video:
I want this look/outfit so bad I can hardly stand it.
Next scene, verse 2: Gaga's full-on in the blue and red garment situation, which according to my classes in art history, means she is one of the holy women — probs in this case Mary Magdalene, as we already discussed. I'm just stretching my art history muscles here (because really, when else do I get to do such a thing?), but when the Virgin Mary is portrayed in any art pre-renaissance and throughout the Renaissance, she is wearing the blue and red garment/robe. Ta-da! Thank you Fashion Institute of Technology!
Also, I think its interesting that Gaga points out Peter in this one specific sequence where she also says "I've learned love is like a brick you can / Build a house or sink a dead body" in the lyrics. Because as L. Valentine pointed out in this post, the disciple Peter went on to establish the catholic church: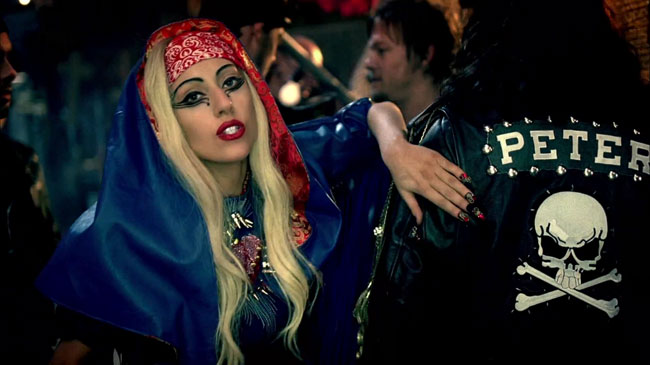 Way to go, Peter. Now I can't get married, and also, Jesus said not to worship "brick and mortar."
Alright, back to the music: now we have Gaga seemingly marking Judas with lipstick, which I thought at first was just for funsies (and I LOLed a little) and additional gender-bending, but no actually this goes back to the bible thing again. This was how Judas betrayed Jesus: this, as the story goes, was how Judas identified the blasphemer to the roman guards. So then it became more significant and less weird, but whatever, Gaga knows her shit.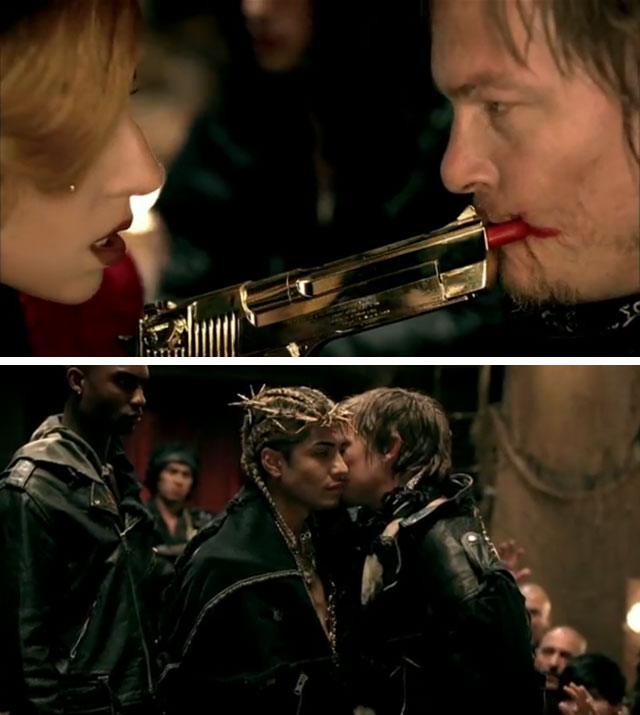 Then some water is like what's up, then Jesus is like whoa, guys, chill! I got this! then Gaga/Mary Magdalene washes Jesus' feet as I believe the story goes (again), and then I kind of stop paying attention cause this water part really throws me off:

The end of the video is kind of sad. I hate seeing Gaga surrounded by people throwing things at her while she wears her favorite Queen Amidala halloween costume:

Aaaaand that about wraps up our Bible class for this evening, guys. Thanks for coming. Thanks for your amazing/scholastic reviews and insight deconstructions of this video. I thoroughly enjoyed what you had to say in our previous post/Judas open thread!
I'm looking forward to anything else you have to add!