As a former art student, nothing has made me feel more inadequate than trying to recap this goddamn music video for Lady Gaga's "Alejandro." This isn't just "OMG AK-47 BOOBZ!" This is so much more than that. I AM NOT WORTHY.
This is tough guys. Like… really tough. There's so much happening!
I tried my best, and because I should probably work on a website design due tomorrow at my real job, I didn't screen-grab the hell out of this thing, but I hope you like it anyway.
Hey, did you even see the video? Were you talking about it here earlier?
+
Without first getting into the recap itself just yet, I'd just like to respond to two comments from Riese's first 'Alejandro' post:
A) Unfortunately, I don't have any more insight into the meaning behind this video than y'all do. And you know, I like that. I'll speculate. That's what it's there for – whatevs! Let's talk about it (like you already did without me!) and we can decide for ourselves.
B) Yes, the beat and song are very evocative of Ace of Base (re: JB in Tennesse's comment) and also: ABBA. This is done on purpose, which is even evident when Gaga uses the name "Fernando" in her lyrics, referencing ABBA's 1976 song.
Music (and art in general) goes in cycles — it references itself. I think almost every song my band plays draws upon songs from the past. It references them. It's fun. Sometimes it's paying homage. It's what people and artists do. Many recognize the references and get excited about them. (Or at least I do. Just saying.)
C) Robin's comments are perfection, and I'm pointing them out because I agree and provide screen-grab references:
I'm like beyond amazed at how many people didn't like or were completely disturbed by this video. I personally loved it. Mostly because its Steven Klein and its an art piece and its shot so beautifully I wanted to cry a little. I feel like this one is really open to interpretation. For me its a comment on a struggle. Its about a love/hate relationship within the gay community and its about good and evil and how people try and symbolize that. I love the fact that in every video she does she's commenting on gender and sexuality. She's letting us see how fluid we are.
I loved how all the different stuff happening in the video reminded you all of many different things! Sarah pointed out that the headdress in the beginning reminds her of something you'd see out of Metropolis. An interesting observation considering Robin's comment about Madonna's video for "Express Yourself" being inspired by Metropolis. Here are some images from that movie for funsies:
I'm not going to get into Madonna/Gaga stuff. Steven Klein (director of this video as you all know, and fashion photographer) has worked with Madonna before and purposely put the "Madonna" in "Gaga" for this video, so to speak.
Alright, so enough talk. I'm starting to lose my mind, I've done like forty lines of cocaine to write this and will probs never sleep and become very pale. Bring on the screen grabs:
I don't know who's in the coffin, but it's fun to speculate! Jenny Schecter? Riese thinks it's the person she killed in Paparazzi, I think she is wrong. Alexander McQueen? Too soon?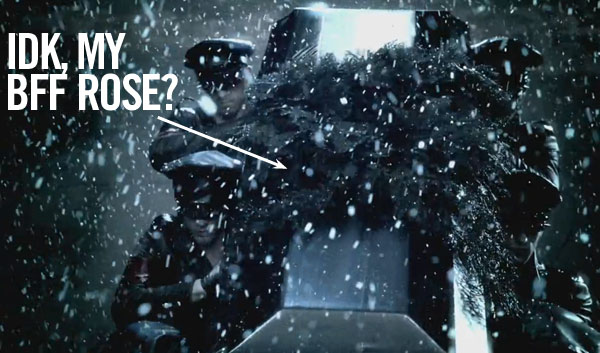 Generally, Gaga seems like a lady in control of her homo-legion. You know, like Hitler to the Nazis or something. Except the opposite of that 'cause Homos are nice and don't kill people in gas chambers.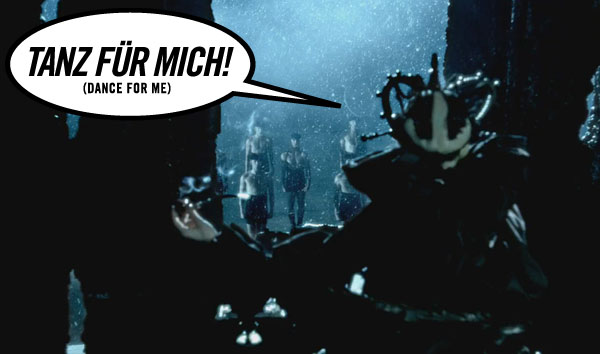 If I may just comment superficially on Gaga's general appearance in this video, you may have noticed that she looks, umm, well… we'll just say that this gloomy apocalyptic lighting doesn't do her any favors. She purposely makes herself as "ugly" as she can, specifically in this video, and I LOVE THAT ABOUT HER.
So like a few of you pointed out, there is some real gender role-switcher-roo-ing happening here. SO. MUCH. GENDER-FUCKERY. And we love it.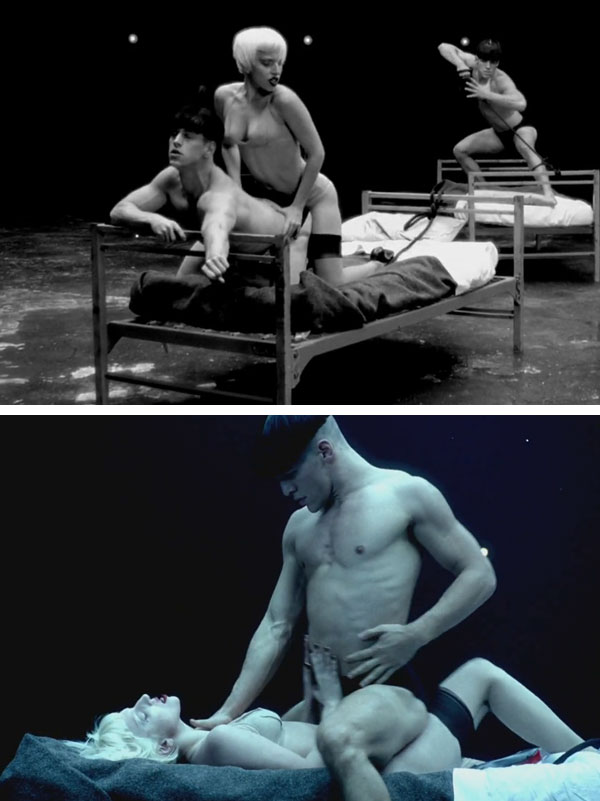 (Sure, that dude is on "top" but he's totally  AUTOSTRADDLING HER and the control is shared.)
I also love the male sensuality:
Oh look! It's my favorite part in every Lady Gaga video — Gaga dancing in her underwear obvs: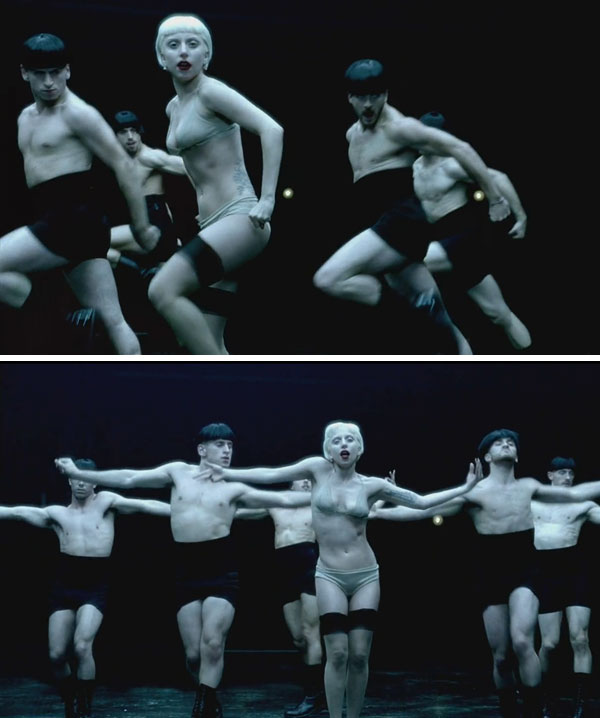 By the way, if you think I've already learned this dance for mine and Stef's ukulele rendition of this song, you would be 100% CORRECT.
Hey, a commenter totally called this when I recapped the 'Alejandro' preview, and I don't remember who it was, and I'm too lazy to look it up: you were totally right about this weird face thing! Bam!
We've never seen Lady Gaga in pants before… so uh, that's new and ground-breaking! I like those pants a lot… if they were on the floor ooohhhhhhh:
The gun bra needs no introduction.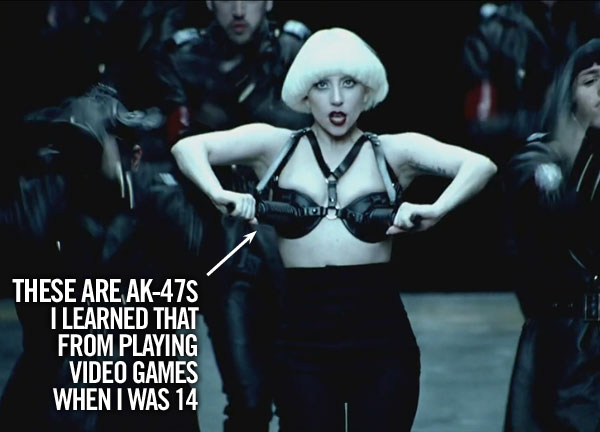 UPDATE: Correction! These are M-16s. Not like anyone really cares, but I went out of my way to classify the guns and, well, I was super wrong!
Throughout this video, I have to confess that very time I pause to deconstruct a frame or symbol, I fail. I don't know what it is and hope that someone else has figured this shit out (or maybe some of you have your own insights and ideas?) 'cause a lot of stuff is going over my head, and it's frustrating!
I think this is happening with a lot of people? I just want to know what this stuff means!
My #1 frustration: the film played in the background of/and throughout the video.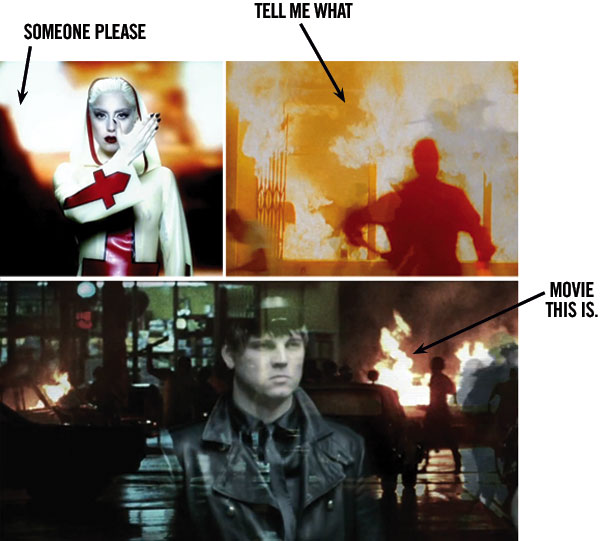 Were you sitting there like me wondering where the hot gay action was? No? Just me? WELL IT'S THERE, and I found it!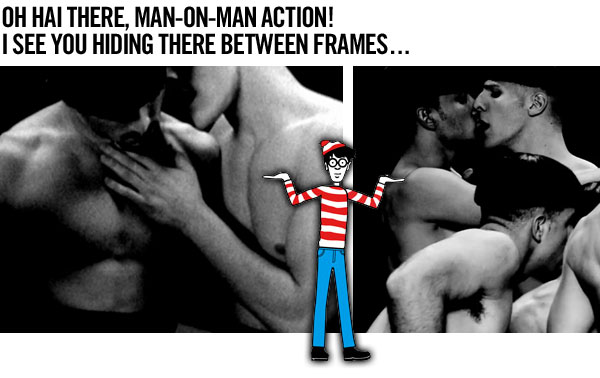 That's all the screen-grabs I got. You know the parts I left out I am just as confused about as you are and well, they are totally un-make-fun-of-able.
A;ex's Final Thoughts:
If you can't appreciate this music video on your own, appreciate it as a favor for me. At least appreciate it's existence for confusing you, leaving you wondering "what does it all mean?!" (as I did.) 'Cause that's what my experience with art is: fucking confusion. I learned a long time ago everything means something — there are no coincidences, only meaning, and someone is always referencing something besides the thing itself, otherwise it wouldn't be art, it would be a toaster or a commercial for a toaster. It's beautiful, but also it means something even if what it means to you is different than what it means to another commenter or to Steven Klein or to Lady Gaga. The point is: this isn't 'Baby One More Time'. This shit is for real. And not many people in Lady Gaga's place are able or willing to do what she does.
If the video made you angry — or if you found it titillating or maybe just beautiful — then terrific. I'd rather something inspire anger than apathy. I'd rather there be something to comment on than not. Interpret however you want — that's what it's there for. As long as I feel something, I am glad it exists.
So at the end of the day, I learned about:
1) a movie called "Metropolis" from 1927 that I should probably see
2) German expressionism
3) the Weimar Republic
4) that "dance" in German is "tanz"
5) and I learned a little bit more about Madonna as well!
Even Grace Chu from gracethespot actually researched the art and fashion of the 1930s in Germany for her recap. I mean, come on, that can't be a bad thing right?
Neither can this: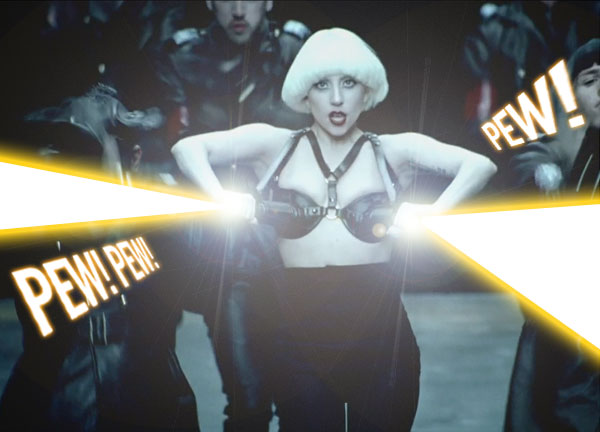 Riese's Special Comment:
Now that I've finished looking this over for any spelling errors I hope Managing Editor Sarah can fix in the morning as my bedtime was two minutes ago, I've allowed myself to read other writings on the topic.
yeahisaid it, a commenter at Jezebel, makes an interseting point:
Gaga is showcasing male-only worlds — the military, Catholicism, gay men — that she will always be excluded from, or at least never fully accepted in, or never fully loved or completed in, just because she is a woman… but then she counters her own argument at the end by holding the camera on the face of a man haunted by images of violence that men who live in those worlds must endure.
I would add "or at least rationalize" at the end. I think that might be spot on, IMHO. Here's Lady Gaga's tweet on the topic: