Remember back when I referenced Blink 182 and wrote Accessories Guide (Part 1) with the intention of writing a (Part 2)? WELCOME TO PART 2!
BELTS
Perfect for baby doll and tent dresses, 'boho' belts can instantly give you a super-fly look for an otherwise awkward dress. Thick belts in general are good for instant-outfit creations.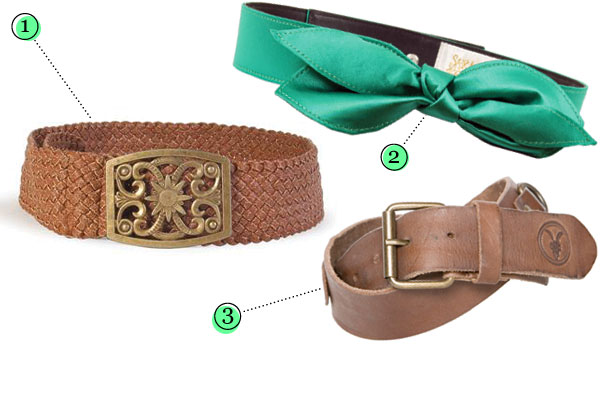 And don't worry, there are plenty of Vegan belts (1) out there too.
Satin bow belts (2) are for when you don't want to wear a straight up (gay up) sash and are feeling girlie and maybe even colorful but still need your pants to stay up/your dress is too nice for a big brown belt.
Classic brown leather belts (3) are great for when you want to get down to business and/or be a safari tour guide. The best leather belt I ever had was one I stole from my sister who had stolen it from her boyfriend who had stolen it from his brother. It was from Ambercrombie & Fitch, we found out later, which would probably explain why it seemed to perpetually smell of cheap cologne. Anyway, moving on.
You can get nice fancy ones like the one pictured above at All Saints or, you know, go explore the Amazon and see what you can hunt down. Props to them for having the worn-leather look in stock. I actually need one of these. Hm.
JEWELRY
Lily has some great feelings about jewelry, so I'm going to let her share them with you all.
1. Rings
Lily: Two finger rings may not be practical, but they're great for punching people. JK GUYS! Personally, I am a fan of over the top fashion so a big gold snake ring (1) is definitely something I would want to wear all the time. And here's a super cheap, one finger snake ring option.
Becky: Also, make sure to check out Recycled Ring (2) for cool…recycled rings. It's a nice bohemian-modern look and they're hand made, duh.
Into more masculine looking 'bling' ? Well, the ring above (3) is +$1,000 but it's in the style of a cigar label! A cuban cigar label! So I got excited. But check out these cheaper finds at Overstock or this 14K Horse Cigar Ring from Erica Anenberg. 
2. Necklaces
I used to wear some really crazy necklaces, my favorite being one from the Kutchi Tribe. Now I just like putting random things I find on really long pieces of thread. My best advice to this extent is as follows:
Find a rusty/old key in your local secret garden and put it on a string/chain/something badass looking. Then put it around your neck (1) (or cheat and buy a pre-made Tarnished Key Pendant for ten bucks here) When someone asks you what it's a key to, have something creative/snarky prepared to say. Because I promise you they will ask. Feel free to vary your response based on who is asking you. Ex: "It's the key to your mom's chastity belt." (This one should only really be used in jest).
Don't worry, if you're not into scrounging around for your jewelry, Lily suggests some necklaces that are actually sexy and cool (2).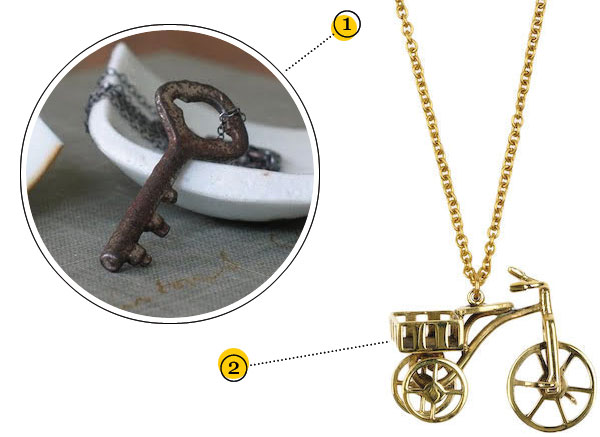 Also, can we all just look at this for a second? Ridiculous right? I think I really want one.
3. Bracelets
I love bracelets. If you wear a bunch of them you can shake your arms and make music. Anywho, are looking for some Gaga-esque accouterments in your life? Lily thought so, so she'd like to share with you this find from Nasty Gal (1).
My style tends to lead me toward the "this used to be a coconut and now it's not" look. Luckily, Acai Beads (2) looks out for me and has a whole category of things that used to have coconut properties.
If you just want to look hot and classy, go with the cuff (3).
Cuffs are also the way to go if you're looking to tap into your badass boy side. My badass boy side has a bomber jacket with a pin-up girl on the back and one leather cuff like this one from the Global Exchange, this one by Free People or this $4 ASOS Leather Buckle Cuff Bracelet. Fossil offers a simple but high-quality $20 brown leather snap cuff.
Have you ever thought to yourself, god, I wish I could buy myself a wrist cuff inspired by Miley Cyrus? Grrrl, your day has COME.
4. Earrings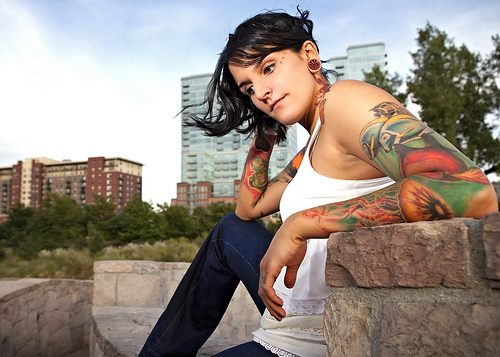 Have you never given up the punk? Are you one of those hot girls with plug earrings? Are you rocking organic plugs already? If not, check out Omerica Organic. Btw, you make me jealous. I've always wanted plugs. Call me.
Next up are some bamboo hoop earrings Lily suggests that are delightfully sassy: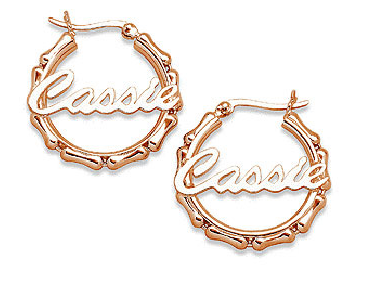 Lily: All I've ever really wanted in life are really big hoop earrings with my name+'sexy' in them…who wants to buy them for me?!?
Hoop earrings in general are pretty great. On special occasions, I like to wear really big ones I can put my fist through. My grandma bought them for me. Go figure.
If you're looking for something fun and unique, check out these abstract dangly bubble earrings from Melanie Lynn Design.
BAGGAGE
We all have it. Now let's have it in style! Whether you're a hipster and swear by your Jansport backpack or a lady in the business world (or are pretending to be) and need to rock a a sweet briefcase, we've got you covered.
1. Backpacks

Because it's practical to talk about what's "in", I'll tell you! Simple, brightly colored backpacks are the best; they draw the stranger's gaze and say: "a purse? how can I keep my ukulele and my birdfeeder and my binoculars in my purse?" Seriously though, what are people carrying around? I'm always curious. If you're like me, it's copious amounts of cheap whiskey. If you rock the backpack, what do you keep in it!? If you don't, what would you keep in it?
Please tell me.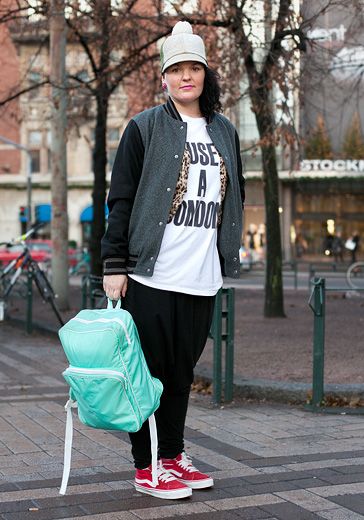 I really like the Kukuxumusu "knapsacks" you can get on Amazon because I like pretending I'm 7 / Kukuxumusu in general.
My personal style happens to be the "I'm an ethnographer" look, so I really like rustic-looking canvas backpacks the likes of which you can also find on Amazon or, you know, do the whole J. Crew or Urban Outfitters shabang.
2. Purses & Clutches
Purses come in all different shapes and sizes and that's part of what makes them so fun.
Looking for something serious and sexy? Hop on over to Top shop (1). Are you more the relaxed and whimsical type? Lily suggests Mod Cloth where in addition to the (2)Let the Cat Out of the Bag/(3) below, you can pick up a slick Ice Cream Vespa Bag, an all-A Twitter Laptop Bag, seeing as how they've pretty much got those adjectives on lock down.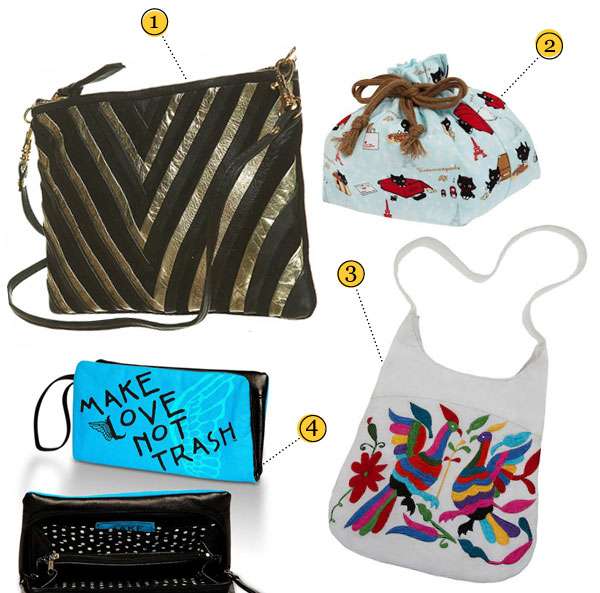 My sister gave me my first clutch bag just this past Christmas. At first I was confused as to how I was supposed to attach it to my body, but then I realized that there was nothing, and that's kind of what made it so great. There's something inexplicably posh about holding a tiny bag that really doesn't have anything useful in it except for a $20 and some chapstick. Anyway, Baghaus has some seriously cute clutches (4). Or clutch clutches. Isn't clutch one of those words? Like "far out"? Anyway, you should check them out because these even have convenient little wrist straps:
3. Briefcases/Messenger Bags
This summer, I'm going to learn how to be a little business person as all young students must do at some point in time. Oh the subletted NYC apartment, oh the internship, oh the canvas briefcase that is totally unnecessary for my job but that I insist on using anyway. Right now the only thing in my briefcase is banjo music and a train schedule, but my work associates certainly don't need to know that.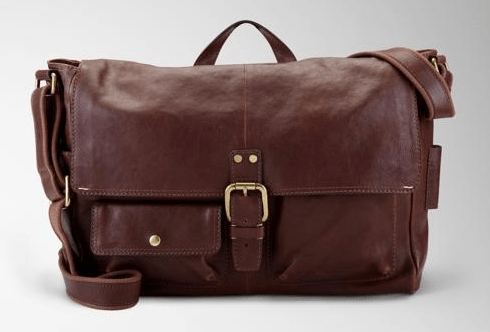 Fossil has some truly handsome messenger bags. (In the Men's section, obvs. Women don't need to carry around anything larger than a hand mirror; you know, that's why you have a clutch).
If you're into the classic, double number lock, show-me-the-goods, Catch Me If You Can, kind of briefcase, good luck. Outside of Amazon they're pretty expensive and can be hard to find. I imagine the movies bought them all for their movies. Stupid movies.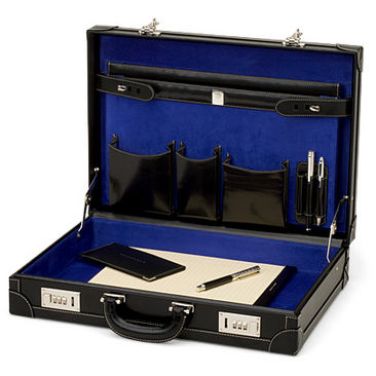 Also, wander on over to Ebay to find some classic ones that might actually have been used to tote around large sums of money. Remember kids, just because the joy of the pager has been swiped from our business dreams, does not mean the briefcase must, too, go. Go get your legal pad on, girl.
4. Duffle/Tote
Duffel bags aren't just for gym class anymore. Married To The Mob offers you this super stylin', super practical, all-purpose tote. Get it now over at Karmaloop.
Speaking of totes, did you guys ever fabric paint tote bags in Girl Scouts? Well then you'll remember that they never turned out half as good as what's on the market today.
Tote bags are no fuss, super convenient for grocery shopping, and usually can have anything you could possibly want on them. In my humble opinion, organic canvas totes are the bestest.
5. The Fanny Pack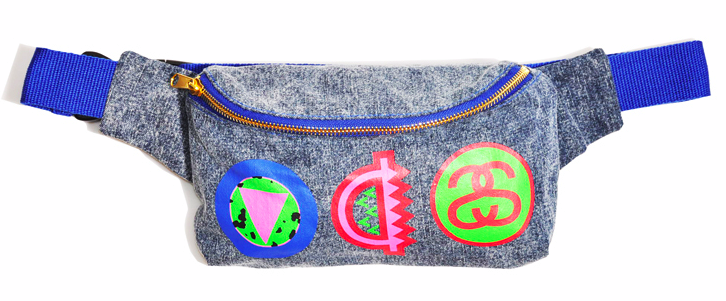 Are you brave enough to rock a fanny pack? You should be, they are very very handy. You can also wear them around your thigh if you have some nice large thighs. Seriously, it looks hot. Just please don't do this.
Wrist & Pocket Watches
The style of watches these days seems to be "really obscure so you can't really read it, but at least it double's as a piece of art on your body". If you're not one to wear tons of jewelery, a watch is a great way to look artsy/professional a.k.a lesbian executive realness and allows you to know what time it is without looking at your phone, which seems like it would be fun for a change.
Nixon (1) has some great watches for men and women. And I don't mean this guy though I'm sure he had some great watches in his day.
Also, per usu. Marc by Marc Jacobs (2) has some great stuff.
I once described pocket watches as "the equivalent of walking around with a t-shirt that says: 'Fuck me' only they're a lot more classy and effective"; and I stand by that claim (3).
Just remember, before approaching a cute girl and asking her what time it is, make sure to take off and hide your own wrist/pocket watch. Otherwise you'll just look silly.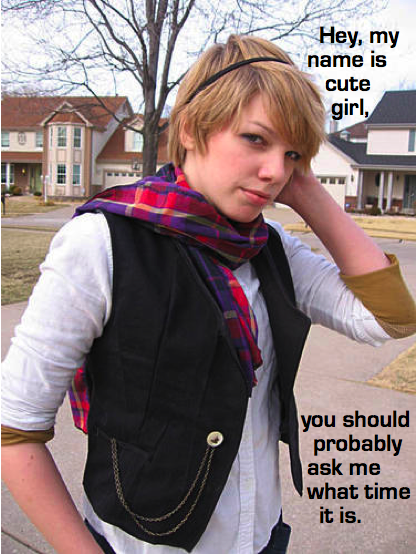 Alright that's it; go forth and conquer you stylin' queers, you!