Feature image from Fetiche courtesy of Isabel Dresler.

*This article is meant for adults only. If you are under 18 please go somewhere else; Scarleteen is awesome.
---
When I started making queer porn in 2002, the internet was a space where queers met each other and made things together, and we were outcasts and nerds for being so attached to our screens. Now our tiny digital roads are highways, picking up speed in every direction.
Technology, capitalism and fascism are rapidly changing how queers reach other queers online. In good and bad ways, "queer" is mainstream, so what does that mean when queer porn is still mostly an underground scene? Why are national about-faces on same-sex marriage, and the devastating legislation behind FOSTA/SESTA, happening in the same three-year period? Anti-sex work rhetoric continues to grow stronger this year, while queer acceptance seems to be a non-issue in other forms of media and sociality.
The Fight Online Sex Trafficking Act, or FOSTA, passed without any real consideration of what the voting population, or sex workers, might think of it. It erases an early-90s regulation, the 1996 Communications Decency Act, which states that any third party (take for instance Craigslist) is not the author of, and so not legally responsible for, what gets published through its site. FOSTA removes this "safe harborwp_postsand puts sites like Craigslist in legal jeopardy. The day FOSTA passed, Craigslist "regretfullywp_postsremoved its personals section. Having internet access to clients and coworkers has always been crucial to me as a sex worker, first in phone sex and then later in stripping and porn. Lately, things haven't been so easy.
The end of net neutrality — meaning the end of protections against internet companies exploiting their customers through fixed pricing and access blocks — will have a profound impact on queer porn as well, making it harder for you to find what you're looking for. When internet providers have the power to grant or deny access, small web-based businesses risk invisibility while larger companies, like mainstream media conglomerate MindGeek, which runs PornHub and a host of other tube sites and production companies, are all anyone can see. The future of the internet is already here, PornHub and its affiliates are more or less Where People Go to find porn, and quite soon it may be that it's the only place you can get to from your device. Queer porn will be further pushed into the shadows.
Search engines, too, already shadowban pornography; at least, the kind you're trying to find. It's not that the content is suspended or deleted, but that it just doesn't show up — sometimes in autocomplete and sometimes at all. And while indie porn used to receive support and marketing from sex toy boutiques, the death of DVDs means those avenues no longer make up for the kinds of censorship indie porn faces on the corporate web. I personally still value the sense of ownership and pride that comes with having a physical copy of something in my hands but these avenues of handling media and media discovery are shrinking. Queer porn suddenly finds itself without a platform, despite the abundance of incredible art and kinky smut being made around the world.
If you're a seasoned Autostraddle reader, you'll already know and love people and places like Syd Blakovich and Crash Pad; but did you know that they also run an all-you-can-watch Netflix-style membership catalog called PinkLabel Prime, literally replacing the brick-and-mortar "feminist-run porn shopwp_posts(so blatantly anti-porn in many cases) with an online library of prescreened queer-friendly smut? Maybe you know Chelsea Poe from her Queer Porn Americana tour, but did you know her latest film raised money for refugees last month?
These are just two of the big blockbuster discoveries of the past year for me — I found a lot more, lesser-known, avant-garde, fashion-forward, daring and frankly perverted queer porn. While our governments have been terrible and our world is most certainly falling apart, the digital pages of the queer porn underground look pretty good indeed. And looking at the group I ended up with, it seems to me like orgies and self-love are key to the queer underground revolution.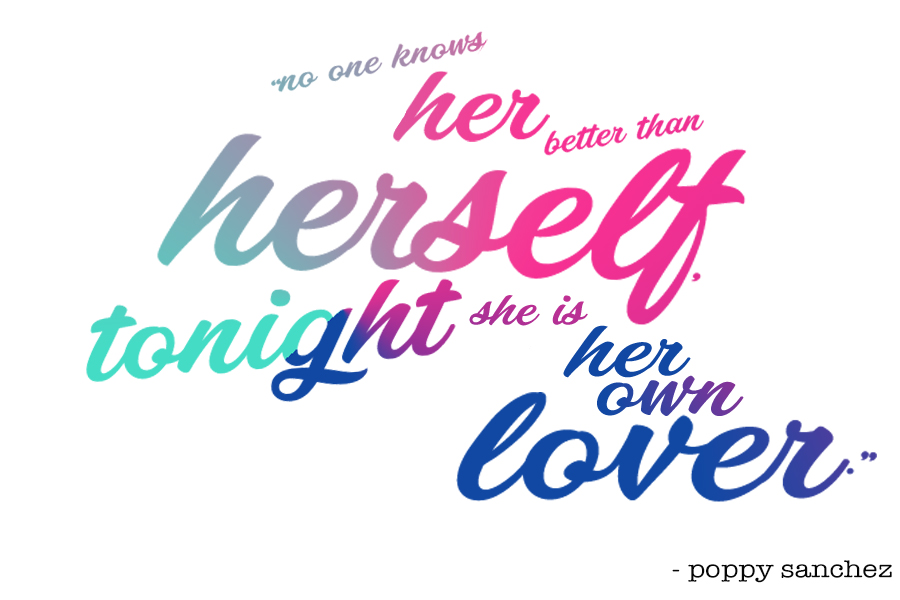 The 20+ people or projects below represent the underrepresented, including polyamorous femmes, asexuals and disabled sex workers. Every one of them incorporates art and passion into their content and services, and every one of them is a worker in an underappreciated adult industry, one where queer people are generally ignored or marginalized. Each and every person listed is linked to pages where you can safely purchase — PURCHASE! — their work. What you won't find on the list: (1) my own or related works, since I run my own production company, and (2) queer porn classics, since I trust Autostraddlers have already seen what's come before. In addition to new work from established artists, I've also included a round-up of up-and-cumming heart throbs to watch.
Let's get horny for the summer of 2018!
---
Sinn Sage is a household name for many lesbians, and has stolen womens' hearts with her enthusiastically lesbionic girl/girl scenes over the past decade. In fact, she won the first Girl/Girl Scene of the Year Award at AVN in 2013. While she worked for many mainstream companies for the start of her career and won the first All Girl Performer AVN Award, she recently branched out on her own and now does scenes around the world with all her favorite girls, and occasionally her husband — which means she's now got a whole slew of hardcore bisexual female fans as well. Sinn Sage tops the list in 2018 because she's taken matters into her own hands and for that, she's just got to be our saint. Saint Sage, we appreciate you. May you guide our way with your heavenly pansexual light and epic strap-on topping.
You know what would make her lifetime? A custom video order from a queer customer. She runs her own website, where you could do exactly such a thing, or check out the hundreds of videos available for download. Your money goes directly to Sinn Sage's small production efforts and income.
---
Sluts 4 Sluts is an exciting new collective that is dispersed over London, Berlin and elsewhere, focused on making intersectional queer porn scenes for art and for sale. Their manifesto explains that they're "slutswp_postsbecause they're sex workers for other sex workers. They launched their website this spring and need you to keep their slutty collective alive. One founder, Disco Tits, specializes in orgies and broke-femme bedroom opulence. Another, Rooster XXX, brings emotional grace and a sweet smile to their genderfluid bodily connections on camera. In Berlin, Dion De Rossi works on new clips and concepts for the project and manages their awesome social media presence.
Other performers include Leo Lander, a dandy baby-faced trans boy who switches it up and offers cam shows… take advantage! The collective's objective is to create powerful life-enhancing smut in conditions that reflect the performer's identities and desires. It's down-right inspiring. I hope it inspires queers to partake in fun stuff like cam shows. Why not?
Sluts 4 Sluts launched their website this year, so give them a visit, and follow Rooster XXX on Twitter to see everything else they do with indie porn studios around the world. Frankly, each of the collective members have epic sex work careers underway, and these babes are all ones to watch.
---
Lina is a sexuality and porn advocate, boldly stating "I Love My Jobwp_postson her Twitter bio. On Lustery she argues that she loves what she does because it's politically relevant, empowering, and never boring. You can find her in FourChamber's new release The Reverence.
Check out this short film/PSA she made about how feminism and porn really do go together. (My own PSA: don't be fooled by "feminist pornwp_postsbranding – there's a difference between Feminist Porn TM The Industry and feminists making porn. I see this as the latter.)
---
DIVINE COUNTENANCE. Vex, the high priestess of Four Chambers, runs her high art queer porn operation out of a Patreon account, where every episode is accompanied by a gushing editorial post about how the performers got along, the pre-production made them wet, and the paperwork made them sweat. Four Chambers is a full-on art affair you'll never want to quit. I know this sounds hyperbolic but this smut really is that good. Raised on the Berlin Porn Film Festiva, self-taught film-making and impeccable aesthetics, the projects boasts five years of DIY porn. But the newest update is an all-star orgy that mixes the sacred and sacreligious. The Reverence stars two performers I was going to talk about anyways, so here goes:
---
Dwam occasionally appears in porn films but is often behind the camera documenting everything photographically. Their work is beautiful, and frankly so are they. For an entrance, read this blog post about The Reverence, which begins to explain how the various factions of FourChambers work together in love, like a beating heart. Follow on twitter, too.
---
This Londoner is always up to something romantic and risque for queer and independently run art porn houses around the world. Aside from being a regular on Four Chambers, you'll find them gracing many of the scenes in PinkLabel — one favorite is the 36 Year Old Virgin. I highly recommended a follow on Twitter, and don't be afraid to say hello.
---
Xoe Nova
Xoe is an agender stud with curves (pronouns they/he) that you will simply hypnotise yourself on. Best advice? Lean into it. Do not try to resist. Instead, follow them/him on twitter, watch a cam show, pitch into the Patreon, and settle in for some magical content shot by super talented photographers like Isabel Dresler, a queer porn legend.
---
Porn is rarely ever a full-time job. It's rarely even a main gig. Cupcake SinClair is one of my personal favorite multidimensional queer sex workers, providing an incredible service to people of all genders while focusing on gorgeous stage performances. Her porn (check out her amazing clip store) is the icing on the Cupcake — visually captivating, made with the best photographers, safely made with respectable rope-riggers and dominants. But what you see is just the beginning. Cupcake specializes in custom made submissive videos, ranging from the sweet to the sinister. Some of her published work is very, very formidable, and the hardcore suspension shoots and bloody BDSM with cis male riggers may not be everyone's cup of tea — but sometimes it's mine… and when I'm feeling that naughty, I go directly to Miss SinClair, whom I know is in control of what she's doing and what she's into. Following her is following her own sexual exploration and for that, I have to recommend following her on twitter as well as checking out her personal website.
---
Cupcake SinClair and Charlotte Sartre made this gorgeous short film Fétiche together with the talented Isabel Dresler behind the camera, celebrating queer femme-on-femme BDSM. This scene features boot worship, spanking, shiney latex costuming and a vibrator bigger than my head. The scene is as seductive as it is kinky.
---
I must implore you to do three things: (1) Follow BorningNerdyKate on Twitter, (2) Order one of her adorable smut magazines, she put them together herself!, and (3) Go check her out on AmateurPorn.Com, where she's one of the platform's most popular models. I don't know if it's her attitude or her boobs, or both, or the way she makes people feel good about themselves while making them all thirty as hell… she's a genius and worthy of every tip and token. Support this nerd!
---
Poppy Sanchez says she wants her sets to allow for "an absurdly euphoric state of mind,wp_postsand that's how the aesthetics of her work are delivered to you. My favorite scene of hers is "Je m'exctie," which brings self love to a whole new level. It's not a solo scene, not exactly; it's a love story. In French with English subtitles, the short film watches Romy Furie make love to herself in the vapory ink haze of a boudoir. As Sanchez describes, "no one knows her better than herself, tonight she is her own lover.wp_postsWet Dreams is another spectacular, hazy dreamy Poppy Sanchez work. Her work is currently best admired through her Instagram, as she loves to screen and create for syndication all over the world until future website/platform goals pull through.
Check out the trailer for "Je m'exctie". 
---
Performer extraordinaire Cruel Valentine has been spotted all over the queer porn map, but my favorite scene of them is by Lust Garden, called Hide & Seek. Cruel ties orange-lipstick femme Nicki Sunshine to a tree and doles out a pain/pleasure combo that could be heard all throughout the forest. Support your fave babe even further by joining them on Patreon, where you'll get access to cam shows, clips, early access to their scenes and even tickets to their stage performances.
---
Jane Way is everything. He's a gender rebel trans punk with a kick-ass shaved head-sans-high-pony, has a Tank Girl tattoo, and travels the world meeting and greeting their fans. Jane Way is the exact opposite of an untouchable porn star, openly ready and able to travel to spend time with respectful, generous clients and fans. Gone are the days of wistfully dreaming about your biggest queer porn star crush, for this time he's (or they, sometimes!) available online and in person to make your fantasies even better. I personally suggest exploring their website, connecting on OnlyFans and ManyVids, etc. And if you've ever considering hiring a queer sex worker yourself, Jane Way happily accommodates queer bookings!
---
I don't know what images the phrase "pay for your pornwp_postsconjures up for queer women and femmes whom have never ventured into the genre, except to think back to when I was a kid finding porn sites online for the first time and meticulously plotting ways to make it past the age verifications and credit card forms to access the mysterious adult content on the other side of the paywall. When the model of subscription-based online porn became popular, notions like unlimited streaming, PPV and clip downloads were unheard of. Now, we have options. In this kind of oversaturated, hyperscroll world, what does it mean to pay money — and attention — to porn?
AmateurPorn.Com is a small clip-sale platform that is run by the makers of alt porn icon GodsGirls and managed by SCORE girl, cam star and model Jenna Valentine. Valentine runs AmateurPorn like a rock and roll camp for slutty girls, and the payouts for the performers are higher than anywhere else in the industry. Really amazing and interesting people are attracted to this platform because it has never discriminated against black models, trans models, fat models or men. While the content, which ranges from amateur snaps to super high production value art slut cinema, isn't all inherently queer, there are so many incredibly hot women, femmes and non-binary queers on this site it is worth registering a username, favoriting some models, and buying some clips. FYI: On clip platforms like AP, performers name their own prices and make a large percentage of each sale. Clips range from $2 to $30 on average and you get to keep them in your streaming library safe and sound.
---
This scene by bratty bottom superstar Tai Crimson and legendary SF dominatrix Eden Alexander is one for the books. From the description: "Poor Tai — she made the mistake of trusting the administrator at her Catholic school, Eden Alexander, to give her a ride home. All that Eden's concerned with is getting Tai to give up her rich daddy's credit cards and PIN, and she's in no mood to be gentle.wp_postsWith so much spoiled brat femme-on-femme energy, I'm not sure you'll know who to root for.
---
PinkLabel.TV works like a video-on-demand library, with individual purchases added to your library as rentals or owns. However, a new feature launched this year (PinkLabel Plus) gives you unlimited access to a collection of classic queer porn films like Baby You're Frozen, The First Time and newer scenes like their very own Tickle Takedown with Amarna Miller and Barbary Rose. If you're new to queer porn and want a place to call home, this plus membership is a good exploratory option, especially if you prefer films over individual scenes. For $25 a month, you can access a lot of what gets made by the collectives, artists and individuals that make up the global queer porn scene, particularly the foundational works by myself, Shine Louis Houston and Jiz Lee. Once inside Plus, it's a little hard to navigate the Netflix-style menu but you just have to explore and see where your desire strikes. Bonus: Unlike other, more corporate VOD platforms, PinkLabel's parent company Pink & White Productions boasts an incredible pay structure for the filmmakers and performers involved in their project. The film-makers at PinkLabel.TV are paid well beyond the minimum.
---
Pink & White has been around since 2005, but lately they've been making some new things to be excited about. PInkLabel Plus is just the beginning. Owner Shine Louise Houston is a talented and educated film maker who has been giving courses and lectures on how to make narrative erotic film, ensuring that by next summer there will be a whole new crop of queer porn magic to swoon over. Check out Birthday, an incredibly queer narrative shot beautifully by the P&W crew and staring Barbary Rose and the super-foxy owner of Feelmore 510.
---
Paulita is a phenomenal performer and a unique beauty (unforgettable tbh) but she's also a film curator for the Berlin Porn Film Festival, an annual gathering that paves the way for high art erotic filmmaking. Follow her on Twitter to learn about new releases from around the world before anyone else.
---
The UK has always been a hotbed for kinky, cheeky sexual fantasy, and independent feminist porn maker Pandora/Blake has made their living as a femme/female-presenting spanking switch and pornographer for over a decade there. This year, both Blake and their partner came out as non-binary genderqueers, and are looking at spanking porn — and much more — in a whole new light. Pandora/Blake is one of many "liferswp_postswho seems to be exploring sexual freedom after struggling with legal issues and big life changes; they fought for justice against the British Parliament when new legislation made spanking porn illegal and personally questioned the future of their site, Dreams of Spanking. "Mx Blake,wp_poststhe nom de plum for PB's masculine-presenting, curvy naughty boi persona, has their own ManyVids and an upcoming scene on QueerPorn.TV. Follow Pandora/Blake on Twitter to keep up with them!
---
The Extra, Extra Sexy Extras
I wanted to make some space for a few particular babes who may not have a huge porn scene catalog for you to peruse right now or it is scattered, but have a great online presence and other ways to crush out. I highly suggest spending some money on these babes, let's create a queer porn economy that's based on appreciation, fandom and unabashed respect. Here's some juicy stuff I found that's on the horizon for me as a reviewer — follow these babes and see what's happening!
AORTA Films: AORTA is a small queer porn studio that makes gorgeous work with a variety of different kinds of queer babes, and what's cool about them is that they distribute themselves widely. Get ready for BDSM in the forest, orgies, and great cinematography — all available through their website, Patreon (only $9 a month) or through PinkLabel.TV. AORTA also screens far and wide at film festivals like the Berlin Porn Film Festival and POP Porn, hoping to assure worldly homo influence one super-cute scene at a time. AORTA's Patreon feels like a crushy pen pal relationship with your favorite queer porno pals. They are listed here especially for their newest release, Orgy #002 — which is great in itself, but from the name implies at least 98 more orgies which we think is pretty fucking hot. Orgy #001 is live on PinkLabel, if you're curious.
Spit Exposed: Spit Exposed is a Canadian website that specializes in pansexual videos, photosets and erotica. The basis of any great queer porn site is often the performer index page, which in this case just looks like the roster for a really, really amazing sex party.
Kitt Lil'th: Follow them on twitter and check out their landing page of clip platforms and contact options.
Mx Mercy West: Check out Mx Mercy West Strokes Their Twink Boi Cock.
Billy Lore: Check out his clips on ManyVids.
Brooke Rain: Follow her on twitter if you're interested in cam shows, phone sex, and future queer porn scenes.
Satana Kennedy: Satana Kennedy is exploring anal gaping on Tumblr.
Venus Selenite: Venus, a trans/queer dyke/fag, has super hot solo videos here.
Quinn Lane: Genderqueer non-binary femme just starting out.
---
Some Notes About My Process
I gave myself some very strict guidelines for this piece. Some of these performers are people I have met, screened with, worked with, shot with — but this list comes from looking for what's been floating around the internet for the past few months and looks great and I made a strict rule not to include anything in which I had a hand. A few years ago I think that may have been a problem, but this year it was a mind-boggling, panty-soaking piece of cake. My biggest take-away in all of this is that in 2002 when I started doing sex work and making porn, there wasn't much out there to explore. I couldn't have written this piece (though, shout out to Ssspread and Barbara DeGeniveive for early queer porn inspirations) 15 years ago and it brings tears to my eyes to think that now, young queers have this — all of this — to explore. Our sexualities are blossoming as a community because these images exist and I can't help but wonder what a few more years like this one will bring to the medium of heart-driven DIY gay, lesbian, trans, and queer porn. I want to thank the younger generations of artistic, passionate queers who are making the genre of queer porn sparkle. May this pride month be in honor of you.
#TalkAboutPorn
Update 6/30/2018: Fourchambers has announced that they are no longer be able to use Patreon as their main platform. Adult content creators have been struggling to work with the "creator-forwardwp_postsself-publishing company for years, but apparently today the long fight is over. Please follow Vex on Twitter to follow them as they move forward. Any other creators who may have links to the platform may also be broken at some point moving forward, so seek them out on other platforms, too.