Accessories ! is such a weird word. But they are wonderful, wonderful things. Sometimes they're really practical, like hats in the winter — sometimes they're really impractical, like scarves in the summer. Practicality aside, accessories can make/be the outfit or just accentuate something that already looks great. So let's indulge a little, shall we?
Scarves!
Tying things around your neck looks cool. It's like, necklaces just weren't cutting it anymore so scarves stepped up their game. There are a number of different styles and a number of different ways to tie the different styles, but essentially they're all variations on a theme. I really like light and airy scarves, like this one from American Eagle or even silk scarves a la Lija for springtime/summertime wearing.
And then of course you have your more heavy duty, hand-knit-retro-arcade scarves that are perfect for the winter. check these out at bits2buy.
Headphones!
On a related note, I'd like to introduce you to something my mother refers to as "electronic scarves".
It's when you wear your headphones around your neck so that cute lesbians can ask you what you were just bumpin' and you can be like "Tegan and Sara," and then you guys can be together forever in a whirlwind of gay autostraddling happiness. Like I'm pretty sure that's what happened with these two:
You can try Skullcandy S6HEBZ-WB Hesh Headphone, (White/Black). These super-fly trendy motherfuckers from Panasonic. These WeSC Oboe Headphones come in every color of the rainbow!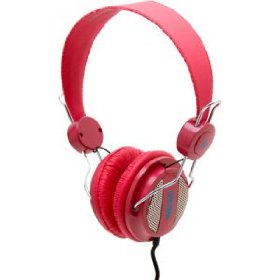 Ties!
Don't let Avril Lavigne ruin ties for you! Or anyone else!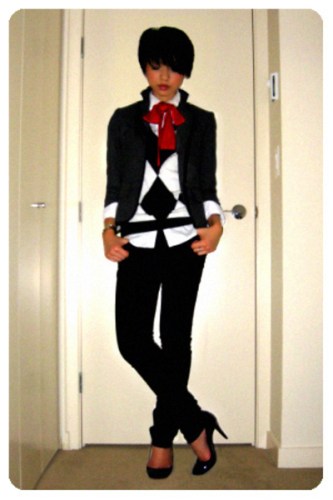 They are too fun and too hot for you not to wear every now and again. Narrow ties, bow ties, knit ties…

The ties on the left are from Club Monaco, sneak peaking their spring 2010 collection; the ones on the right are from Baptiste Viry's fall/winter collection. Wear them classy, wear them casual, wear them in a box with a fox and some socks. Just do it. If we all agree that ties are ok to wear, here and now, you won't have to worry about anyone judging you because we'll all be on the same page! Okay?! Good, glad we had this talk.
Hats!
Having a bad hair day? Wondering what you can wear to make that pocket/v-neck tee more interesting? Oh heyyyyy hats.
I know you're all sick of me talking about fedoras…so I'll make this quick. 1) Fedoras are cute 2) Get vintage fedoras from Trade City.

See? Done.
But hey! There are other hats out there. For instance, the slouchy beanie:
I don't know why everyone is looking to the left. Something really exciting is probably going on over there. Maybe there's a slouchy beanie sale. But really, these hats are pretty great. I feel like they've generally been a bohemian accessory, but now everrrryybody's wearing them. Maybe because everybody is 'bohemian' now. I don't know. I don't understand style labels too much, I just think they're cute.
Already outfitted with a fedora and a knitted beanie? Let me introduce you to another hat I wear on the reg:
These are a New Era 59Fifty X Girl Skateboards collaboration. Fitted hats are particularly fun if you like any of the following: wearing neon colors, jerking, skateboarding, getting hit on by women, wearing boxers with tight jeans, listening to hip hop…I found mine at a Zumiez, and bought it so I could Jerk better. You can probably find them online at some such skateboard store or maybe you should take this time to re-activate your eBay account.
Of course, these are just a few of the many, many, hats out there. Top hats, paper sailor hats, Peruvian/ski hats, those super-warm, please-don't-be-real-animal-fur, bomber/hunter/other words associated with violence hats… you should probably just stick something on your head if you don't know what else to do with your outfit. It generally works.
Glasses!
Geek chic has been a thing since… well, I don't really know, but there have been various little trends that have picked up on the awesome appeal of glasses; and if you're like me, you're thankful. Cause sometimes contacts get annoying. Anyway we know how much you all love a girl in glasses. So why not be that girl? If you lack poor eyesight, there are still options for you.
You have those emo roll-overs that I guess now are re-inventing themselves as nerdy hipster glasses by becoming slightly bigger.
That in turn led to the hipster/preppy combo going around thanks in part to J Crew pimping out geek glasses at some eye-brow-raising prices. At this point you kind of go from looking nerdy to just plain academic.
Of late I've been rocking horn-rimmed harry potter-esque glasses. Excuse the ridiculous face, New Jersey had just been all like "FUCK YOU GAY MARRIAGE".
Who knows what the future of glasses will hold?
Oh wait, I do. It's this:
Yes, book hats will be popular, too. Also, I think the girl on the right is trying to take dizzy bat to the next level. Just sayin'.
COMING SOON: Belts, bags, watches, jewelry, and more! Happy accessorizing y'all!