Hey, hi, and hello fashionable chicks of the world. Remember last time when we debuted "I'll Have What She's Wearing" and we said it was Wednesday but it was really Monday? Well we've all gotten a little more sleep and put our shoes on the right feet, and we're pleased to tell you that today is actually Wednesday! We're pretty sure. If you are a new reader then you don't even know that happened, forget we said it. Oh and also, here's what this is:
In addition to talking about sweet clothes in general, we're going to start posting pictures & interviews for you of real live queer grrrls and what it is they're wearing! Think lookbook.nu except gayer and a little more chatty. Here, we'll have ladies talk about their styles so you can relate, be inspired, or just procrastinate some more. These ladies are living proof that lez fashion can really be anything–and that you don't have to wear skinny wife-beaters that show your nipples a-la-shane to be hawt (unless, you know, that really IS your style). So check up on us weekly to see who's rocking what and why!
This week we're bringing you dog-walker-extraordinaire and wondergirl Lija [that's LEE-yuh]. She'd like you to know that she loves dancing, her dog Cappy, and NPR, but I'd like to add that she can do glasses like nobody else. With a fashion sense that is one part geriatric and one part trendy, she's basically just the cutest.
Let's start at the very beginning: how would you describe your style?
"Well, actually people say I dress like a grandmom, but I would say 'granny chic.'"
Where do you like to shop?
"I like bargains and I like thrift stores a lot. I like Circle Thrift. Usually I buy scarves, and I like tiny little things. Shoes and earrings usually cross the line, though. Maybe someday I'll find shoes that are just too good to pass up, but they'd have to be really really awesome. I don't like spending a lot of money on clothes at all."
So do you make any of your clothes?
"Not really, Except for things that I crochet, like hats. Once I tried to make a quilt but I was like, 'Fuck this, I'm going to be here forever.'"
If you were going to write your own version of "My Favorite Things," what would you include?
"That's one of my favorite movies! But a few of my favorite things? Um, my dog."
Okay how about your favorite things that you put on your body?
"Ooooh okay. Got it. If you ask me a non-specific question about something I love, I'm probably going to talk about my dog. Just silky shirts and scarves. I have this one shirt that's really flowery and silky."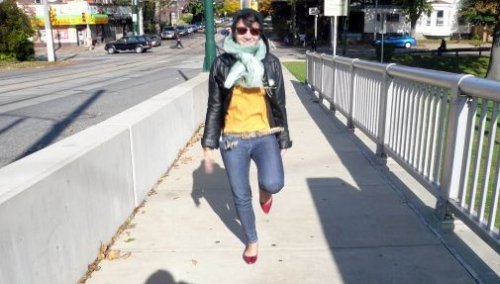 How do you deal with winter with all that silk?
"Layers. And my coat is puffy and warm. I like summer clothes better though. Short shorts."
Do you want to talk about your hair?
"It's weird. It used to be very long and curly-ish. Curly, I'd say. I don't think I've been hit on at all since I cut my hair. By guys I mean. It's like I have to make more of an effort to look like a girl with my clothes now. It's very interesting. I just feel like people treat you differently."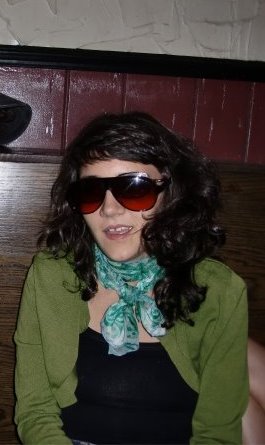 Is there anything you wouldn't be caught dead in?
"Oh probably. There's a lot. The pants that go to here [capris]. I don't like the ones that go to here either [highwaters]. I like heels but I can't really wear them. I would die in them. I would actually be caught dead in them. I'd be in the middle of the street passed out with my ankle broken. And I'm not really a big fan of JNCO jeans."
[We had a serious breakdown of communication here but don't worry, we have pictures! I still have no idea what these babies are, but maybe you guys know what she's talking about.]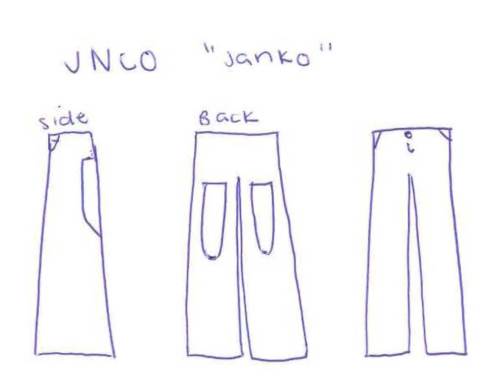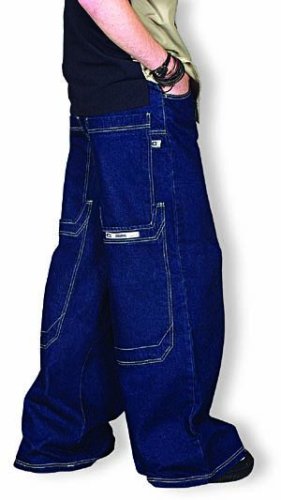 There you have it! Stay away from giant jeans, stick with silky shirts, and the GILF look is all yours. Come back next week to check out who Becky has all picked out for us.