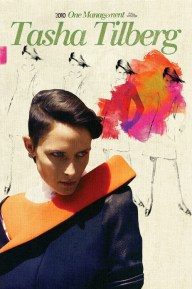 FASHION WEEK: Hey it's Fashion Week! You know, that time of the year when gaunt, desperately slim-hipped women with devastatingly luminous angular faces and wild glamorous/terrifying hair clomp down narrow elevated platforms, showing off confusing/expensive clothing to swarms of movie stars, journalists, photographers and rich people. What fun!
Because of this grand celebration, we were inspired to check out New York Magazine's insanely awesome Fashion Week database, where we found some stuff you might like.
But first; once you're done looking at the fashion week hoo-ha, you should read Fire in the Belly: Self-Love and Navel Gazing: "How do I love my belly, when billions of dollars every year is spent teaching me (and others) to hate it/me? Just remembering: This is my body, not their billboard. I live here. I love here. I feel what's right "in my gut"…My history and the history of every big-bellied woman in my bloodline back to the big, fat dawn of time. My body remembers all that; it stretches with what I fill it with. My ample hip remembers the lips that lovers pressed there while their kisses traveled the generous road of belly." (@edenfantasys)
Lesbian Tasha Tilberg is in the big fashion show… and she just tied the knot with her girlfriend! At Fashion for Relief Haiti NYC 2010, The New York Times reported:
…alongside the duchess sat the Covergirl model Tasha Tilberg, wearing her customary nose ring and chatting about her recent wedding in Canada.
"Yeah, we did it in Canada," said Ms. Tilberg, who is Canadian but only married there, to her long time girlfriend, because same-sex unions are not legal in California, where they live. "Now we're working on kids," she said.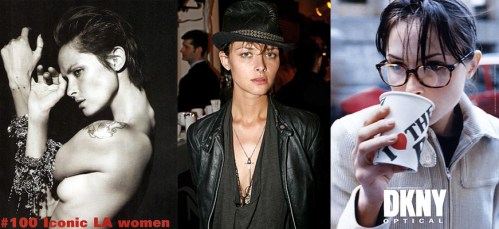 Tilberg walked in Rad Hourani's show. Hourani says all his clothing is "unisex": "Unisex is my main focus," Hourani told us. "All my pieces are unisex so you can wear it feminine, masculine, a guy can wear it, a girl can wear it, at any age, anytime, anywhere." Mmhmm. As long as you never grow any lady-parts or eat a sandwich! Regardless, we appreciate the intent/gender-expansive view of the world.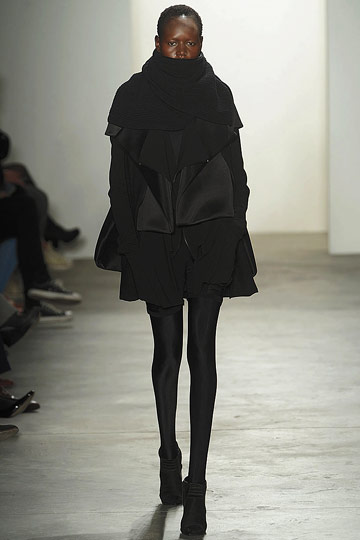 Really-most-likely queer and really-definitely smokin' hot Freja Beha, is a star at this year's fashion week — NY Mag crowned her "Tuesday's Top Model" — but lately really she's an overall star. Like, in general.
Our boyfriend Adam Lambert attended The Blondes show along with a plethora of other homosexuals (both Jays from America's Next Top Model) where he was sitting in the front row with a friend. Clearly Adam is a close talker.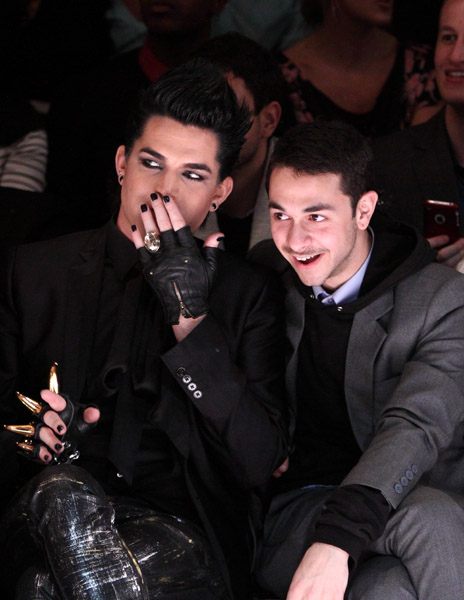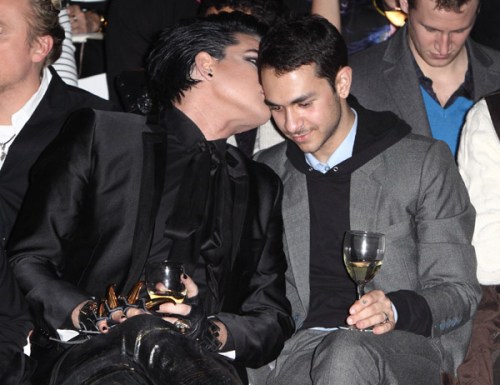 Look, it's Amanda Moore in the model database. Moore is "mostly retired" and also categorized as a "bad girl" (this is a theme with the rumored gays, it'd seem– almost all the gay/bi girls are "bad girls" according to the database). Although Amanda is not in Fashion Weeek, she is still hot and gay.
Amanda says, "I never wanted to be a model—I was a basketball player. "
Career higlights include: 24 JUL, 2004 – "Named a de facto lesbian style icon by The New York Times, who characterizes her as "uncommonly open about her sexuality."
Lesbian model Jenny Shimizu walked for John Bartlett's "return to womenswear." I like a womenswear designer who still is kinda designing menswear. See there she is in the black suit: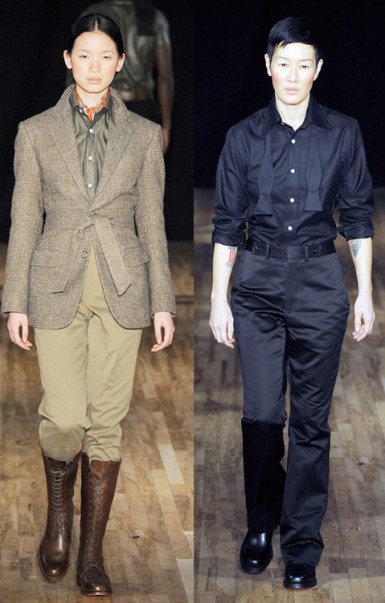 Samantha Ronson DJ'ed at Fashion Week at her sister Charlotte Ronson's show: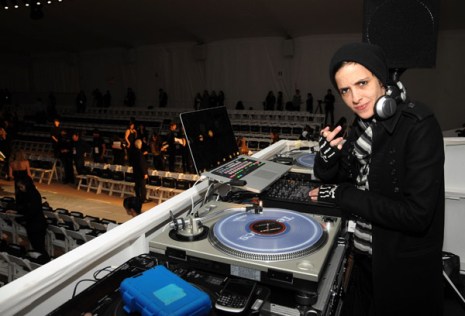 Meanwhile Lohan is way too busy for this nonsense, reports Gossip Cop:
"Actress Lindsay Lohan was reportedly not invited to Jill Stuart's Fashion Week show because she was considered a 'brand damager,'" claims the New York Daily News… well, not only did Stuart deny the ban to the Daily News, but the story is also way off base when it further declares Lohan's "absence from NYC is a little personal, too: Her ex-girlfriend, deejay Samantha Ronson, and Sam's twin sis, designer Charlotte, practically run Fashion Week."

Uh, Lohan's absence in New York has nothing to do with any ban… or even with Fashion Week. Lohan was in London at a Haiti relief benefit called, "iRock4Haiti," held at Altitude 360 London.

The actress even said, "I'd rather be raising money for those that need it in Haiti" than attend Fashion Week. Like the saying goes: "No good deed goes unpunished."
GAWKER: Nick Denton has fired editor-in-chief Gabriel Snyder, and made its first purchase; Cityfile. (@gawker)
WEIRD: Rolling Stone has playlists from our favorite Olympians. Johnny Weir is spinning a lot of Lady Gaga, as well as queermo Brandi Carlile, Edith Piaf, Roberta Flack and Sam Cooke. (@rollingstone)
TEGAN & SARA: "The majority (of women, at least) in the audience can be presumed gay. Maybe, just maybe, that's one of the reasons they're all so excited: for once, we — the LGBT crowd — are the majority. We are the general public. Or it could very well be because the moment we've all been waiting for is almost here. The Quinn twins are about to take the stage." (new england bay windows)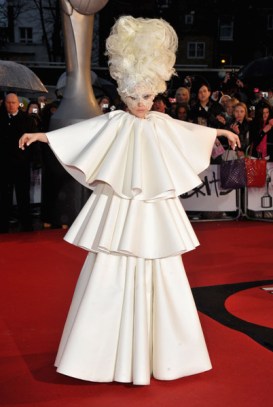 TALLULAH: New York Magazine interviews Valerie Harper about playing notorious lady-lover Tallulah Bankhead in LOOPED. When discussing Bankhead's avoidance of the "Hollywood train wreck" path, she quotes Tallulah: :"Daddy always told me about men and alcohol. He never said a word about women and cocaine." (@nymag)
LADY GAGA: Lady Gaga wins three Brit Awards: best international female, breakthrough act and best international album. The last international act to walk away with three Brits was the Scissor Sisters in 2005. (@bbc)
VANITY UNFAIR: Hey someone actually decided to ask Gabourey Sidibe how she felt about not being on the whitest magazine cover of all time:
"Was I satisfied? Yeah, well… I mean, I come from a world where I'm not on covers and I'm not in magazines at all, and so I was happy to be in the magazine," she said. "At first I thought, 'Hmm, should I be there? Then I very quickly got over it. I think if I were a part of that shoot I would have felt a little left out anyway. I would have felt a little like… whether or not I should have been there… [It] doesn't matter, because I wasn't on it and I'm excited to be mentioned anywhere, and it doesn't matter to me where I'm not mentioned."
(@access hollywood)
NICKI: Check out Mariah Carey's new video for "Up Out My Face," featuring bisexual rapper Nicki Minaj. It's kinda awesome and super-cute/fun, and also, at times, felt like a Target commercial due to the color scheme. What has the man done to me!