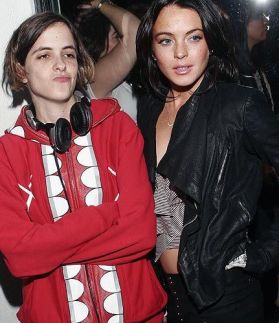 LOHAN:
Well, finally it looks like the Lohan PR machine has clamped down and is safely restoring Lohan's image in at least one area — her certified sex appeal to men. She has told The Sun that if she doesn't get back together with Samantha, she'll date a man next.
Although Lohan's bisexuality was well-known within gay circles before Samantha Ronson became Lohan's official Plus One, Lohan is now reading the standard script (likely fed to her by agents & handlers) — that her attraction to Sam was a surprise as she's never liked women before and — hello magic 8 ball — she'll defo never fall for another lady again! LOL!
Hold your aggressive comments for just a minute, angry ladies /otherwise-identified persons! (We're sure you'll find a reason to leave one anyhow, but hear us out first, it saves time.) Yes, we realize that being with Samantha and then "returning to men" still "qualifies" Lindsay as "bisexual" (whatever that means). But context is everything. We'll get right back to that — first, here's the interview:
"I never really thought about women before, it kind of just happened with Samantha. It surprised me. We're still in touch. We live in the same apartment building in LA and see each other often. She has always been one of my best friends.
"If I wasn't with Samantha, I would probably be with a boy next. She's the only woman I've been attracted to.
"We love each other. We might reconcile the relationship, maybe. I don't know."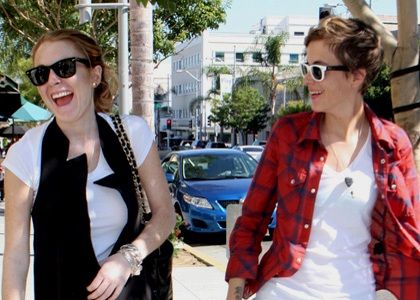 It's all about context.
The "I just went gay for one woman" storyline is a PR favorite and a certified technique employed to safely restore the perceived heterosexuality of a starlet, particularly when most mainstream media has been eagerly anticipating said starlet's return to their heterosexual spank banks since Sam & Lindsay had their first public row.
But here's why it matters that Lindsay's people are making her tell this story now, and why it's disappointing: this isn't just a Hollywood story. Perhaps your first girlfriend tells a similar story? Perhaps you once did? Perhaps you've seen this story hurt people in seminal works including Tipping the Velvet, Brokeback Mountain, Rubyfruit Jungle, The Well of Loneliness…
We're not discounting that many humans "go gay" for just one person, but officially declaring the rest of the gender off-limits so declaratively is a fundamentally problematic declaration when utilized to safely return to socially-sanctioned heterosexuality. (No, it's not the same the other way around.) So confidently predicting the future is almost transparently employed to restore image or ensure self-rationalization.
Of course, Lindsay's affection for Sam cuts through even this public rationalization — notoriously keeping tabs on each other via public interviews with other people, it's like, "FYI Sam, that doesn't mean you! We can still get back together!"
This shit trickles down, y'all. Bisexuality, we know, is misunderstood, and until gays become socially accepted, your parents & friends might still be hoping that just like Lohan, that girlfriend of yours is an anomaly, and after her, you'll also be able to declaratively ensure a permanent return to penis. And hell, if you are bisexual, maybe you will only date dudes after! But maybe you won't! Nobody knows yet, the future is a large & uncertain place.
After all, when it comes to the rest of her narrative, Lohan is anything but certain, telling OK Magazine regarding her career, "I don't know. I can't decide what's going to happen. I don't want to know, actually. That's the nice thing about life. It's a bit mysterious."
Honestly, the fact that it took this long (as far as we know) for her to say this is a minor miracle! And perhaps suggests Lindsay Lohan is a lot stronger and more self-actualized than people want to paint her out to be. Regardless, we're hopeful she'll continue to be herself regardless of what public image she's encouraged to maintain.
Lindsay also talked extensively about her relationship with Samantha Ronson. It was a favorable review:
"I think Samantha was growing as a celebrity and a musician and I think that might have scared her family. But I've always been her biggest supporter and, yeah, I love her.
"All the fighting stuff was just because all her friends had got involved and made me an outcast, which wasn't fair to Samantha. I think it was a jealousy thing in terms of her becoming more famous than the rest of them.
"She kind of does what she wants now. It's changed, so who's to say we won't be together again?"
But she is happy to talk about Sam and claims most of their time together was happy and peaceful, despite dozens of pictures of Lindsay looking worse for wear after nights out with Sam ended in tears.
She says: "Maybe I was upset, or we had a tiff about something stupid.
"A picture can tell a thousand different words and lies. They want the negative, they want the drama. They want to say, 'Oh Lindsay's distraught, here we go again, should Sam leave?'.
"Mostly it was great. Everyone has ups and downs, it's normal. But in front of the public eye they're going to take the downs and make it seem like they're a million times worse. That comes with the territory.
"It was a big deal for me because I've never had a relationship as public as that, especially being with a girl for the first time. That was really scary for me. But I didn't care because I love her."
MUPPETS:
As you know, we are big fans of The Muppets here. And we were excited therefore to see this list of the Top Ten Sexiest Muppets — well, first we saw it on ohnotheydidnt where the poster managed to make this seemingly innocent list kinda violating, like kicking it off with Kermit bent over and his you know what open. (@ontd, @hecklerspray)
JOHNNY WEIR:
GAGA: Advertising Age has a great editorial about why Lady Gaga is the perfect star for this moment in time and how she's used social media to accelerate her whirlwind climb to the top.
All parties who work with her on her label, management and marketing teams cite Gaga herself as the ultimate brains behind many of her creative and social-media ideas and tactics.
"When you're dealing with someone as good as Gaga, a lot of it is how to stay the fuck out of the way," said Steve Berman, Universal Music's president of sales and marketing. "Gaga has worked tirelessly in keeping up daily if not hourly communication with her fans and growing fanbase through all the technology that exists now."
Yes, AND WE LOVE HER FOR THAT. (@adage)
TELEPHONE: New deets keep leaking about Beyonce and Lady Gaga's music video for Telephone. "I am such a huge fan of hers. We just filmed her video two weeks ago in Los Angeles, and it's gonna be so crazy," said Beyoncé, who also worked with Gaga on her clip for "Video Phone." "I don't want to give too much away because I don't want her to be upset, but it's a part two of 'Paparazzi.' She's just so smart and she's becoming an icon in her own right." (@mtv)
BEST BUDS: Natalie Portman and her production company are working on a movie called "Best Buds." You guessed it, it's a stoner comedy, and yes, she'll be starring in it. If you're like me and your roommate once made you watch Pineapple Express every night for 10 days straight, this is very good news. (@newsinfilm)
LEZZYS: Hey kids, guess what? We're nominated for a Lezzy Award! Isn't that cute! You should probs vote for us if you have time. Vote in the NEW BLOG category, if you would. Thanks, you lovely readers, you! (@lezzys)
TIME: Oh hey, speaking of contests, Time Magazine is taking suggestions for best 25 blogs of the year. All you have to do is tweet your suggestion @Time. We'd love you forever if you picked us! But you don't have to. Freedom of choice and all that. (@time)