LADY GAGA'S ALEJANDRO VIDEO:
Today Lady Gaga's Alejandro Video premiered. Did you see it? What do you think? Have you decided to wait on forming an opinion until Autostraddle Lady Gaga Correspondent Alex Vega recaps it? Well, I hope you're ready for an Olive Garden-esque wait time: ladies, order yourself a Pina Colada, 'cause until Autostraddle makes money and can pay Alex, we unfortunately cannot strap her to a bed and gyrate on top of her scantily leather-and-latex clad body until she figures out what the fuck this video means.
DO NOT DESPAIR, HOWEVER, BECAUSE Alex will be back at her computer in a few hours to provide you with a full Alejandro video recap this evening. Until then, we are on a recap-related-media-blackout as anyone else's opinion would inevitably tarnish our own, and we must remain pure.
Except yours, of course. In the meantime, why don't you watch it and let us know what you think?
Because my brain was removed from my head with an ice cream scoop approximately one month ago (my best friend Haviland assures me it's not noticeable), and figuring this sucker out is officially Alex's job and not mine, my personal thoughts re: the video are very elementary/probably completely off-base.
Mostly I would like to know your thoughts/questions, so that she can copy-paste them into her recap later.
+
My Number One Feelings About Lady Gaga's Alejandro Video:
+
1. Bonjour Mireille Mathieu
Although you might find yourself humming The Facts of Life theme song after seeing Lady Gaga's bowl cut, you might be better off singing some French Anthems with giant armies behind you or something like that. Because this is what that haircut made ME think of:
That's Mirelle Mathieu y'all. She's not in The Beatles, she ain't Tootie, and she certainly ain't Saleshia's makeover from America's Next Top Model or Karen O, but she's French and rocked that haircut for pretty much her entire life.
2. Icy Heart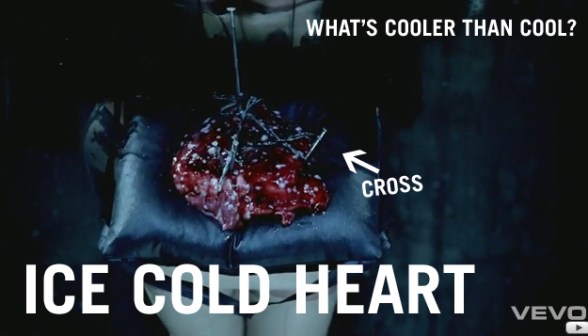 3. Evita/Cabaret Mashup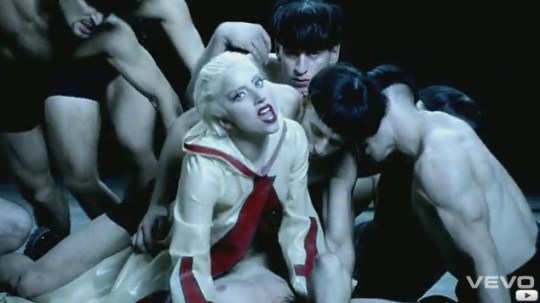 Is this the story of the persecution of homosexuals by the church and the state throughout the years with a particular focus on WWII-era Germany? In the beginning it's all sex behind closed doors on wiry beds and it's all about leather and pain and guilt, and then the church is like HAY BOYS and then the church is like "fuck you" and then the homos are like "no, fuck you" and then the army is all like RAWR MARCH MARCH, and then they're all like, "you've got guns on your tits mein herr!" but then 'cause now the church is a woman she's like "I want your ugly, I want your disease," (because everything she loves is ugly, I mean really, you would be amazed), and because Lady Gaga is the church she loves the gays so everyone is like THIS IS SEXY! BUT THE WORLD IS STILL MEAN! LET'S GET A HAIRCUT! Do I just think this is somehow Nazi-related in certain parts because Cabaret is my favorite musical and now I have Fatherland stuck in my head?
Why do I mention Evita? I'm really not sure. Maybe because of the Catholic imagery and the lady (gaga) singing with a Madonna hairdo. She seems to be the head of state/lordess of the underworld. You know?
+
4. Army Style
Are the army guys in here supposed to look like Nazis, or is that just that I've been scarred for life by my religious education, which was mostly about the Holocaust? Because those are defo Nazi-esque army uniforms up in thurr.
Also in that picture [above] Lady Gaga's got some Aeon Flux action going on.
+
5. Annie Lennox?
Annie Lennox or a Pepsi commercial from the '90s. I couldn't decide.
Ultimately, this video reminded me of a hot modern dance piece or contemporary musical theater (Kiss of the Spiderwoman, perhaps?), and the ending was frightening.