I have to be honest. I haven't missed this much of the Olympics ever (thanks NBC). I'm ashamed at how little of them I've seen. It saddens me in way that you'd only understand if you saw a 24-year-old woman dribbling a tiny basketball up and down the street while walking to the store. Just because I haven't been able to witness the marvels of the human body on television doesn't mean I don't care. So here I am to offer you the opportunity to talk about everything but the sappy human interest stories.
But there are non-sappy human interest stories. Like all these homos! And Gabby MotherF-cking Douglas. There are also scores and feelings and people that I wouldn't care about if they were walking down the street with a shirt that said "Please Love Me" but that I find incredibly attractive when they have some athletic apparatus in close proximity to their person.
Women's Soccer
Were you around for our USWNT open thread? Were you around when Megan Rapinoe came out? Are you around now? If so, you should be excited for the USWNT's next game. After beating New Zealand 2-0 in the quarterfinals, they will take on Canada in the semifinals. Abby Wambach put some clothes on and has scored in every match of the games.
Women's Gymnastics
I remember Dominique Dawes and the Magnificent 7. Following the 1996 Olympics, my parents enrolled my sister and me into gymnastics. It took two weeks before I thought to myself, "Hmmm. This is not a sport I would risk breaking my neck for." I quit. With Gabby Douglas, the first African-American to make the U.S. Women's Gymnastics team since Dawes, becoming the first American gymnast to take the all-around and team gold in the same Olympics, I'm sure many more girls will be able to tell this tale in the future.
Gabrielle Douglass is the first woman of color to win the all-around gold. If anyone mentions anything about her hair in the comments, I will curse you with a million 503 errors.
Women's Swimming:
All of Missy Franklin's pre-Olympic buzz was worth it. She set the world record and took gold in the 200 backstroke with a time of 2:04.06. Fifteen-year-old Katie Ledecky also took gold in the 800 freestyle. She won by over 4 seconds which was probably really embarrassing for everyone else. I mean, she can't even drive a car.
Allison Schmitt set an Olympic record in the 200-meter freestyle before fighting from behind to help beat Australia in the 4×200.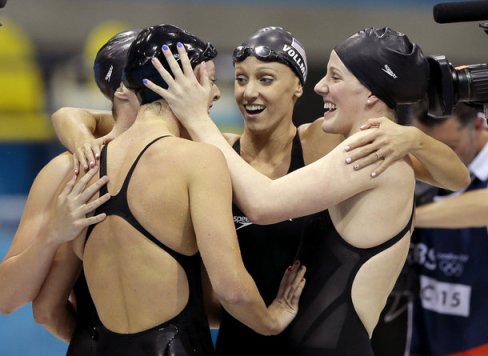 Women's Volleyball
The top-ranked U.S. team has their final pool match on Sunday against Turkey. Thus far, they are undefeated and Destinee Hooker has impressed the likes of Julie and Brandy. The fun thing about the Olympics is that athletes sometimes feel the need to take pictures like the one below. Oh Logan Tom, you're so…patriotic.
Women's Beach Volleyball
Both U.S. teams made it to the first round of single-elimination. The fourth-seeded Jen Kessy and April Ross defeated Switzerland today taking them to the quarterfinals. Third-seeded Misty May-Treanor and Kerri Walsh, two-time defending gold medalists, will try to join them tomorrow when they take on a pair from the Netherlands. The duo broke their 32 set Olympic win streak in pool play but still finished undefeated.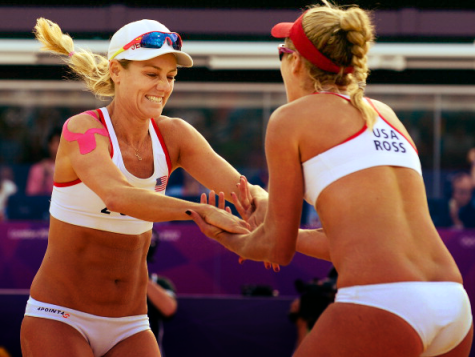 Women's Judo
The U.S. team had an uncharacteristically strong showing. Kayla Harrison won the first gold medal for the team in the 172-pound women's division. Marti Molloy took the bronze in the 126-pound division. If I were them, I'd walk around with medal on my neck and see if anyone tried to jump me for it. Then after putting them in their place, I'd be like, "Maybe you should have asked what the medal was for first." Then I'd pull an American flag out of my pocket and sprint away with it flowing in the wind.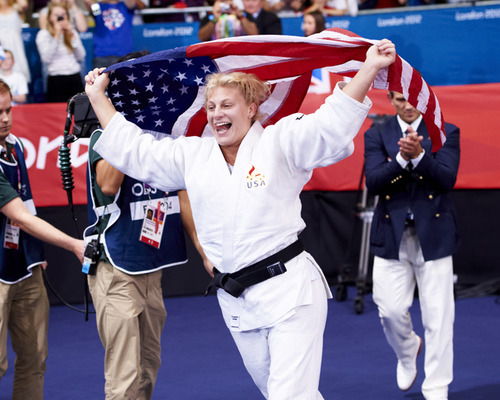 Women's Rowing
The U.S. women's eight won gold for the second time in a row. My college roommate from sophomore year is on the team so I'm pretty into it. Her name is Taylor Ritzel and she is a delight.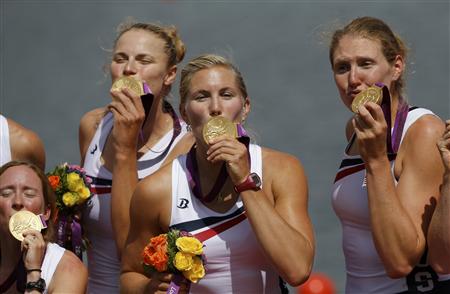 Women's Basketball
The women haven't lost an Olympic game since 1992. It's kinda ridic. They're currently 3-0 in Olympic play and take on the Czech Republic today in search of their 37th consecutive Olympic win.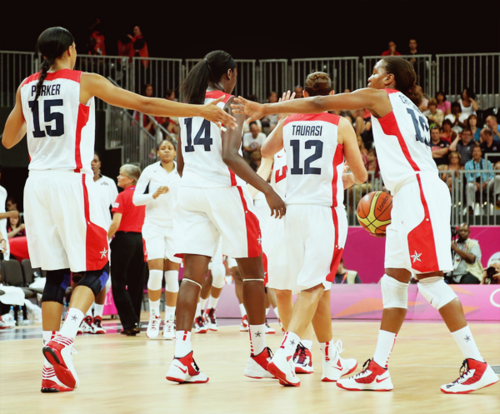 Field hockey, handball, fencing, track and field, etc.! You probably have feelings about them. You probably have people you care about that I didn't mention. Talk about them in the comments. I'm sorry I don't appreciate their awesomeness the way you do. I'm also sorry I'm American and thus wrote about America. Other countries are nice too probably but I wouldn't know. Not because I haven't been. Just because I'm American and am unwilling to admit that. Go forth and be patriotic in unproblematic ways!