DeAnne Smith is a professional Funny Lesbian and she's famous. Way back in 2009, when everyone was just a baby, Crystal interviewed DeAnne, which you should read because it's hilarious and informative.
DeAnne's been on Last Comic Standing, Good News Week and is responsible for An Honest Lesbian Relationship, the video that will make you LOL and also die of embarrassment at the same time. Look, AfterEllen interviewed DeAnne and she was funny there as well. She's probably funny everywhere. Here she is talking about a waffle sandwich!
Welcome to DeAnne's new column on Autostraddle dot com, home to famous and funny people we want to have drinks with.



Every once in a while, something happens that forces me to realize that I am not kick-ass. Oftentimes, this feeling results from a ten-minute struggle with a stubborn jar of gherkins. Sometimes, the feeling coincides with the release of an Ellen Page movie. Most recently, it came from finding a spider in my cereal bowl.
I mean that literally, by the way. "A spider in my cereal bowl" is not a bad Japanese translation for a particular waxing pattern or a euphemism for a sexually transmitted infection, although I'm starting to think that it should be. ("Yeah, I'm on a three-day treatment. [Whispers] There's a spider in my cereal bowl.") No. Recently, I had to deal with the fact that, right there in the middle of my gluten-free muesli, sat a spider.
Not just any spider, but a huntsman. If you have ever been to Australia, you know why this was horrifying, more horrifying even than the teeth and lips of Nicole Kidman circa 2008.
First, the teeth and lips of Nicole Kidman, circa 2008: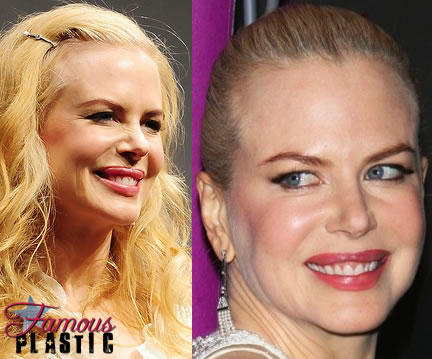 +
Now, a huntsman: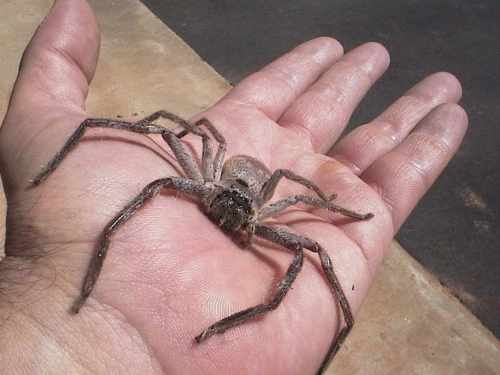 They're gigantic, even when cupped in the hand of what appears to be a Vulcan. And here's a Huntsman fact: they don't build webs. In my opinion, that's the only cool thing spiders do. They build webs! Spiders have all the materials for a fulfilling, happy life magically compacted in their own butts, which is something no other creature on this earth can claim. Except maybe for Sofia Vergara. Have you seen that ass? Jesus.¹
Without the web-building, huntsman spiders are pretty much just large, hairy homeless people that eat bugs and try to live in your shed. They're jerks.
But the point is this: I freaked out. My friend ended up dealing with the spider for me. Before you fruitarian, goddess-spirit, eco-lesbians get your functional, outdoorsy, water-repellent clothing in a twist, let me just say, that's a sweet carabiner key chain you got there. Oh, and she didn't kill it. She captured it and put it out in the garden.
Me? I stood by helplessly. I write "stood by helplessly" because it sounds much more dignified than what I actually did, which was jump up and take off my shirt in a blind panic. "Stood by helplessly" is the official line my memory and I are taking on this one. Got it? Stood. By. Helplessly. That's also the official line we're taking on what happened at the all-girl kegger in '05, when my friend's hot girlfriend cornered me on the dance floor and tried to make out with me.
And I know what you're thinking. "You're being too hard on yourself" and "That reaction is totally valid" and "Tell us more about the all-girl kegger and the hot girlfriend."
The experience of being rescued forced me to confront an unpleasant reality. I like to fancy myself more of the hero than the princess in such situations. I mean, I'm a dyke. I have a severe haircut. I own my own motorcycle helmet.²
But the truth is, much like the jegging, which is neither jean nor legging, I don't fit easily into either the rescue or the rescued category.
I am neither girly enough to get away with daintily alighting atop a wooden chair, my frilly lace frock a'quiverin,' nor am I butch enough to scoop the spider up in my grease-stained hands and chuck it aside like…like…like whatever a butch girl would chuck aside. I don't even know. A deflated football? An ill-fitting drill bit? The notion of mandatory gender conformity in a society that unfortunately demands polarity? I possess neither the bravery of the butch nor the coyness of the femme. When I see a spider, what I do is, I remove my own clothing. My power, apparently, is the surprise absurdity of the suddenly topless.
And don't get me wrong. I'm not saying there are only two ways of being a lesbian. There are probably at least two and a half, if you count Melissa Etheridge. I just wish my kind of lesbian, the bookish androgynous sort, had a bit more, um, practical competence.
See, when the girly girls were learning how to take their bras off under their shirts (sexy) and the butch girls were learning how to fix shit (sexy), I must have been in the backyard reading (Sexton). Somehow, I missed out on a whole heap of skill-getting, from dealing with spiders to dealing with…whatever girly girls deal with. I don't know. Eyelash curlers? Tiaras? Unwanted sexual attention from men who can't reconcile their feminine appearance with the dominant lesbian stereotype?
Maybe my kind has skills after all, like the ability to over-process my innate responses and then expound at length in an attempt to justify them to myself. I mean, so what if Ellen Page would have totally fought off that spider with a pithy one-liner, and then karate-chopped open a jar of gherkins? My encounter ended in exposed breasts.
Even if they were my own, that's still a little kick-ass.
1 Okay, listen. On one hand, I know it's wrong to objectify women like that. On the other, bitch is fiiiiiiiiiine. My feminist and lesbian sides are in constant battle. When confronted with American Apparel ads, for example, my inner dialogue goes something like this: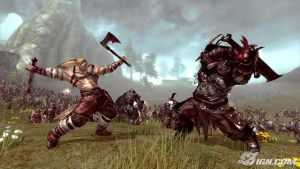 Lesbian Side: A svelte 19-year-old in nothing but shiny underwear and tube socks? Hot. I'd hit it.
Feminist Side: Hmph, it's degrading! Yet another example of how men are socialized to have sexual desires and women are socialized to meet those desires and to internalize accepted definitions of feminini…
Lesbian Side: I know how we can settle this.
Feminist Side: May I share something? I'm disappointed with your ability to engage in active listening, but I'm open to starting a dialogue with you about…
Lesbian Side: Let's mud wrestle.
Feminist Side: …
Lesbian Side: …
Feminist Side: Put down the hose.
Lesbian Side: You're sexy when you're angry.
2 As I don't own my own motorcycle, this is really less of a kick-ass thing than a safety and preparedness thing which might, in fact, be the complete opposite of kick-ass.

DeAnne Smith is a hilarious and famous lesbian with a website and a twitter account.