Many critics have said great things about DeAnne, including "socially aware and ridiculously, ridiculously hilarious" and "mercifully unpretentious and pleasantly hip." Some hack at Buddy TV described her performance in Last Comic Standing as: "a lady who looks like a dude," which clearly makes her our kind of lady. DeAnne recently won Australia's heart with her guest appearance on Good News Week, a current affairs comedy TV show. She's quick-witted, intelligent, engaging and queer – the perfect choice for my very first Autostraddle interview.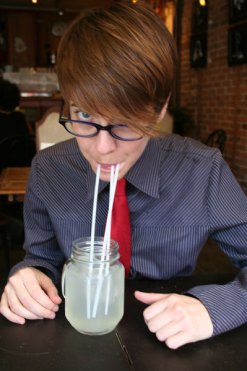 I caught up with DeAnne during a break from her 2-month long Australian tour, DeAnne Smith Lacks Focus. Calling from her girlfriend's cousin's fourth birthday party in Melbourne, DeAnne  graciously shot the breeze with me about ant hills, beauty regimes, $1 dollar tickets, doonas, and the transcription capabilities of digital voice recorders.
Only some of these conversations will be featured below because bad cell phone reception meant that I couldn't hear most of them.
Have you ever stood in Times Square asking tourists if they like comedy?
No.
How do you prepare for a performance?
I tell myself the shaky feeling inside me is "excitement." And I go over a list of the jokes I want to do.
Have you ever had a contract rider? If so, what did you list?
Yup. Maybe I should learn to be more demanding, but I haven't asked for anything special yet. I like fizzy water.
I heard somewhere that you used to be vegan. What happened to that?
Mexico happened to that. I lived in Mexico for about 6 years, and I just couldn't keep up the veganism there. Now, I'm a mostly vegan who eats the occasional bit of fish. Are you judging me?
I've also heard you say that you work as a nanny, and bear a resemblance to Harry Potter. Does this make you a hit with the kids at the playground?
If anything, it's my almost super-human ability to play repetitive games with 2-year-olds that makes me a hit.
Following your appearance on Good News Week, a few people mentioned to me how shiny your hair is. What's your secret?
It is? That's so nice to know! No one's ever asked me for hair tips before. Hmm, well, I don't use conditioner, I have no brand loyalty to shampoo, and I don't shampoo daily. How's that for a beauty regime?
Do you really live in a basement?
Yes. It's like a half-basement, so only about half as depressing.
How are you enjoying Australia so far?
I've just been in Adelaide, which was a lot nicer than when I was here last year. Last year, there was a big heat wave with 107-degree heat, so it's a lot more pleasant this time around. I really do like Australia, everyone's very laid back and friendly. Although I'm not used to the differences in language.
The slang can be a bit tricky…
The slang and the abbreviations are kind of odd. The other day I met someone named 'Jarsy'. He came up to me and said "Hey my name's Jarsy" and I was like, "But what's your regular name?"… it felt a bit intimate. My name is DeAnne, but I don't go up to people and go, "Hi my name's DeBang, what's up?" So that's something fun about Australia.
Your girlfriend is Australian, was she able to teach you a thing or two?
Well now I know what a doona is! [A duvet] She helps me to bridge the gap. We'll go to comedy shows and everyone will be laughing at Australian references that I don't understand, so she's able to explain them to me.
You've just finished the Adelaide Fringe festival, how did that go?
It was awesome! Really good fun. I had about nine shows and they all went really well. When I was here last year, I had to pound the pavement and hand out fliers to get people to come to the show. But this year it was easier, people remembered who I was and came back to see me.
I bought tickets to your final Sydney show – so what can I expect from DeAnne Smith Lacks Focus?
It's pretty much all right there in the title. I really like to jump around from topic to topic. I'm not the kind of comedian that tells a story, or takes people on a journey. I just sat on an ant hill. That's something else about Australia.
So when a woman gets on stage, before men will decide whether or not they want to listen to you, they pretty much run through the checklist of whether or not they want to have sex with you.
Ants?
Yeah there are ants on the sidewalk, I just went to sit down and [fades away]… So there's your answer about DeAnne Smith Lacks Focus – you just asked me a question and I rambled on about an ant hill. I do lack focus. My show changes from night to night, depending on who is in the room and what things might happen. I allow myself to veer off and to get distracted, and I have a lot of fun with that.
So is there a lot of audience interaction? I'm shy, should I sit up the back?
I do like to see who's in the crowd and talk to them a bit. I'd say sit in the front if you're shy! I'm very nice.
Your tour comes to Newtown again, which is renowned for its lesbian scene. Did you find any time to explore it the last time you were here?
Not really. It was all about comedy last year. I hope to see a bit more of the scene this year.
What made you get into comedy?
I used to watch comedy with my dad on cable when I was about 11 and it really piqued my interest and I thought it was cool. Then I buried it for about sixteen years until someone gave me a compilation CD of stand up comedy. It awakened the passion in me, I started listening to it and thought, "I want to do that. It doesn't sound too hard."
What was it like to be a female breaking into a male dominated industry?
It's interesting, being female can work for you and it can work against you. I think it's easier for me to stand out and easier for people to remember me. It works for me in the industry because I'm something different. But it can be challenging because there's so much sexism in society, and whether or not people think feminism has won, things can be unequal at times. So when a woman gets on stage, before men will decide whether or not they want to listen to you, they pretty much run through the checklist of whether or not they want to have sex with you. That's first, and then they decide if they want to listen to you. But it's hard to know whether or not it's harder to be a female breaking in to the industry because I've never been on the other side.
If you couldn't work in comedy, what would be doing?
Crying all the time.
What's next for you once you leave Australia?
I'll head back to Montreal, where I run a monthly storytelling show, Tale Spin, and the ever-popular burlesque show, Stand Up / Strip Down. Just back to my regular life.
If you come back Down Under next year, will you speak with Autostraddle again?
Sure thing!
And there we have it. This is a woman who is going places, so if you're lucky enough to live in Sydney or Melbourne then I recommend catching her performance while you still can.
Melbourne: Select dates in between April 2 – 11 at The Tuxedo Cat. Tickets are available at the door.
Sydney: Select dates between April 28 – May 4 at the Yalumba Wine Bar, Newtown. Tickets are available from the Sydney Comedy Festival website. And because I have two tickets to spare , I'm going to give them away to the first person from Sydney who emails me.
Want more DeAnne? Check out her website or watch her in action below.