Witches are the absolute best. Witches have long symbolized the power of women, resistance against the patriarchy, female community and oneness with nature. This is especially true for outcasts and marginalized girls and women who often turn to witches to find a way to feel powerful against the forces that oppress them. I'm pretty sure that most of us who were weird kids grew up wanting to be witches; I know I did.
Basically, a lot of us here at Autostraddle are big fans of witches, and I'm one of the biggest. In fact, I love witches so much that I started a Femme Witch Coven, devote a huge portion of my aesthetic to brujas and even dressed as a witch to go to my friend's wedding.
So, here's a list of 15 witches that we love, ranked mostly in no particular order. There are so many freaking cool witches, I'm sure I left out a ton who deserve to be on the list. Who are some of your favorites?
---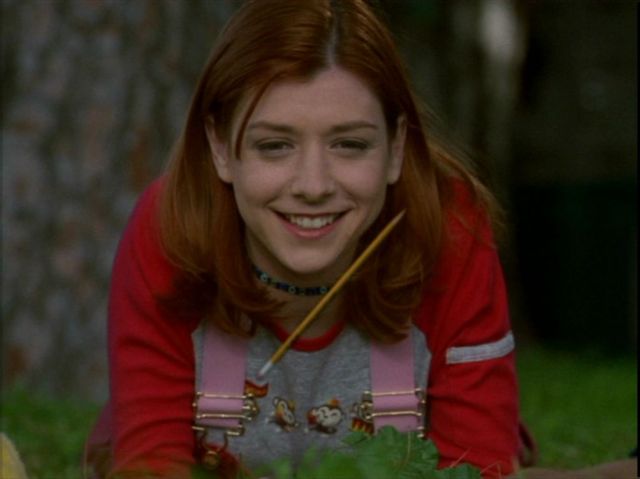 1. Willow
I mean, obviously she's gonna be on the list. She's a queer witch from one of the biggest girl power shows of the 90s and someone that seems like an awesome nerdy best friend. We've written about our love for her plenty of times before, so of course she deserves the first spot on this list.
---
 2. Gloria from Orange is the New Black
With the help of her tía, she did side work as a curandera out of the back of her shop back before she was arrested. Now that she's head of the kitchen, she's able to use her skills and knowledge to make a candle that brings protection to Maritza's baby and then later help Norma take down Vee with some eggs, spices, oil and dog hair.
---
3. Baba Yaga
I remember as an elementary school child hearing funny little stories about her, and thinking that she was a goofy figure like The Easter Bunny. But when I did some other reading as an adult, she's actually pretty badass and pretty scary. She lives in a house with chicken feet and flies around with a freaking giant mortar and pestle. She's not just the matriarch of Eastern European witches, she's the matriarch of half of Eastern European folklore.
---
 4. The Bell Witch
This was my favorite creepy real-life story to read about when I was in middle school. A 19th century Tennessee family is tormented by either a feminine spirit, a poltergeist or a witch named Kate Batts. Either way, a bunch of local legends and folklore and rumors got mixed up together to create one of the longest lasting stories about a haunting in America. Also, we wouldn't have The Blair Witch Project, An American Haunting or a bunch of other witch and poltergeist movies if it wasn't for the Bell Witch.
---
5. Elphaba
Definitely one of the most famous witches in pop culture, a lot of us loved her when she was just the Wicked Witch of the West, and then the rest fell in love after her starring turn in Wicked. She's got the broom, the hat, the entire classic look. She's got high aspirations, a great heart and she's also a pretty dang good singer.
---
6. Misty Day
I absolutely love American Horror Story: Coven (or at least I love a lot about it, I also have some serious issues), and Misty Day was maybe my favorite part. I mean, Lily Rabe is often my favorite part of American Horror Story, but when she played Swamp Witch Misty Day, she was amazing. So many of these characters were just plain terrible people, but Misty Day was able to rise above and be a beautiful soul despite all that she had to deal with. Poor, lovely swamp witch.
---
7. The Witches from MisSpelled
Have you caught this funny, creative and clever webseries yet? It's about a group of five friends who are witches and it's created by and starring a bunch of women of color. The dark comedy series deals with how these girls deal with their growing powers, their relationships and their lives. Any time you have a cast of five diverse women of color and a product that's this high quality, you know you've got something special.
---
8. Nancy from The Craft
Who didn't want to be Nancy? Who didn't have a crush on Nancy? I mean, yeah, she was kind of a jerk, and in the end she didn't exactly come out on top, but jeez, when she said "we are the weirdos mister," I know I never wanted to be weird as much as I did right then.
---
9. Sabrina the Teenage Witch
Of course a lot of us know her from her self-titled TV show starring the wonderful Melissa Joan Hart, but if you haven't checked her out in the recent Afterlife With Archie comics or in the first issue of her own new Chilling Adventures of Sabrina comic, you really need to. This is some really messed up stuff, you guys. It's like Lovecraft, old pre-Comics-Code EC Comics and The Omen had a really weird daughter. Sabrina is, as her title suggests, the ultimate Teenage Witch.
---
10. Ursula the Sea Witch
It's pretty hard to not root for Ursula when you watch The Little Mermaid. She's a shapeshifter who chooses to be fat most of the time, she's willing to help her niece reach her dreams and get a date, and she knows the importance of body language. I'm pretty sure she's my favorite Disney villain.
---
11. Kiki
Kiki is the newly independent witch girl from Kiki's Delivery Service who moves to a new town and flies around on her broom delivering things. I also considered giving this spot to The Witch of the Waste from Howl's Moving Castle or Yubaba from Spirited Away, but I have a soft spot in my heart for Kiki. I think there's something special about young witches, because they give young girls people to relate to who might be weird or different, but are also powerful and have a place in the world, and Kiki perfectly embodies that spirit.
---
12. Tituba
The Salem Witch Trials are the most famous case of American Witchery, and Tituba was the beginning of all of it. She was a slave and the very first person accused of practicing witchcraft there and she apparently confessed to "signing the Devil's book, flying in the air upon a pole, seeing a cats wolves, birds, and dogs, and pinching or choking some of the 'afflicted' girls." But she must have had some pretty powerful magic behind her, as she wasn't executed and was even released from prison after a short time, even after all of that. Right on.
---
13. Hermione Granger
Come on, how could I not include Hermione? She got a whole new generation of girls interested in witches. She was also definitely the most capable student at Hogwarts during the time of the Harry Potter books, and if she had been "The Chosen One," you can be sure the series would have been just one book. Also, remember that time when she punched Draco right in the face? That was awesome.
---
14. Prill from Witchy
The sleeper pick, Prill is from a somewhat new webcomic and isn't even the main character, but gosh, she is glorious. I've talked before about how much I love Prill, not just because she's a trans witch of color (although that definitely helps) but also because she's a boss. She knows who she is and knows what she wants and she always speaks her mind and gets her way. Plus she's one of the most stylish witches around.
---
15. The Sanderson Sisters
Finally, these three sisters from the Halloween classic Hocus Pocus have to be included on my list. Kathy Najimy, Sarah Jessica Parker and Bette Midler are absolutely delightful: funny, powerful and just the right amount of scary. Really, when you're feeling witchy and watching a fun Halloween movie, does it get any better than when Winifred Sanderson sings "I Put a Spell On You"? I don't think so.