Do you ever find yourself watching American Horror Story: Coven and wish it had 100% more gay? Or maybe you feel a sort of magical energy coming over you whenever you go through the femme rituals of putting on your makeup and picking out your dress. Either way, this is the place for you. There's no denying that there's a sort of power and family that comes from being a femme. Recently a wonderful femme friend and I came up with the idea of starting a Femme Witch Coven, and if you'd like to join or you know someone who you think would, here are some perfect gifts to get you started.
Witchy Wardrobe
If you want to be the baddest witch on the block, you've got to make sure you look your best. From the perfect black dress, to the perfect hat and accessories, all you really need to cast a spell on that special someone is the right look.
A witch never looks as good as she does when she's in dressed in black, and these three dresses are the perfect centerpieces for your coven closet. If velvet is your thing then you should go for the Vivacious Velvet Dress. Or maybe lace and a heart-shaped cutout on the back are more your style, then you'll love the Outright Amity Dress. Or if you want to go for a simple but cute look, pick out the Sun-kissed Petals Dress in Black.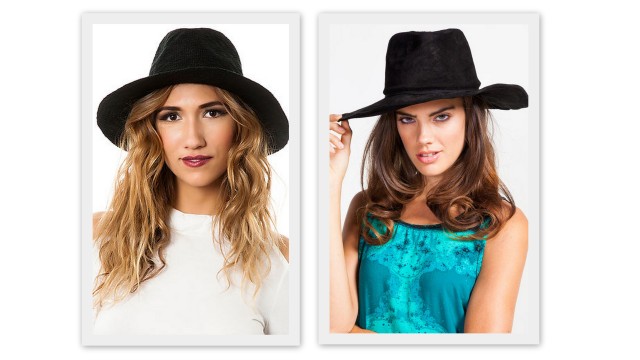 Similarly, a stylish black hat is the must-need accessory. Nothing gives you that dark and mysterious look quite like it. Now, I know that technically it's a fedora, but you definitely won't find any MRAs in the Traveler Sweater Knit Fedora in Black. This hat is much too stylish for that. If you're looking for a higher-end choice, the Lovely Bird 'Suede Bohemia' Hat is a great option.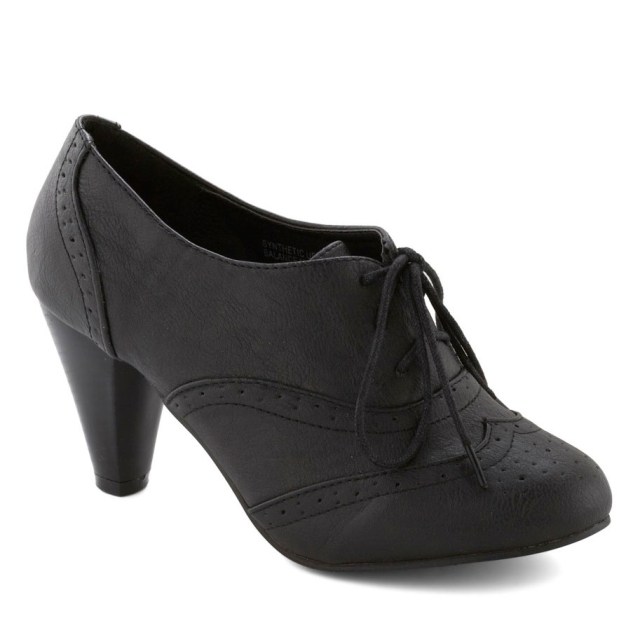 It's All Chic to Me Heels in Black.
When you're not riding your broom, you'll need to walk around, and if you want to look extra cute while you're doing it, these stylish Oxford heels are the perfect choice. Plus, they're made from vegan faux leather so you don't have to worry about compromising your morals!
If you really want to make a statement and complete your hard femme look, this one-size-fits-all harness will definitely make you the center of attention. It can be worn over a shirt or dress, or if you're really bold, all on it's own.
A Witch's Best Friend
Every witch worth her weight needs a black cat. Luckily for you, the modern Femme Witch has plenty of alternatives to the classic kitty. These non-traditional black cats are perfect for all those femme witches who are allergic, living in pet-free apartments or just want to be able to take their cat out for a night on the town.
This Critter on the Dance Floor Bag is great if you want to be able to carry your familiar around with you wherever you go. If you want to fully commit to the black cat lifestyle, you could always go with either the Francophile Feline Top or Here's Looking at Mew Dress. Or, if you want to go for a more low-key look, these Moonlit Whiskers Earrings and Good Style Omen Necklace are the perfect feline accessories for you.
Witch House Décor
You've also got to make sure your house has the right atmosphere for whenever your coven gathers, whether it's for a seance or for an awesome party. If you want to make your house into your very own Miss Robichaux's Academy for Exceptional Young Ladies, here are some pieces that will give you a great start.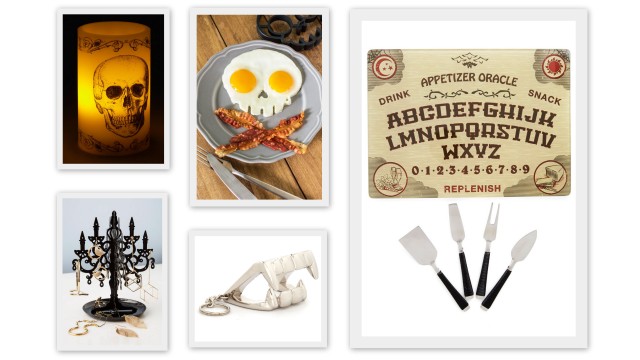 The first way to set atmosphere is with the proper lighting, and nothing sets the perfect mood quite like these Flame and Fortunate Candles. For something that's more practical, but still will look great next to your cauldron, you can ask for this dark and ornate candelabra style Shadow of a Haute Jewelry Stand. When it's time for the party to get started, this Sharp Witbier Bottle Opener will add a spooky touch to your fun. And then when you get hungry, you can cook up some morbid and tasty treats with the Brainfood Mold and then serve up your snacks on the Divine Tastes Cheese Board Set.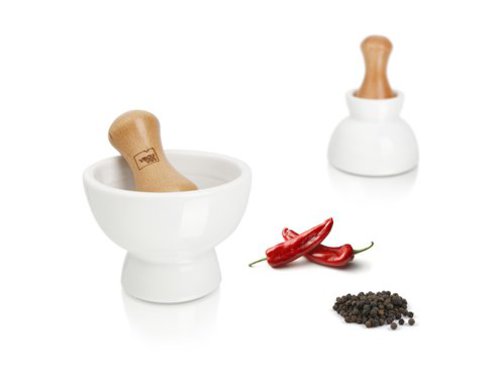 Double Pestle and Mortar by Vacu Vin
Do you need to make a special potion? Or maybe you just need to grind up your herbs and spices. Either way, this versatile mortar and pestle set is perfect for you.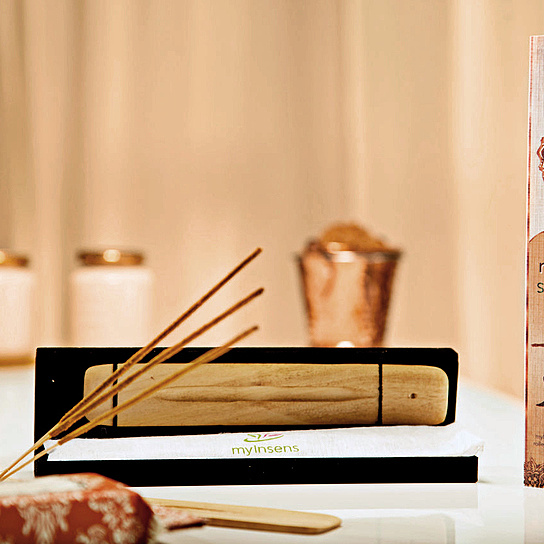 This set includes 24 incense sticks and one holder to help calm you and get you into the right headspace when you're getting dressed, being (witch)crafty, or just trying to relax.
Coven Pop Culture
Maybe you're having a Lazy Femme day and you just want to relax. Or you might want to hang out with your femme friends. These are some great ways to enjoy some of our favorite witches that pop culture has given us.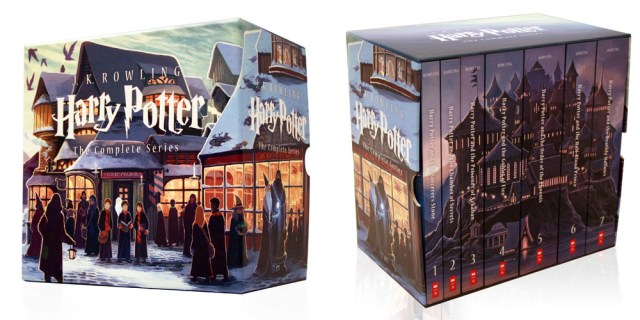 Special Edition Harry Potter Paperback Box Set
Whether your favorite is Hermione, Luna, McGonagall, Ginny, Bellatrix or Tonks, this book series has a ton of cool lady witches for you to read about and love. This complete set includes new art and packaging that is perfect for any fan of the series.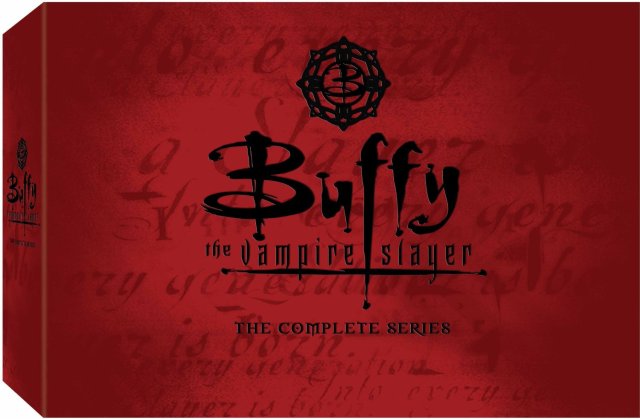 Buffy the Vampire Slayer: The Complete Series
Now, what would a Femme Witch Coven wishlist be without a little Willow and Tara? Seriously lacking, that's what.
There you have it, the perfect gifts for the special Femme Witch in your life. Just wrap them up in black wrapping paper, put on a cute bow, and you're sure to bring a smile to a femme's face.
---
Thank you for supporting Autostraddle dot com!