Hailing from Mount Vernon, New York, the Hip-Hop group Kin4Life has been creating together for over a decade. With four independently released albums, uncountable performances around the country and serious international airplay (and upcoming shows), Kin4Life is definitely a dynamic duo to be reckoned with. These two are more than just performers; they're also songwriters, producers, and record label executives — rather than compromise their art with a major label, they started their own — Noriq Records.
This upcoming Tuesday, Kin4Life will be gracing the stage at Go Magazine's 4th annual Readers' Choice Nightlife Awards. It's fitting because not only do these two women know how to handle their business but they also know how to have a good time.
I caught up with Kin4Life's founders IQ and Nor to discuss some of their favorite places and people that make nightlife awesome, as well as their new album, I Love Kin4Life, and what people can expect to see at a Kin4Life show.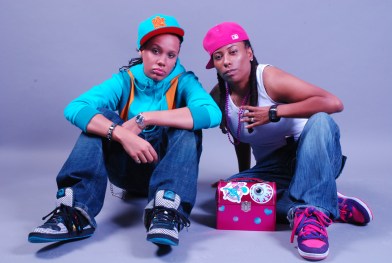 GLENNISHA: What's an ideal night out on the town like for you?
IQ: It's really about the DJ. Let's say you get out a little early, go to the city, and have a nice dinner. You'll have some wine or something like that and then you hit the party and the DJ is incredible. The spot doesn't really matter as long as the DJ is making the crowd move. Sometimes I like the lounge areas and sometimes I like to head over to LoverGirl and enjoy the party party.
NOR: I would probably have a beautiful woman with me, dressed real nice, and just hit an adult spot. I don't really like clubs that are real crowded. It would be something where it's a mix of people. All types of people, straight or gay, it doesn't matter. As long as it's good music. Good music is important because a lot of DJs now days are whack. They don't play anything you want to hear. They play all of the old stuff and not even the good old stuff.
GLENNISHA: Go Magazine's Readers' Choice Nightlife Awards are to show appreciation to bartenders, party promoters, DJs, and basically people that make nightlife awesome. Who are some of your favorite promoters and DJs? What are some of your favorite clubs?

IQ: My favorite DJ has to be DJ Jai Syncere out of D.C. because she's our DJ. So we're a little bit biased. She's a 5-Star DJ and she always keeps the crowd crazy. She spins those Kin4Life joints and breaks a lot of our music in the club. As far as the promoters in New York, you always have to pay respect to LoverGirl. I've been partying with them since forever. Growing up in New York, that's who you party with. I love them!
There are some new upcoming promoters that I really like a lot who really support Kin4Life.  Hot Nickels Entertainment does a Monday night at the Alibi Lounge in the city and they've been supporting us for a couple of years strong now. We premiered our video, "Make Up Girl" two years ago there with them and we also rocked last year's pride with them. They're definitely doing their thing. If you're going to go to New York you have to show love to DJ Mary Mac, DJ Maya, and DJ Missy B. Shout out to everybody in New York City.
NOR: I'd have to say Gud Lyfe Entertainment. They always have a real cool party with a dope crowd and I have to shout out LoverGirl. It's so many great promoters out there. There are some shady ones too but, I don't want to say any names. Of course my people out in D.C., DJ Jai Syncere. She throws some dope parties in D.C. I party all over the place. So I can tell you a million different spots.
GLENNISHA: In the past, you two were actually guest bartenders for an event at a club in D.C. While you were bartending what was your favorite drink to make?
IQ: To tell you the truth I had the most fun bartending when I ran the cash register. I was hooking it up and opening up tabs. I felt real fancy while taking credit cards but, I would have to say the Long Island Ice Tea. That was the most ordered one. I got into making that a little quick. So I showed off and tried to be fancy. I got yelled at for putting too much liquor in there. I was trying to overpour the liquor and hook the drinks up. What's the point of being the guest bartender if you're going to pour a weak drink? You know what I mean?
GLENNISHA: Right, especially with a Long Island. That's the drink that you order when you definitely want a buzz.
IQ: I had a great time doing that. That actually made me want to bartend for a minute. Then I said when am I going to have time to do that but I'd love to learn how to do it for real.
NOR: I'm not a bartender but I'd love to be in another life. If I wasn't doing music I definitely would get into it. It's so much fun. My favorite drink would have to be anything that has Hennessy in it. Hennessy is my drink of choice. It goes well with so many other different types of liquor.
GLENNISHA: Let's say you guys arrive at a club. It's early, you're scoping out the place, and you're waiting for the party to get started. So you go over to the bar. What's usually the first drink that you'll order?
IQ: It'll definitely be a Heineken. You can't go wrong with that. You don't have to worry about getting your drink shorted. I know with about four of those I'm good. If I have a designated driver then I can go for six of them.
"This new music really doesn't get me pumped anymore. People make okay records but not the joints that make you just want to let loose. It has to be an old school joint."
GLENNISHA: What's your favorite song that will always get you on the dance floor?
IQ: That would be "Turn My Swag On" by Soulja Boy because that's my brother's favorite song. When you see my brother get crazy and throw his hands in the air, it makes you wanna get up and dance. I have to say that'll make me jump up. That was probably like last summer or a while ago but, now I really like that "My Chick Bad" record by Ludacris, that record is hot. The first time that I heard the remix in the club I was excited to hear Eve's voice on the track. I haven't heard her spit in a while. So that's a new joint that I like a lot. Ludacris' album seems like it's a good album.
NOR: It has to be an old school joint like, "I Can't Let You Go" [stars singing it.] I like the old school joints coming on in the club, when they throw it back. This new music really doesn't get me pumped anymore. People make okay records but not the joints that make you just want to let loose. It has to be an old school joint. Or if I'm at the right party. Like if my man DJ Jazzy Jeff is spinning, he throws some dope parties. When he spins he will bring you around every era of music and just make you feel good.
GLENNISHA: Let's say you just meet someone and you're dating for a few weeks. You want to take her out for drinks and a good time. Where would you go?
IQ: I like Restaurant Row in Manhattan. It's also pretty close if you wanted to catch a show. You can do Broadway. There's also a restaurant called Meson Sevilla. It's traditional Spanish cuisine from Spain. They have the best Sangria in the city. You're right there in the city and you can see everything. That's a winner right there.
NOR: It wouldn't be a super packed club. It would have to be something really nice. In the village they have a restaurant/bar called Fat Black Pussycat. The joint is real nice. It's kind of sexy, it has candles. It's a nice little spot with decent music.
GLENNISHA: You recently dropped a new album, "I Love Kin4Life". For people that aren't familiar tell us about that and where people can purchase it?
IQ: It's technically our fourth album. This record was especially for the fans. Fans have been asking us ever since we released the "Make Up Girl" single when we were going to put out an album. They haven't had a real Kin4Life album since our last "Rockstar EP". That was put out in 2005. It was for our fans because we love them. You can get that on Itunes.com of course. It's available digitally everywhere, Itunes and Amazon. We also have it available on our website via paypal. We'll ship it out for you. Of course, the classic way. You can come out to a live Kin4Life show. We're every where. You'll see us soon on the 20th. We'll have copies available for you there.
NOR: Right, it's a collection of songs put together for our fans. It's our way of thanking them for rocking with us for so long. If you happen to see me you can get a hard copy in person. I'll even autograph it.
GLENNISHA: A few days after the awards you guys will be heading to Philadelphia to perform during Philly Black Pride. Why don't you give us some details about that.
NOR: We're going to be out in Philly rocking with Gud Lyfe Entertainment. They're coming all the way from NYC. I think it's 21 and over. I can't think of the name right now (laughs). I just get off the plane and show up. I'm such an artist. It's going to be dope though. Kandi, from The Housewives of Atlanta and Xscape will be there. It's just going to be dope.
IQ: We are performing Saturday, April 24th at Club Polaris with Gud Lyfe Entertainment. I'm sure there are some more sponsors on that. It will also be the first time that we perform live with our DJ Jai Syncere on stage in the back of us. We're doing it old school like Salt-N-Pepa. You have to come out for that. Get at the club before midnight. I think showtime is around 1AM.
We're also performing at DC Pride during Memorial Day weekend at Club Tabaq with DJ Jai Syncere. We have another performance coming up in South Carolina on the 25th. The biggest show of the year though is in Dominican Republic, Inferno DR. It's September 2-6. It's going to be crazy, all inclusive, food, liquor, and on a resort for 5 days.
GLENNISHA: For people that have never seen Kin4Life perform before, what can they expect to see at a Kin4Life show?
IQ: Energy and an experience. We're going to give you a show. We're not just going to stand on the stage and scream and holler. We're going to dance, pull you on stage, and interact with you. Every time we have a show we gain fans.
NOR: At a Kin4Life show you'll see constant energy and constant interaction with our fans. You will feel like you're the only person in the room. We create an experience for each and every individual and connect with them. It doesn't matter if it's 10 people in the room or 10,000. That's what we do. We get it in.
Want to find out more about Kin4Life? Check out their website or myspace page, watch them on youtube or download their music, and follow them on twitter.
Check out the music video for their track "Make Up Girl" –
+
---
.+
+
Follow Glennisha on twitter!
In addition to Autostraddle, she writes for Clutch Magazine and is the founder/publisher of TheFembassy.com.
+