Guess which smokin' hot actress is hosting next week's hottest NYC-area party?
Michelle Rodriguez. Betcha didn't even know that she's a DJ. Well, no one knew that Superman could fly either and then he was like Niagra Falls here I come. So are you gonna be there or what.
GO Magazine, the nation's most widely distributed free lesbian publication, is hosting its 4th Annual "Readers' Choice Nightlife Awards" on Tuesday, April 20 at M2 Ultra Lounge. This party is going to be so good that we're actually voluntarily leaving our self-imposed Emily Dickensonian 2.0 bedrooms to socialize, dance, drink a lot of alcohol, and make sexually suggestive jokes about M-Ro.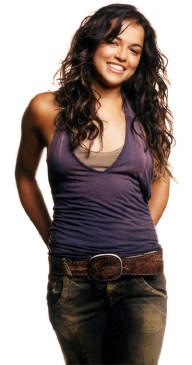 Yeah we said M-Ro.
This year's hotly anticipated event features actress Michelle Rodriguez – star of blockbusters like Avatar, Lost, Fast & Furious, and Girlfight – on the turntables as a very special Guest DJ.
Autostraddle correspondent and community activist Dani Campbell will host the evening, and award winning vocalist Anne Steele, recording artist Lori Michaels and acclaimed hip-hop duo KIN4LIFE round out the star-studded lineup.
"It's going to be an incredible event," says Amy Lesser, the event producer and publisher of GO Magazine. "No one parties like New York City's lesbian community. Our annual Nightlife Awards are our chance to show our appreciation for the bartenders, party promoters, DJs and entertainers that make it all possible."
Among some of the categories for awards given out, with our picks & predictions
Best Drink Deals: Free Vodka
Best Karaoke: Sweet Cruise
Best Billiards Spot: The basement of the first girl who ever made out with me
Best Pickup Spot: Library
Most Romantic Bar: Hershey's Dark Chocolate
Hottest Go-Gos: Gadget Umbrella!
… as well as Best Party, Best Eye Candy Behind the Bar, and Best Burlesque Act. Go Mag is where everyone has gotten their nightlife listings since forever ever, so I think you should probs trust their nightlife to be awesome.
But seriously the parties always sell out, so if you wanna go you've gotta get your tickets now — General Admission Tickets are $20 and include an hour of complimentary Voli Vodka cocktails from 7-8pm. VIP Tickets are $50 and include complimentary Voli Vodka cocktails all night, special section and express entry at the door. [Purchase tickets here]
We'll definitely be there and looking forward to seeing some of your faces.
+