I can imagine pretty vividly how big network meetings go down. Not because I've ever been in one, but because I was required to take a critical thinking class in college. Fun sidebar: my college required a class in CRITICAL THINKING. Anyway, I can see it all happening in my head…
Writer: Our show needs more diversity.
Network: But we just had a black guy last season.
Writer: -_______-
Network: Fine, what are you thinking?
Writer: We should include the gay community, we need to make room for different life experiences on our show, showing just one kind of person just isn't realistic.
Network: Ok, we can have ONE LESBIAN.
Writer: Ugh, fine, I'll write her in, but she's going to be a lead role.
Network: WAIT.
Writer: yes?
Network: How will you know the difference between a PERSON and a GAY PERSON…
And thus the side part was born.
Which was lucky for all of us, because when Pretty Little Liars started we were all like "everyone on this show has a middle part… but wait…  what about Emily?"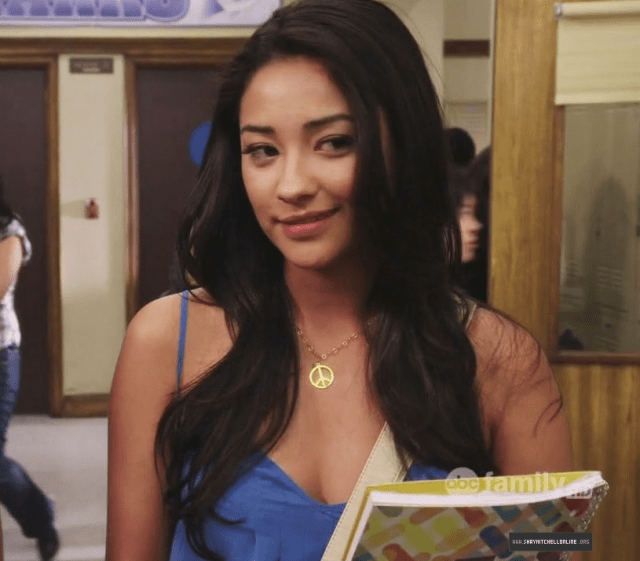 Emily Fields!!! *whisper* y'all her hair is parted slightly to the side, I think WE ALL KNOW WHAT THAT MEANS #lesbianprobably Sidebar: special thanks for bringing back the PEACE SIGN NECKLACE, EMILY.
Shout out to the only girl Emily has dated for longer than three weeks, Paige McCullers! You go girl!Rock that side part AND that boy scout shirt #gaygaygaygaygay
---
It took a few seasons but Grey's Anatomy finally came around. They were basically like "Well, Meredith and Christina both have well-established middle parts, and Izzie is dealing with bangs right now, so we can't… oooh what about CALLIE!?"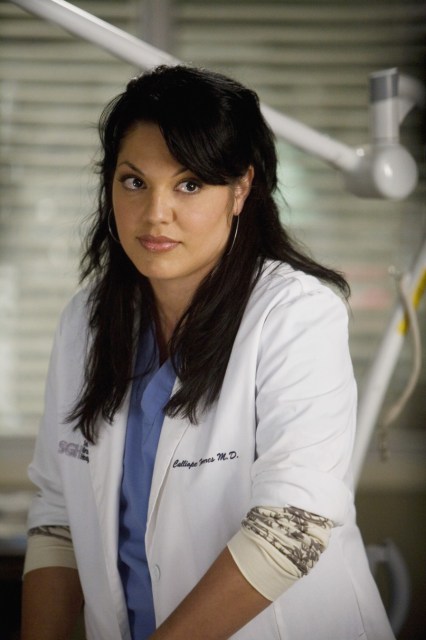 And she was all "wait guys, I'm with George" and they were all "nah, you get cheated on by everyone, that's YOUR THING," which explains her (now wife) Arizona "Miss B. Haven" Robbins, who is pictured here, crying/sweating in her side part, either because she lost a leg, she lost her wife, or she lost her dignity, IDK.
---
It was cool that Glee kicked off with gay people, I mean, they kicked off with the one gay boy who made jokes about shoes and Madonna (isn't that what THEY DO?!?!) and then later they were like "We really need a gay GAL. What's SANTANA up to?? Put her with the funny one."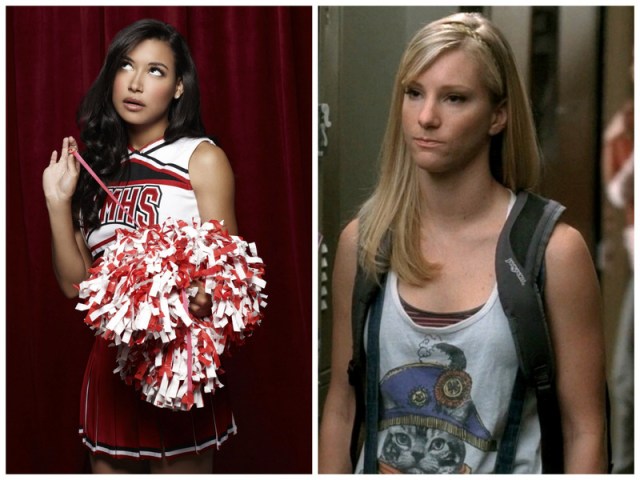 Then… well, I don't really know what happened but I know for a fact that Demi Lovato somehow ended up on the show. This HAD to have happened because a psychic was like "Dear Mr. Glee, Demi Lovato is going to marry Dannielle Owens-Reid, can you help her practice being gay??" So, they parted her hair to the side and gave her a guitar.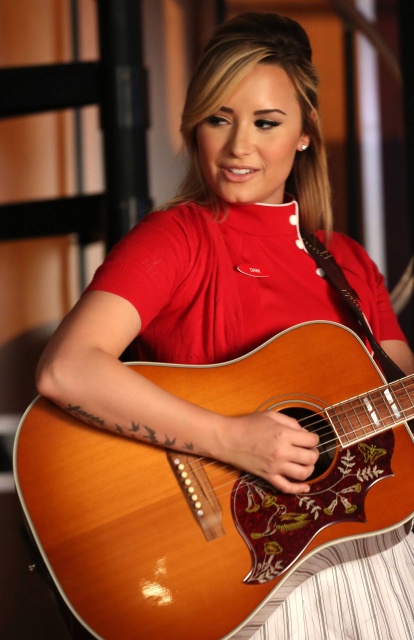 ---
American Horror Story also started with gay boys and in season two they were like 'eff this, we're going to center the ENTIRE SHOW AROUND A LESBIAN… Who looks good with a side part?'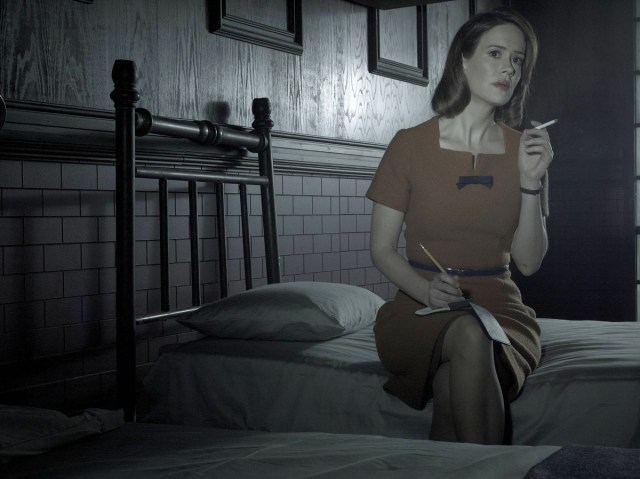 THIS PROVES THAT LESBIANS WERE ROCKING SIDE PARTS BACK IN THE 50s OR WHATEVER!
---
Ugh, remember when you/me/everyonewithabrain got sucked into Orange is the New Black? I realize there are multiple smaller lead roles in that show, but the lead — the lady-lover that the show centers around? Piper?
PRISON SIDE PART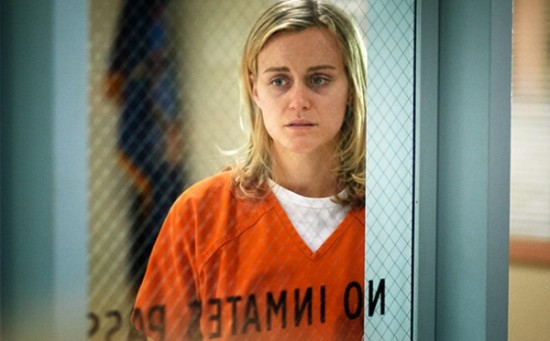 She seems real bummed out about it, too. She must have caught on.
---
Now for the shows I know nothing about and had to research.
Mistresses FIRST OF ALL, I remember the previews from this show because they came on during Dancing With The Stars and included my all time favorite slow-jam "Come N Get It" via Selena Gomez. What I DO NOT RECALL is Shannan Sauce-a-man (honestly how do you spell her name, I can't right now) (Ed note: Shannyn Sossamon) making out with a blonde girl. I should have paid attention though, because as pictured here:
Blondie is rockin' a side part, that could have given it away.
DAMN ME FOR NOT PAYING ATTENTION!! THAT SIDE PART IGNORANCE IS THE ENTIRE REASON I MISSED OUT ON THIS:
Yall, that is a Shay Sauce collarbone… and side part.
---
Another show I don't watch, but probably should because of the ridiculously attractive side part lesbo; THE GOOD WIFE. What's this show even about? I refused to watch it because they used to film in my neighborhood and their stupid trailers would take up all the parking spots.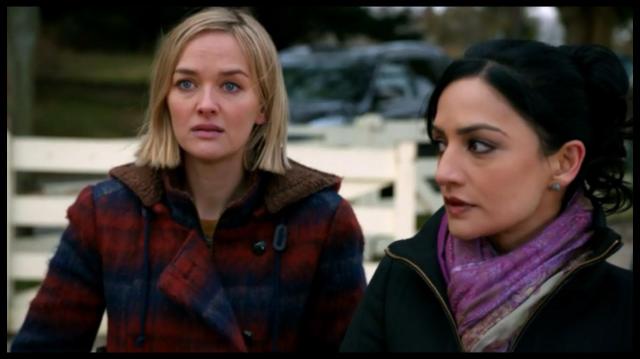 Also, check out the flustered girl with the zig-zag part. They just slept together, right?
---
Hailing from my favorite city in the world, Chicago Fire plops a tiny blonde in front of us and says "something here isn't right, oh I know" and then parts her hair to the side, so that we ALL UNDERSTAND.
Sometimes, I am grateful to network execs for knowing what I need in order to "get it."
---
Oh, and there's someone named "Gail Peck" on some show… I forgot, sorry, but I googled her and found what can only be defined as an ad in SHORT HAIR MAGAZINE for "the modern day side part"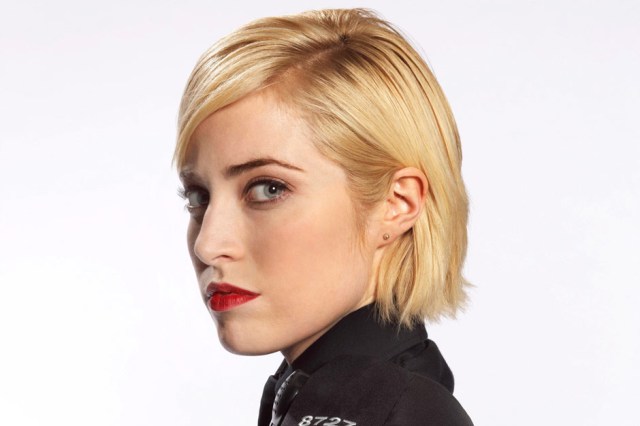 I literally can see NOTHING ELSE IN THIS PHOTO BESIDES THE SIDE PART. Well, that AND the fact that she looks exactly like my ex-gf which is making everyone uncomfortable, so let's move on!
---
You fools have heard of Orphan Black? I've heard the name, but I always assume it's some sort of mix between Orphan Annie and Orange is the New Black, which seems like a weird show, but from what I hear it's really good and there are lady gays, like this one: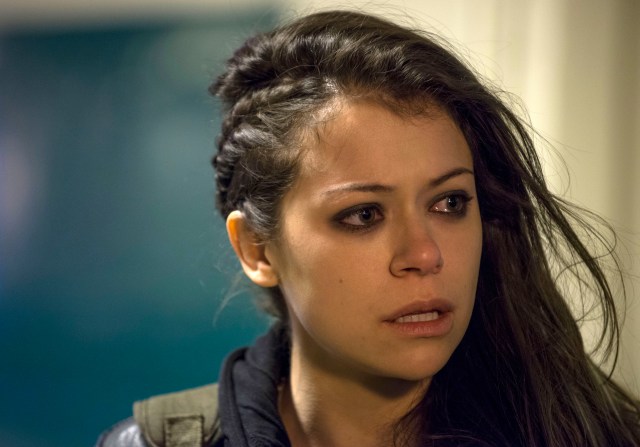 HER SIDE PART IS SO EXTREME SHE DOESN'T EVEN HAVE THE OTHER SIDE OF THE PART. She must be gay.
---
So, there you have it folks. EVERY LESBIAN ON TV HAS A SIDE PART. I'm sure a good 97% of you are mad at me because I wrote an essay about lesbians on TV and didn't include Alex Vause. Since she doesn't have a side part and isn't exactly a full-on lead, I'll give you her worst mistake:
That is Donald Trump's hair style.
IN CONCLUSION, television is afraid of lesbians. I realize I didn't get there within the rest of the essay, but it's pretty clear that lesbians are only allowed to be in prime time if they have long hair with a side part. If they are rocking a middle part they must wear one of the following hats:
Don't worry, these three are on their way to a Bruno Mars concert.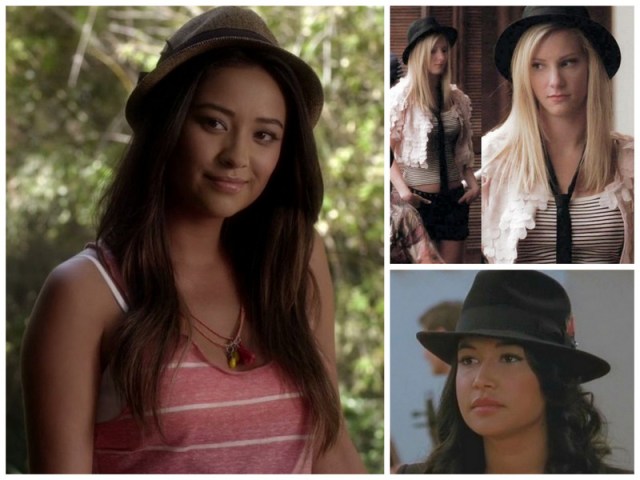 Also, Honorable Mention: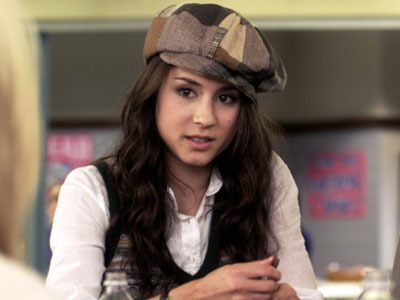 SPENCER, WHAT THE FUCK?!
I look forward to the day when I can watch any television show on any network and say "hey, that person looks like me." I don't feel like I'm asking for much. Just a lady lovin' lady who has short hair, doesn't wear dresses, and maybe likes shopping in the boy's section. Hell, I'll let you keep the side part.
EVERY FUTURE TV SHOW FT. DANNIELLE OWENS-REID