It was the shoot heard 'round the world: 17 trans* models coming together for the Spring 2014 Barneys New York campaign called "Brothers, Sisters, Sons, and Daughters." And, for once, talking for themselves.
http://vimeo.com/85408525
The campaign, shot in New York by Bruce Weber, included models from not only various gender presentations and identities but also a diverse array of hometowns, racial and ethnic makeup, and ages. Dennis Freedman, the former creative director of W magazine who dreamt up the shoot, also made room for guests: each model was invited to bring someone who had supported them on their journey, be they parents, friends, or pets. Afterward, each was interviewed by Vanity Fair contributing editor Patricia Bosworth for Barneys' The Window online to better tell their story and explain the relationships that come through in the shoot. "Every single person was interviewed, sometimes more than once, because their stories are as important as the photographs," Freedman told Vogue.
From the start, the vision was visibility. The multimedia campaign, which encompassed interviews, photography, and film, was intended to give these trans* folks a tangible platform to tell their stories – a powerful challenge to the preconceived notions and stereotypes which have left them one of the most underserved and underrepresented communities in America. "It seemed that the 'T' in LGBT was getting a little bit left behind," Barneys CEO Mark Lee told Vanity Fair. Freedman echoed him in an interview with The Advocate: "It's striking how the transgender community has been left behind," he told the magazine. "It's disturbing and upsetting to see that."
Eve Lindley, a trans woman who modeled in the campaign, was ultimately driven to participate because of its potential impact. "I wanted to be part of it because I realized it had the ability to help other young trans boys and girls who were going through what I had gone through," she told me. "I hoped a photo shoot like this would give them some hope and maybe even a few people to look up to."
"I was adopted, my parents got divorced when I was a kid, mom died when I was 14, my dad's wife could give any Disney villain a run for their money – though she is not nearly as fabulous. I was kicked out when I was 16 and spent the years between then and 22 figuring out who the fuck I was," said Ryley Pogensky, a model from the campaign who identifies as transgender and genderqueer. "I've been through some shit, but so have all of us. My life experience is what brings me closer to strangers. It makes me a better writer; hopefully a better person. My story is a long one, but I have gotten to the point in my life where I can condense it all to a sentence. I am more interested in your stories. I have spent my life until about 2 years ago figuring myself out. It's time that I use my life experience to reach out to others."
For the shoot, Lindley brought her father. "Bottom line," he told Bosworth, "I have tried to empower her to become what she wanted to be. This entire experience has been a big challenge, but nothing can't be handled with a heart full of love."
Pogensky brought his grandparents. "They have never stopped with their endless encouragement," he shared in his interview. "They love me so much; love is something that you can never, ever take for granted. Love can make you and it can break you; their love means everything to me."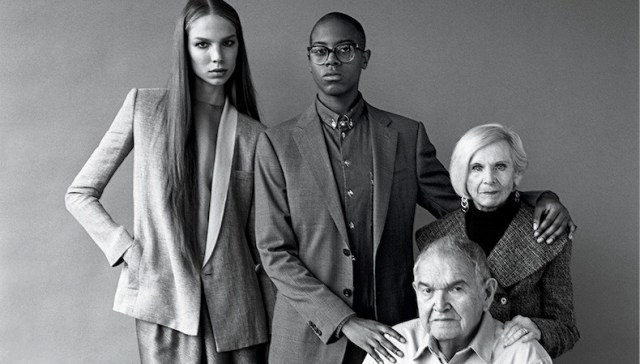 In line with the values of the shoot, the models arrived to find the entire crew intent on making it a supportive, authentic, and safe space. It was an adventure for all of them, a groundbreaking foray. Weber told Vanity Fair that the shoot "changed the course of my life." He added, "I want to learn more. I want to get better."
Despite the project's intentions, many of the models still approached the project with apprehension. Pogensky explained that although he was intrigued by a major retailer wanting an assemblace of all-transgender models, it also shot up red flags. "I had this image in my head," he told me, "of a bunch of designers and a creative team looking for the next big thing. How can we shock the world, they were saying. Who can we use? Ah ha! Tr*nnys!"
What Pogensky was afraid of is the frequent exploitation of trans* bodies by popular images. "Trans people are not treated like people in the media," he said. "I was scared that whoever this retailer was, was going to do the same thing." In order to better stand his theoretical ground, Ryley went into the casting with intention and grilled the creative director and the team: "Big shoot or not," he said, "I was not going to be used, was not going to have my gender or presentation used to buy clothes or pique interest on not an educational level, but on a spectacle level."
His fears weren't actualized during the shoot. "I realized that this team of people had not only done their research, but also really cared about transgender people," he told me. "All of them, and I do mean all of them were fucking amazing. There was no misgendering, there were no awkward questions, everyone was amazing."
The campaign, done in conjunction with the LGBT Community Center in New York City and the National Center for Transgender Equality, also ultimately profited the two advising organizations.
For trans* models, fashion and style represent important markers of their identities, of their own insistence at living authentically. "I never really saw modeling as a dream," Pogensky pointed out to me. "I was always looking in the mirror seeing someone who was not quite right. I was too tall. My feet were too big. I hated having to dress like my other femme friends. I loathed the attention from men. It took me years to understand my body, and how I wanted to present. It took me years to figure out what I wanted to wear. Once I shaved my head, once I started wearing mens clothes, something clicked. I was looking in the mirror at the masculine person I had always seen myself as inside, but couldn't present as."
"I sort of came of age and 'found myself' in the Brooklyn art scene," Lindley said. "Most of the friends I made there are responsible for helping me discover my passions and have helped me deal with the craziness that I bring with me everywhere. Before before moving here, my life primarily consisted of trying to get here."
Unfortunately, trans* folks who find it possible to express themselves through media don't always find their narratives reflected in their own work. "When I started taking photos for my portfolio and meeting with agencies I realized how far behind the fashion world was with gender," Pogensky said.
Lindley, who primarily works in acting and writing, has found it hard to audition for a role that reflects the real, lived experiences of trans* people. "I feel like we're in a place where any role can just be played by a trans woman, without ever really referring to it specifically," she told me. "I think it's time for romantic comedies, musicals, sci-fi, and thrillers to expand their casting choices and introduce new and dynamic character archetypes. Trans people are everywhere, and media and cinema should start to reflect that more."
"It's easy for the media to act like things are changing when they're only focusing on white people. If there's no focus on minorities, it is then extremely easy for people to say, oh, well trans* people are treated great!," Pogensky tells me. "I want the voices of those who are silenced to be heard. Not all of us have the platforms to be heard. I want younger trans* kids to know that they have support systems."
The campaign shoot, then, presented models like Pogensky and Lindley with an opportunity to finally work within proximity of their ideal industries without sacrificing their identities. The week-long shoot was an experience the models found both emotional and awe-inspiring. "I called it queer camp," Pogensky told me. "All the tears, all the emotions. It was overwhelming, but in a very good way. Everyone wanted to tell their story. It was so open."
"My favorite part of the shoot was the friends I made," Lindley told me. "We all developed our little groups and cliques, and I truly and deeply care for all the people who were a part of mine. At one point, Bruce even shot all of us together in what I believe was the most beautiful photo I have ever been a part of."
"This was not something they were doing to shock the world," Pogensky said. "This was something they were doing to wake up the fashion world, and the media." And so they opened their eyes.
The reception to Barneys' campaign was magnificent. Fashion magazines fawned over 17 trans* models, praised Weber and Freedman and Lee for their daring challenge to the fashion industry. Many of the models never expected to be cast in a leading department store campaign. Lindley found out about the shoot while she was picking up hormones; Pogensky began his skeptical journey to fame over the phone with a friend. Afterwards, they found themselves swarmed with media attention. Pogensky appeared on HuffPo Live, where he and other models from the shoot were welcomed into a conversation about diversity, the fashion industry, gender and the issues facing their communities. A national dialogue on transgender people happened – one that wasn't focused around genitalia, or mourning, but instead around their lives and desires. People around the world were weighing in on the campaign, praising the final film (Pogensky warns that "there will be tears"), and feeling emotions triggered by the humanity of people who had previously been denied it in media representation.
"The reception I have received has been overwhelming – lots of emails, tweets, comments," Lindley told me. "I think the impact has been very positive. For me, its been a crazy roller coaster ride. I'm honored to be a part of it."
"In the film, there is a clip from a movie about a boy with green hair," Pogensky said. "Bruce explained that when he was growing up he always felt like that boy: out of place at school, he was always in the art room, drawing or taking photos. He felt like he didn't belong, but after moving to New York he had found his home amongst people that accepted him. The shoot felt like that. It felt like a lot of us wandered life with green hair. Feeling like we were targets for our differences. On set we were accepted. All of the press that I've seen and done has felt like that."
He added, "It feels like, in at least some respect, all of us with green hair are finally being accepted amongst the brunettes and blondes."
When  "Brothers, Sisters, Sons, and Daughters" was first envisioned, the underlying message was support – hence, the on-set guests. "Whether it's a father, a sister, a grandmother, it was always part of this project that they would be photographed," Freedman told Vanity Fair, "that we would interview them, in order to really get across the importance of having someone in your life who is there." What Freedman could not have possibly predicted is that he would give all 17 models a new community: a small circle of friends and a wide circle of supporters.
"Some people have no visibility," Pogensky said to me. "They don't live in places like Brooklyn where everyone is queer or queer-friendly. I've realized that modeling and speaking out is something that I have support from this huge community in doing. I am helping people. If I can turn 21 years of being awkward and feeling like everything was wrong into helping other people or just being someone who people can turn to and share their stories with, then that is what I want. It is really all I want."
---
You can follow Eve Lindley and Ryley Pogensky on Twitter.