Welcome to the second recap of the second season of The L Word: Generation Q, brought to you by the same network that brought you The L Word, a show about a charismatic 55-year-old self-help guru with a wife and family who spends his days on the road speaking in expansive hotel conference rooms regarding his own self-help theory "The Theory of Everything" (aka TOE) and selling related merchandise and literature who, at one such event, meets a legendary singer-cum-entrepreneur seeking economic success for her queer coffee-shop/venue/club through overcharging for Pear Poletna Tarts, says she reminds him of an "alley cat," seduces her after a mid-morning poolside hotel lunch and then stands her up for a fancy dinner at said coffee shop, thus resulting in the unnecessary death of two lobsters set aside for the meal by noted Soup Chef Lara Perkins.
In this recap of Episode 202, we will find out what happens when lesbians stop being polite and start getting real honest at somebody else's wedding! I would like to give a hearty thank you to the 30k+ humans who read my first recap and everybody who gave me compliments in the comments, honestly it was even better for my sense of self than Wellbutrin and I'm walking on sunshine now. (But don't worry I'm also still taking the Wellbutrin.)
---
After last week's cliffhanger, itself a follow-up to a previous cliffhanger, it's time to strap on our carabiners and ascend the climbing wall of lesbian drama because my friends, Dani was in fact quite serious regarding cheating being a dealbreaker, which brings us to our very first fight in an episode that will set the record for "most fights ever in an episode of The L Word." The prior record-holder was Episode 511, the one where Jodi and Bette dressed exactly the same and broke up for eight hours.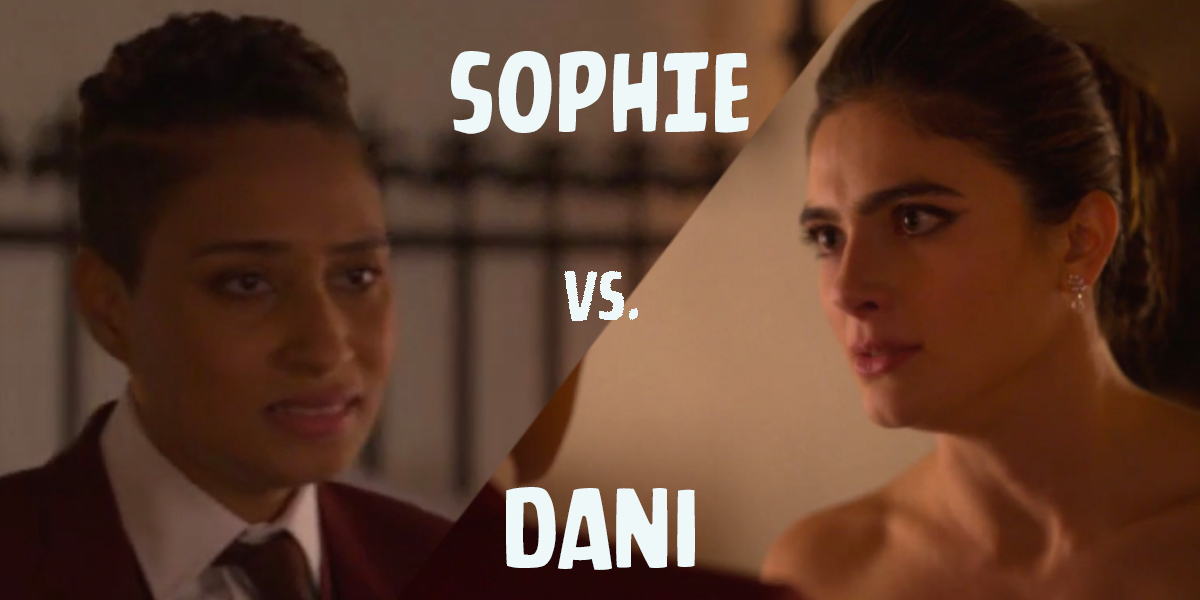 Lesbian Squabble #3: Did You F*ck Her All Night Before Telling Her I Was The Love of Your Life?
In the Ring: Dani vs. Sophie
Content: Dani has a lot of stuff to do now, like yell at Sophie in her veil. Also, pack a suitcase because this venue has it all: Bridal Suite AND wedding parlor AND rehearsal dinner room. It's like Greenfield Village but with less glass-blowing.
Also, Dani has questions like "when did it happen" and follow-up questions like "never mind I don't want to know." She's curious if Sophie was ever gonna tell her or if she was just gonna marry her, have her little babies and then sit across from Finley at Thanksgiving dinner as if they did not fuck in Episode 108; which, honestly, great question!
Sophie insists it was a one-time thing and Dani yells at her to stop talking. "Who knew?" Dani screams. "Did everyone know but me?" and Sophie is simply dying inside.
Dani would like to know if Sophie fucked Finley in their home (no) and then declares, "I never want to see you again, is that clear? You're fucking disgusting."
Who Wins? Chaos? I'm gonna give Dani the W here because she is objectively "in the right" and also let's be real, she needs a W.
---
Back in the downstairs chambers, Finley is, as Alice so aptly notes, "standing there like a kitten on the highway," and so Alice kindly trots over to offer support which Finley is unable to accept because she's in a bit of a wierd mood. Also, she's surrounded by extras who are really earning their day rate today "expressing disgust towards Finley."
Lesbian Squabble #4: Are You Here For An Affair, Sir?
In The Ring: Finley vs Everyone
Content: Bette — who has committed a healthy list of sins we will address later in the recap — leans over to tell Shane —  who fully left ethereal beauty Carmen De La Pica Morales at the altar in gorgeous Canadian snow-palace wedding sponsored by the Peabody Foundation — that Finley's little speech was "the most selfish thing she has ever seen." 🙄
Micah tells Finley to stop following him and wonders what exactly she thought would happen. Then Dani goes downstairs to tell Micah that she knows that he knew and then she gathers her petticoats and stomps over to Finley and punches her right in the face. Bold but also appropriate.
Who Wins? Again, let's give this W to Dani!
---
The Suarez family is facing another pressing dilemma: what the hell are they gonna do with all this food? They should have a party anyhow, like Will Schuster did in Glee, thus enabling Santana and Quinn to have lesbian sex. Despite explicit instructions to remove herself from Dani's life immediately, Sophie is on the horn trying to reach her.
Virginia: Give her time. She'll come around.
Maribel: Or she won't.
Sophie: Nobody fucking asked you!
Virginia asks Sophie why Finley thought her little class presentation would have a positive outcome. Does Sophie love her? Sophie doesn't answer the question. "I love Dani," she says instead. Virginia suggests that maybe Dani will take her back.
I'm not sure if Sophie is genuinely as all-in on Dani as she says, but I do think in this moment her interest in marrying Dani is probably difficult to parse out from the utter catastrophe and emotional turmoil of what she's currently facing. You never really know what it feels like to lose somebody until you do. You can try to prepare yourself, you can entertain a thought experiment wherein you consider hypothetically losing the person who's been by your side for many years but that rehearsal will always be a dreamy cakewalk compared to the stark reality of opening night. Even if your relationship is objectively broken, even if you no longer make each other happy — it's terrifying to let go of someone you love and have planned a life with. Especially due to your own fuck-up.
Even if Sophie did truly want to choose Finley, how? After the public spectacle of it all? After being outed as a cheater and a liar in front of her entire family, her friends, Mr. Dani, Shane, Marissa, Marissa's husband and Marissa's girlfriend? All of the extras who braved a pandemic to be present for this wedding, who dutifully waited outside in their N-95 masks for their time to shine? Would anybody besides me and my Gen Q podcast co-hosts be rooting for them? Would they feel like the black sheep of their social network? Would anybody in their remote network ever feel comfortable pressing "like" on a photo of Sophie and Finley grinning in their luxurious backyard pool? Would they feel like they had to succeed as a couple in order to justify everything they blew up to get there? 'Cause that's not a healthy place to be either!
On the one hand she has this beautiful life with this stable, employed, loyal, hot wife that was moments away from being certified by the government. On the other hand, a love nest with someone who has yet to reconcile her own internal demons and is a little adrift psychologically and logistically. And Sophie knows she hurt Dani, and no matter how much Dani hurt her by shutting her out and not being supportive when her grandma was in the hospital, this blows essentially all other methods of hurt out of the water. And like I said last week, if Dani can't forgive her then that doesn't just mean their relationship is over, it means Sophie has to grapple with what this says about her as a person. And that's really hard to do! She will probably feel guilty for the rest of her life!
---
It's evening at Natalice's, and Alice is gunning for quote of the week already with, "You know what the weird thing is? I don't even think Finley has seen The Graduate." But lest we dwell in levity, let us get into a BIG FIGHT.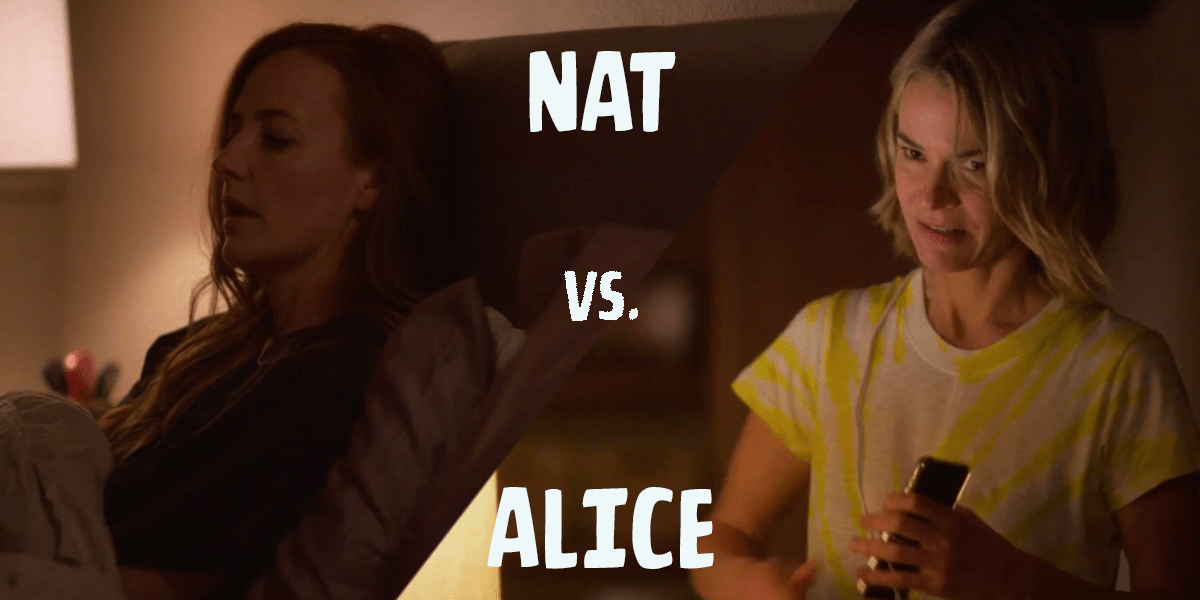 Lesbian Squabble #5: Is That a Poly in Your Pocket Or Are You Just Upset To See Me?
In the Ring: Nat vs. Alice
Nat: Do you think if Sophie had talked to Dani before, and just been honest about being attracted to Finley, that maybe Dani would've been okay with it?
Alice: Are you kidding?
Nat: I don't know, I mean I have lots of clients who have sex outside of their primary relationship. Monogamy's not for everyone.
Alice: Well it's for most people, except the bad ones.
Nat: I just think open communication is so important.
Alice: Well, there's nothing to communicate if you don't cheat.
It's for most people except the bad ones. This is both offensive and truly absurd, that Alice, who has been in the queer community in Los Angeles for three decades, is unfamiliar with non-monogamy and still believes it is a gross practice imposed upon humanity by bad people. Shane and Quiara were non-monogamous! So of coure Nat's crestfallen — she cracked a door open into a conversation she wanted to have and Alice slammed it in her face. Also "there's nothing to communicate if you don't cheat" is absolutely inane.
Who Wins? Genuinely nobody, but definitely not Alice.
Alice listens to Nat CRY AND BRUSH HER TEETH in the bathroom. When Alice asks what's wrong, Nat says she choked on some toothpaste — a very common dental issue many brushers struggle with on a daily basis!!! We do not talk about this enough! Louder for the people in the back!!!!!
---
Dani is unmoved by Sophie's voice mails and pleas for reconcilliation and therefore she will be LITERALLY FLUSHING MONEY DOWN THE TOILET in a video to her former beloved.
Imagine that your friend just ruined your wedding by revealing that they'd fucked your fiancée and the next morning you are throwing jewelery down the toilet and then there's a knock at the door and it's fucking BETTE PORTER with a bag of food from TARTINE?
Well, here's what Dani would do: claim she's totally fine and needs nothing and nobody, which tbh, is a classic Bette Porter move!
---
Now that Tess has been "blackballed" from every Poker table in town (which would be legitimately impossible for Eddy to actually pull off) and therefore is in serious financial turmoil, Shane's determined to fix the problem she unsurprisingly caused by opening up her own poker game at the Dana Fairbanks Memorial Tavern. It feels like they're trying to make a Dawn Denbo parallel, but Dawn Denbo was a skinny white lesbian trying to put Kit Porter out of business. For a show that so rarely (read: never) has Black masculine characters, having this be the entirety of Eddy's role in the story is irresponsible and offensive.
Tess worries Shane's not discrete enough to pull off this type of enterprise.
"Trouble follows you," Tess declares, correctly.
---
Back at the home formerly known as DaSoMi's, Micah and Maribel are developing what i'm certain is eventual sexual chemistry while returning wedding gifts and ragging on homewreckers. Like Finley, who arrives, surveys the scene, and promptly recuses herself from "sending back the gifts for the wedding I ruined."
When Micah declines a call from Jose and also pretends it wasn't Jose, Maribel starts an emotional prodding session, noting that Jose is still married and therefore Micah "is the Finley." Micah insists he's not the Finley 'cause he didn't even know Scotty existed. "Buy you do now, so," Maribel drops the mic. Finley announces she is gonna ditch the marriage-ruining talk to go vomit.
---
Welp, it's time to take your woes to work at The Aloce Show! Sophie's depressed but eager to work, because like I always say, "you can type and cry at the same time." Also, big news for Alice and bad news for Sophie: Finley's back, she's got the correct coffee in her hand and accurate knowledge regarding the soup of the day at Alice's favorite lunch spot. Alice and Finley share an enthusiastic hug and Finley's like, "I hope that wasn't an HR thing." Awww.
Sophie tells Alice she actually will take that producer job because it sounds more fun than having a nervous breakdown. Regarding Finley's presence in the workspace, she promises Alice her personal life will not impede her success in the workplace and I'd like to wish everybody a big Good Luck on that.
---
Micah hits up Jose for a little heart-to-heart and we're on a one-way road to Squabble-Town.
Gay Squabble #6: No Way Jose
In the Ring: Micah vs. Jose
Content: Micah doesn't wanna put anyone in the position Dani's in right now, even Jose's stupid-ass husband. Also, Jose is a liar. Jose says he never lied to Micah, he meant every word he said, which is absolute nonsense. "You're lying right now!" Micah points out. "You're a fundamentally dishonest person!" Then Scott peeks out to see if everything's okay and Jose's like, "yeah we're just catching up. You remember Micah?" DUDE.
"Fuck you," says Micah before getting the hell out of this disaster.
Who Wins? Micah. But he is almost overshadowed by the depths to which Jose loses!
---
Alice's book editor Tom, who you may remember from his halcyon days cruising through Beverly Hills with Cher and Dionne sharing theories regarding whomst is a Friend of Dorothy and how to drive, has arrived on the set of The Aloce Show to craft literary magic between takes. He finds himself immediately intimidated by the glitz and glamour.
Good news: Alice's draft is very funny and he loved the chapter about legendary MILF Lenore. But he's here to help her combine humor and pathos. "We know you're funny," Tom says. "But now we need to know what it felt like the day your Dad left… we wanna know how you and your girlfriend weather the storm." Finley and Tom become best friends immediately, Alice has a bisexual flag on her desk, and she apparently was unaware that part of writing a celebrity book is that someone else is actually going to write it!
Pages: 1 2 3See entire article on one page