Hello and welcome to the fourteenth recap of the fourth season of Glee, a delightful family television program about streamers, balloons, glitter guns, paper-hearts and the foolish teenagers who purchase and utilize said decor under the esteemed tutelage of Admiral Tater-Tot, who inspires them to lift every voice and sing. It's basically Joyful Noise, but without Dolly Parton or Queen Latifah. This week's episode, entitled "I Do," paid tribute to 56 of my least-favorite television tropes and provided Finn Hudson with far too much screen time.  In the upcoming words of our Patron Saintess Santana Lopez:

---
We open in an aggressively bedazzled Iconoclastic Northwestern Ohio coffee shop, where a yam in a sweater vest is yammering to The New Rachel about his manchild feelings while The New Rachel frets about his frazzled physical appearance and refusal to make eye contact.
Finn confesses that he put his tater on Ms. Pillsbury's tot and even though she didn't kiss him back, he's super self-involved and therefore can't stop obsessing over it and his inability to be Best Man now that he's established himself AGAIN as the Worst Man. He proposes telling Mr. Shue, because then Mr. Shue can be as miserable as Finn is and they can start an a capella blues jam group and spin off into outer space.
The New Rachel insists he keeps this slip-up on the DL and suggests Finn was motivated by his despair over her budding romance with a shirtless dicknail, but Finn insists not everything's about her. Which's unfortunate, because that'd be a hell of a lot more entertaining than everything being about Finn!
---
We then swing on over to Emma's office, where her private freakout over seating charts and the precise arrangement of items on her desk is interrupted by a stack of chili-cheese-fries named Finn Hudson and his manchild feelings. Finn's unsure he can handle being a best man because he kissed Emma and also, incidentally, is totally not the best man. You know who the best man is? This is who The Best Man is:
Emma's got no time for this:
Emma: "Look I'm really sorry I don't have a pamphlet ready for you right now but I'm pretty sure if I did, it would say something like, "Get Over It," okay?"
Emma suggests Finn's best course of action is to stay the fuck away and shut the fuck up, at which time Mr. Shue pops in to grace the room with his gummy smile and tasteful cardigan and to not help his wife feel one iota better about a goddamn thing.
Emma begs for seating chart help but he's gotta run to Glee practice which brings us to…
---
…The Glee Room!
The students greet their Prodigal Father with unnecessary levels of good cheer, including an embarrassing-for-all-of-us "Holla!" from Artie, and subsequently respond to Mr. Shue's gratitude towards Finn Hudson with even stronger levels of unnecessary good cheer.
Mr. Shue incites a near-riot of enthusiasm when he announces that week's theme will be "WEDDING!!!!!"
Mr. Shue explains that because Emma's handling all the WEDDING!!!! planning, he'll be handling all the planning of the WEDDING!!!! music, which he promptly handles by asking the children to do it for him.
Infathomably he also asks a baked potato to eschew a Best Man Speech in favor of A Best Man Song, which's a good or bad thing depending on where you come down on the "What's Worse: Finn Singing or Finn Talking" Debate of 2012.
---
We then cut to The Hallowed Hallways of McKinley High where Emma's on her knees in green dish gloves eliminating the faint suggestion of the faint suggestion of the possibility of a potential future involving, in some way maybe, Asian Bird Flu.
Emma's also giving Artie the low-down on her blonde niece, Betty, who will be sitting adjacently to Artie at the WEDDING!!!!!! and also has giant knockers. I'm imagining something like this, mayhaps?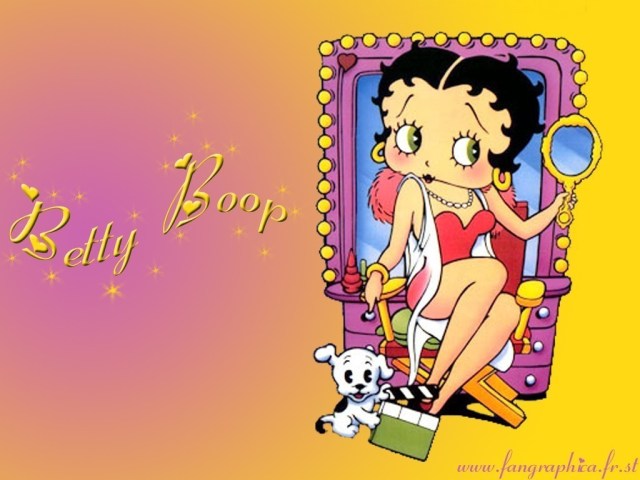 JK, Betty is blonde, so it's not Betty Boop, it's probs Betty McRae:
Wait! WAIT I KNOW WHO IT IS. It's Betty of "Betty and Veronica," a comic about lesbian lovers pretending to be straight:
Anyhow, we'll just have to wait and see because elsewhere in the Hallowed Hallways, Marley-Kate and New Puck are speaking words to each other while everybody who cares listens really hard and everybody who doesn't care sticks their face in a tub of squalid pickle juice for the next 45 seconds.
For Valentine's Day, Marley-Kate made New Puck special cufflinks out of a typewriter and New Puck pretends like he's got something special for her, too, but he's obviously lying and was totally planning on gifting her a Dick in a Box. Luckily Ryder Bieber-Strong is gonna pull a Brian Krakow this episode and puppet-master New Puck through making Valentine's Week a Magical Moment for Marley-Kate.
---
Elsewhere in this crumbling monument to educational tomfoolery, Finn's summoned The New Rachel to the auditorium to help him choose a WEDDING!!!! song from the Wedding Song Box.
The New Rachel suggests Finn improve his song by duetting with somebody who can actually sing, like The New Rachel. Finn smarmily adds that they've got some "pretty dangerous musical chemistry," which inspires The New Rachel to assert that she's in a mature open relationship now so the only danger she's worried about is the danger we're all worried about, which is random lunatics opening fire in a crowded room of civilians. Amirite?
---
Cut to, I believe, History of The American Bald Eagle class, apparently taught now by Mr. Shue, who's been back at McKinley for about 47 minutes but whatever.
Just in case all this eagle-talk wasn't already inspiring students to hop the first train to snoozeville, New Puck interrupts this educational situation to perform a song declaring his love for Marley.
New Puck, Ryder Bieber-Strong, Sam and Artie, dressed like cupcakes and accompanied by a puppy-eyed Marley-Kate, then treat us to an unfortunate rendition of Marvin Gaye's "You're All I Need (To Get By)" while students lob heart-shaped glitter and other discount party store paraphernalia onto the happy couple.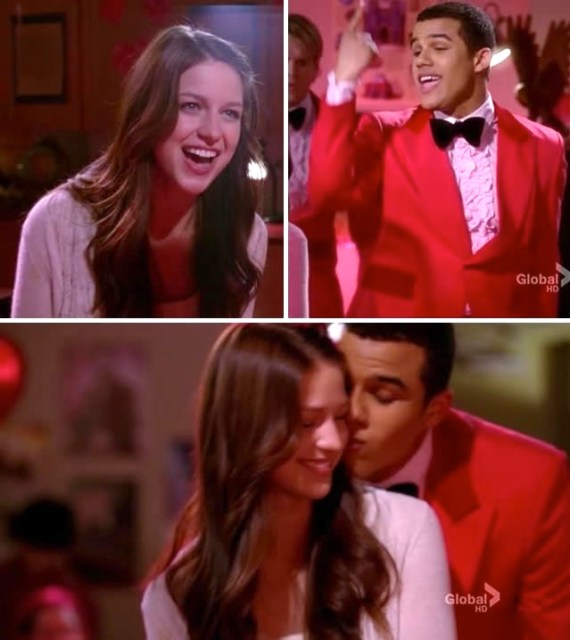 Luckily, the song ends and then so does the scene!
---
We then journey through space, time, and sixty thousand centuries of Industrial progress to The Church for Emma and Will's WEDDING!!!!.
Santana Lopez, who must be fucking Kara Thrace for all the air travel she's managed to squeeze into her budget these days, shows up with Quinn Fabray and promptly declares herself and the dead bear on her shoulders "clearly the hottest bitch in this lousy joint," which coincidentally is a fair representation of this show in general. Her alleged "best friend" a few rows up offers a meek hello and Santana throws some shade their way.
Despite her overwhelming hotness, Santana moans, she's stuck here all alone with Quinn, and Quinn just-so-happens to be wearing a holy jacket created to memorialize the great battle of Glitter Vs. Gay.
Quinn asks if Santana would like to be slapped again, and instead of saying "Yes! Harder!" Santana continues bitching about how much she hates weddings and Valentine's Day, which was "invented by breeders to sell cheap chocolate and false hope." AMEN, sister. "Do you know what I hate?" Quinn asks. "Men. Every single one of them." AMEN, SISTER! Actually the sentence is longer than that, but who cares.
She goes on to declare all men pigs, except Mr. Shue and Al Roker. Listen Quinn, I've got an advanced degree in Professional Man-Hating, which means I keep a handy list on my desk of Men I Don't Hate, and lemme tell you who's not on it: Mr. Shue and Al Roker. Lemme tell you who is on it: Ira Glass, Stephen Dunn, Sam Anderson, my brother Lewis and Obama, sometimes. Mr. Shue is totally weird and Al Roker said my least favorite p-word on television.
Quinn declares she's done letting men define her and reminds all of you ladies at home that "a woman without a man is like a fish without a bicycle." Coincidentally, a woman without a man is also a woman without a Glee storyline, but whatever.
Santana: "Al Roker is disgusting, by the way."
AAAAAAAAAAAMMENENENNNNNNNNN.
---
Elsewhere in this lofty monument to the good work of Jesus Christ Our Lord And Savior (JK, I'm Jewish), Artie tracks down Emma's Niece With The Nice Rack, only to discover that it's that girl from The Glee Project who's dating Dani Shay!
Also she hates Artie because even though she's in a wheelchair, she "doesn't date losers in chairs."
Emma's Bitchy Niece With The Nice Rack: "Yeah, I'm also blonde, captain of the cheerleaders at my high school, and I've got this going on." [massages her breasts "Mama Who Bore Me" style]
Also, New Puck got flowers for Marley-Kate 'cause Ryder Bieber-Strong told New Puck what flowers to get.
---
Out in the cold tundra of the church parking lot, somebody's getting their nuts cracked in the backseat of a sexy, fuel-efficient Toyota Prius and that somebody is… Kurt Hummel!
Kurt notes that he would've brought a change of clothing if he'd known he'd be getting groped in the back of a Prius. Right. His other tuxedo. Kurt then notes that he's kinda dating somebody in New York, which's Blaine's cue to pop up into screen and insist that Kurt's "fey boy-tie" is his Kryptonite, which's adorable.
Blaine: "This is just bros helping bros."
Kurt: "I love it when you talk fratty."
This is how bros help bros? I always thought it involved like making each other burritos or carrying couches up staircases. Huh.
I found this so cute and sexy because — for any of you here born after AOL stopped charging $2.95 an hour — this is totally groundbreaking shit. You never see gay boys being sexual on network television. In fact, there's this whole show called Modern Family about these two gay guys who spend every episode undermining each other if not outright scheming and/or passive-aggressively derailing each other to satisfy their own various selfish ends or comfort their own complicated egos and everybody acts like it's really groundbreaking but it's actually just really annoying! Anyhow. I loved this scene.
There's a rap at the door and Kurt's like, "Tell me that's not Tina again!" I'll tell you: it's not Tina again.
It's Mercedes, now spotting bangs, a bangin' pink dress, and a dead wolf that likely became dead following a little bang-bang-bang.
---
Backstage at the WEDDING!!!!, Emma's freaking out all by herself, seemingly possessing no friends, family members or even concerned acquaintances. Then Sue waltzes in wearing a precise replica of Emma's WEDDING!!!! dress and plops down to nosh on some appetizers while Emma says "worried" and "overwhelmed" a lot.
Emma's worried this thing isn't "gonna work."
Sue: "Well, of course it isn't going to work. You're a weird bird-lady with a hollow pelvis and OCD, and Will Schuester is a weepy man-child whose greatest joy in life is singing with children and his best friend is 19."
Emma: "It's just the last time was such a disaster, you know I turned into somebody that I didn't even recognize. If I'm wrong again, I won't survive."
Sue: "Well, don't say that to Will Schuester. he'll have you singing a stripped-down acoustic version of "I Will Survive" in front of a choir room full of teenagers with meaningful looks on their faces."
Har.
Emma claims there's no air in there, and before we can check the air pressure, we jarringly sweep back into the church for Matthew Morrison to launch into Stephen Sondheim's "Getting Married Today," which's when I first notice that Emma's side of the wedding party is well-stocked and Will's is… just Finn?
Jayma Mays gamely conquers a series of difficult solos in which she reveals she's not getting married today, because, I think, Ryan Murphy wanted to use this song in this episode so somebody had to not get married. Mercedes unleashes a triumphant soprano and everybody makes weird singing faces.
As the music ambles competently forward, Emma pulls a Daphne/Shane McGutcheon/Grace Adler/Rachel Green/Whitley/Mr.Big/Julia Roberts in Runaway Bride and busts that pop stand.
Reader, permission to speak freely? Oh G-d I hate the Runaway Bride/Groom trope, unless said Runaway Bride/Groom is fleeing a total douchebag. Firstly, this RARELY happens in real life and it ALWAYS happens on television. Why? Because it's really fucking expensive and also really mean to friends/family who traveled for your situation and bought dresses they didn't like to be in your wedding party. At least nobody asked the room to speak now or forever hold their peace, then I really would've died, 'cause that's high on my list of Irritatingly Unrealistic Film Tropes.
Sue breaks it to Will that Emma flew the coop and my little heart breaks and I use one of the shards to stab Finn in the neckhole.
---
We cut to a few moments, minutes, seconds or possibly even many moments, minutes or seconds later, when Mr. Shue's having a heart-to-heart with his only friend, Finn Hudson.
Will laments his mistakes, such as "not helping with WEDDING!!!! planning" or "not noting his fiancee's very real and complicated personality disorder was slowly consuming her brainskull, therefore leaving her in a state of disarray in which one's romantic partner might be expected to offer some reassuring words or perhaps draw her a bath, ideally a bubble bath, ideally with Lysol." Will wonders if maybe there was "someone else" and Finn sits there like he's got an entire cafeteria's worth of tater tots up his ass.
Then Santana Lopez shows up to tell the manchildren that Emma's family would like the pre-paid party to proceed as planned.
Mr. Schuester says some sad-sack thing and runs off to find Emma.
---
Cut to The WEDDING!!!! Reception, where everybody's dancing in holiday-themed attire while still failing to offer any competition whatsoever for the prize of Baddest Bitches In The Room, which goes to Quinn and Santana and their fake IDs, which they promptly employ.
Santana: "I'm 25, name's Rosario Cruz. I might be related to Penelope."
Quinn: "Emily Stark. Barely legal."
The overall atmosphere in the room is, "WEDDING? WHAT WEDDING??!!!"
Santana notes that Quinn and Santana's stars align on the same end of the bitch-goddess spectrum, which I believe is the same end of the spectrum where fisting got invented.
Quinn: "You know I have to say Rosario, you are killing it in that dress."
Santana: "Thanks. Look at those romantic saps. You know they may have love but you know what we are that they are not?"
Quinn: "Flawless."
Elsewhere in the expansive reception hall, Ryder Bieber-Strong suggests that New Puck come up with his own ideas for seducing Marley-Kate for once, but New Puck reminds Ryder Bieber-Strong that his character is pretty one-dimensional and doesn't really have any compelling thoughts. Luckily, Ryder Bieber-Strong just-so-happens to possess a necklace in his suitjacket all dressed up for Marley-Kate. New Puck comments that this'll probs get him laid, which horrifies our innocent young probs-gay Ryder-Bieber-Strong, who freaks that little Marley-Kate is just a tiny maiden sophomore in the wind getting over a two-episode eating disorder, and New Puck is like — actually wait I just remembered that I don't care.
Kurt and Blaine hit the stage for a sexual-tension-ridden rendition of "Just Can't Get Enough" while The New Rachel cajoles Finn into stepping all over her feet I MEAN "dancing" and Tina wallows in her seethingly irrational pool of passionate faghaggery.
Elsewhere in the land of things I don't care about, Artie talks to the bitch with the nice rack again 'cause he finds her "intriguing," probably because she won The Glee Project.
When the song ends, Tina, seemingly paying just about as much attention to Mike Chang's presence in this episode as the writers, emerges from her roasting den of ire and wrath to emotionally assault Kurt.
Tina: "You're here, you're in New York, you're at Vogue.com, you're at NYADA… who are you, Kurt? Meanwhile, Blaine is here, lonely, and yes, he cheated, and we're all human, Kurt, we all deserve to be loved back, Kurt.
Kurt: "Okay, Tina, I say this with total love, but the moment we all saw coming is finally here. You're a hag, you're hagged out, you're in love with Blaine and it's creepy, stop."
Tina: "What do you know about love? You just come and go. Who's been here to support him? Me. Who took him to Sadie Hawkins? me. Who put him in bed when he was sick and rubbed vapor rub on his little muscled chest while he slept?"
Kurt: "What?"
Kurt chases Tina Cohen-Chang offscreen to give her lessons on how to be a less-creepy wet nurse, while meanwhile Sue Sylvester takes over the bouquet-throwing duty, and it turns out I'm the only one here who considers said bouquet cursed, 'cause they're reaching for it like it's a vagina or something, but Rachel gets it:
Rachel catches it 'cause she loves getting married and then not getting married. Meanwhile Santana and Quin get wasted and play with each other's hair like Gay Sharks.
---
Slightly later on this fine evening, Finn's delivering a heartfelt soliloquy while plucking petals off a flower, chanting "she loves me" and "she loves me not" alternately, like a complete fucking lunatic, and Rachel kinda conks her head like she's clearing the aural passageway for mayonnaise to get poured into her ear.
Finn reminds New Rachel that she told him to stop being such a "sad sack," which means everything stupid he's done since then is Rachel's fault. Finn goes on to inform her that relationships are just like flowers, because the way to make a relationship grow is to get a good seed, put it into the soil and give it water and sunlight. That sounds like a pretty gross relationship TBH. No wonder he's a sad sack.
Oh, the end of the speech is "Bam! Perfect bud!" so obvs he's a stoner now, predictable. Honestly this scene is super weird and I couldn't watch it again to recap it so I'm going by memory here. Finn tells Rachel that she's still in love with him and I think she believes him, because of all the mayonnaise that just got poured into her brain. I think.
---
We then transition into "We've Got Tonight," for which I must note the pacing was exceptional. Finn and The New Rachel sing onstage so everybody can notice exactly how much better Rachel is at singing and they can give each other moronic-eyes.
On the dance floor everybody slow-dances because slow-dancing is the new Friday.
Also slow dancing? Quinn and Santana, obvs! Quinn, sensing Santana's irresistible body heat, notes that she's never slow-danced with a girl before but she likes it.
I know that feeling, too — it felt so different to me, more different than I'd expected. Some of that was the absence of an extreme body-frame-disparity, but also it felt tender instead of solid and private instead of wide open.
---
Then we all pretend like these kids are old enough and rich enough to have reserved hotel rooms in their very own hometown in which they will be playing hide-the-salami all at the same time! Kurt and Blaine remain super-cute and hot.
Marley-Kate always acts like she's doing ecstasy for the first time.
Quinn and Santana topple down the hallway, giddy and giggling like two pretty girls who are about to strap on their scuba gear for an authentic muff-diving expedition. I know this hookup's been written off as a sweeps stunt, but it rings surprisingly true for me — you know the drill. You've got a bi-curious straight friend, you're both drunk, she's curious about ladies, you're the only lady-loving-lady she knows and, thanks to alcohol and the absolute irresistibility of women in general, you find that the line between friendship and flirting is thinner than you'd ever imagined, and easier to cross than you'd ever dreamed. Unlike apparently every other lesbian ever, I've never pursued a straight girl or wanted a straight girl to be my girlfriend, but still this shit happens.
Artie and the Kinda-Bitchy Girl With The Nice Rack get a room…
…and Finn & Rachel get a room!  Finn stands there like a potato and then Rachel takes all her clothes off.
Six to sixty minutes later, we return to our hormonal friends for additional intimate time. Blaine insists Kurt can't act like "this" doesn't mean anything, but Kurt maintains his debonair exterior. I'm like obsessed with them now.
Cut to Santana and Quinn's Bicuriosity Lovenest, post-sex, otherwise known as "the moment I realize we're never gonna actually see them kiss and therefore become kinda annoyed to the point where I was prevented from truly savoring this scene."
Quinn: "So that's why college girls experiment."
Santana: "And thank G-d they do."
Quinn: "You know it was fun, and I've always wondered what it would be like to be with a woman, but uh, I don't know I think for me it was more of a one-time thing."
I'm not active in the apparent "shipping" community, but I search the Glee tag on tumblr from time to time in search of aninmated gifs, and so I know enough to wonder if that line was intended to produce a very emotionally confusing day in Faberryland. But over here in Quintannaville, we celebrated the fuck out of this situation.
Santana: "Don't worry, I'm not gonna show up at your house with a U-Haul."
Yeah, because last week she showed up at Rachel's with a U-Haul, so it'd be totes awk to start U-Hauling her bitchass hotness all over town.
Quinn asks "what happens next" while indulging in a post-sex water bottle gulp, which's a detail I really appreciate. What happens next? Hm. well, "you continue developing flirtatious sexual tension with Santana for the next few weeks and possibly even fuck a few more times until it feels like it might become a 'thing' and then you'll back off a bit and mention boys at least five times per 20-minute period, and she'll be like, whatever, I never expected more from you anyhow, so I'm gonna go date somebody else, and then you'll have a freakout and realize that you have sort of confusing feelings and you'll yell at Santana about something else totally unrelated to your confusing period, and then there will be a cooling off period, and then you'll both turn into unicorns, fly over the rainbow and trot into a land where people are made out of cake mix. Or, um, "wait 'til next week's episode when we'll surely all be acting as if none of this ever happened."
Anyhow, Santana suggests Quinn walks out first — which'd be thrilling with the sex hair she's rocking right now — or "we could make it a two-time thing?"
Obviously they do, 'cause Santana and Quinn are hot. Damn I just wanted a Quintana kissing gif. Anyhow, welcome to the Sweeps Lesbian Family, you can collect your toaster OVEN on your way out. Here's a graphic of other ladies who, once upon a time, woke up in February and wanted to kiss another lady.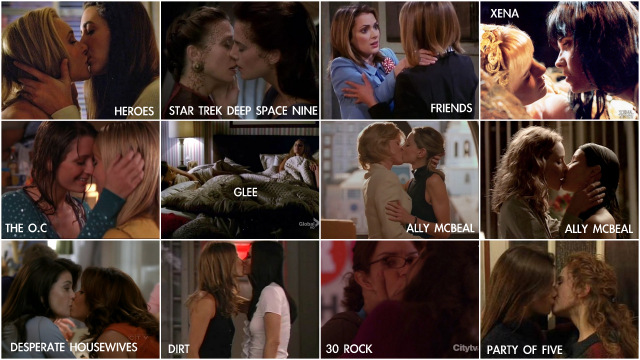 Also, New Puck and Marley-Kate didn't have sex, so if you had money down on that one then this is a sad moment for you.
Rachel leaves Finn in bed and teleports immediately to New York City. Geyerdean's raided The Dollar Store's 50-cent sale and shellacked the walls and cluttered the air with V-Day paraphernalia. I bet he spent the holiday alone watching a YouTube marathon of The Vagina Monologues as performed by at least twenty different feminist student groups at various American Universities.
Rachel says she can't yank the monkey tonight 'cause she's super bloated from all those nuts and dolts on the plane.
Geyerdean asks if she hooked up with anybody else in Lima, because, hello, it's Lima New Rock Sex City, and she says she saw Finn but he's far away so it's NBD. Geyerdean claims he spent the day watching weightlifting videos, but he actually spent it having sex for money. lol. Valentine's Day decorations don't grow on trees you guys!
---
Cut back to our favored Hallowed Hallways where Kurt's wearing an unfortunate sweater and is in high school for some reason. Tina apologizes for having the shittiest storyline ever. Luckily, she also announces that this storyline is over. Then Kurt reminds the group that he and Blaine are just friends.
Blaine says he'll help get Tina a boyfriend, because Tina's never had a boyfriend before, not ever, not even one or two times, and definitely like for basically the entire duration of this g-ddamn show until this season.
Kurt: "And, when I called you a hag, I was only drawing attention to the fact that you are honoring the noble and proud tradition of hagdom."
Elsewhere in these hallowed halls, Marley-Kate thanks Ryder Bieber-Strong for helping Jordan Catalano write those letters, noting that it'll be so cool one day when he does that for someone for real.
Then Ryder Bieber-Strong was like, "I am being real," and then he kisses her.
Honestly I barely care enough about these characters to not remember the fake names I made up for them, but why is Marley-Kate with New Puck? There's no chemistry, we've never seen them bond over anything besides how much they like each other. She's way smarter, she needs to be nurtured and he doesn't know how to do that.
---
Cut to the Teacher's Lounge, where Finn's lecturing Mr. Schuester about how to live his life and I squirt ketchup all over the television, buy a puppy, let the puppy lick off all the ketchup from the teevee, clean the teevee with Pledge Wipes, and when that's all said and done, Finn's still talking. He invites himself to remain a part of Glee Club.
Then The Not Actually Bitchy Girl With The Nice Rack shows up so she and Artie can make plans for a dinner and a movie date, sans dinner/movie, plus wild sex.
We then travel throughout the scenic McKinley High School area until we land, at last, in the auditorium for a rousing and triumphant episode-ending song, Ellie Goulding's "Anything Could Happen," for which the episodes' color scheme has been altered from reds/pinks to blues/purples and luckily, unlike Kurt at the wedding, Artie, Marley-Kate and Ryder Bieber-Strong have all brought changes of clothing to school today.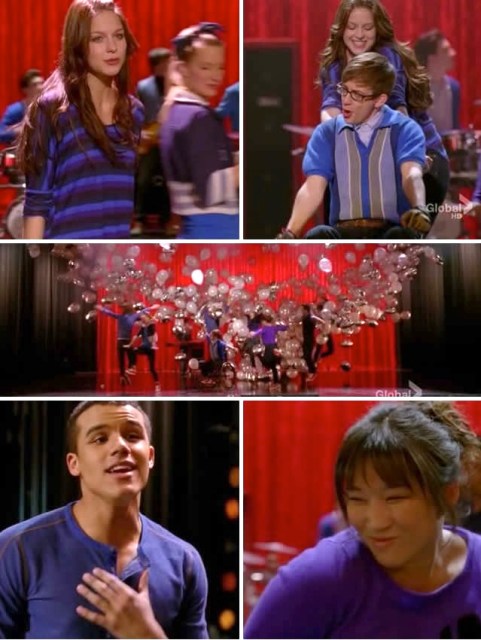 This song's so good and high-energy they almost trick you into thinking you liked the episode! Also, Marley-Kate's singing/dancing personality is really awesome, I wish they weren't burying her potential character under men. But I mean, also, this is Glee. 
Mr. Shue is looking at pictures of Emma on his phone.
Oh then Rachel takes a pregnancy test and she's pregnant because this show is totally fucking stupid.
---
Next time on Glee: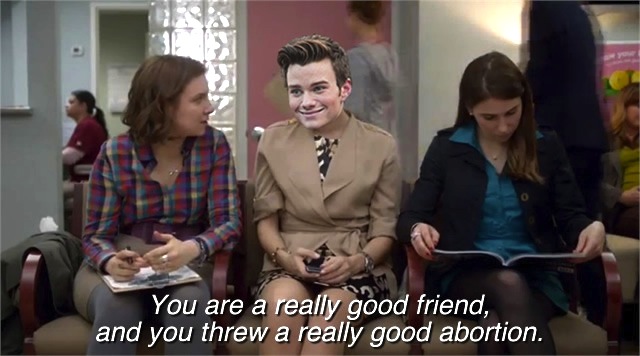 Pages: 1 2 3See entire article on one page