Cut to The WEDDING!!!! Reception, where everybody's dancing in holiday-themed attire while still failing to offer any competition whatsoever for the prize of Baddest Bitches In The Room, which goes to Quinn and Santana and their fake IDs, which they promptly employ.
Santana: "I'm 25, name's Rosario Cruz. I might be related to Penelope."
Quinn: "Emily Stark. Barely legal."
The overall atmosphere in the room is, "WEDDING? WHAT WEDDING??!!!"
Santana notes that Quinn and Santana's stars align on the same end of the bitch-goddess spectrum, which I believe is the same end of the spectrum where fisting got invented.
Quinn: "You know I have to say Rosario, you are killing it in that dress."
Santana: "Thanks. Look at those romantic saps. You know they may have love but you know what we are that they are not?"
Quinn: "Flawless."
Elsewhere in the expansive reception hall, Ryder Bieber-Strong suggests that New Puck come up with his own ideas for seducing Marley-Kate for once, but New Puck reminds Ryder Bieber-Strong that his character is pretty one-dimensional and doesn't really have any compelling thoughts. Luckily, Ryder Bieber-Strong just-so-happens to possess a necklace in his suitjacket all dressed up for Marley-Kate. New Puck comments that this'll probs get him laid, which horrifies our innocent young probs-gay Ryder-Bieber-Strong, who freaks that little Marley-Kate is just a tiny maiden sophomore in the wind getting over a two-episode eating disorder, and New Puck is like — actually wait I just remembered that I don't care.
Kurt and Blaine hit the stage for a sexual-tension-ridden rendition of "Just Can't Get Enough" while The New Rachel cajoles Finn into stepping all over her feet I MEAN "dancing" and Tina wallows in her seethingly irrational pool of passionate faghaggery.
Elsewhere in the land of things I don't care about, Artie talks to the bitch with the nice rack again 'cause he finds her "intriguing," probably because she won The Glee Project.
When the song ends, Tina, seemingly paying just about as much attention to Mike Chang's presence in this episode as the writers, emerges from her roasting den of ire and wrath to emotionally assault Kurt.
Tina: "You're here, you're in New York, you're at Vogue.com, you're at NYADA… who are you, Kurt? Meanwhile, Blaine is here, lonely, and yes, he cheated, and we're all human, Kurt, we all deserve to be loved back, Kurt.
Kurt: "Okay, Tina, I say this with total love, but the moment we all saw coming is finally here. You're a hag, you're hagged out, you're in love with Blaine and it's creepy, stop."
Tina: "What do you know about love? You just come and go. Who's been here to support him? Me. Who took him to Sadie Hawkins? me. Who put him in bed when he was sick and rubbed vapor rub on his little muscled chest while he slept?"
Kurt: "What?"
Kurt chases Tina Cohen-Chang offscreen to give her lessons on how to be a less-creepy wet nurse, while meanwhile Sue Sylvester takes over the bouquet-throwing duty, and it turns out I'm the only one here who considers said bouquet cursed, 'cause they're reaching for it like it's a vagina or something, but Rachel gets it:
Rachel catches it 'cause she loves getting married and then not getting married. Meanwhile Santana and Quin get wasted and play with each other's hair like Gay Sharks.
---
Slightly later on this fine evening, Finn's delivering a heartfelt soliloquy while plucking petals off a flower, chanting "she loves me" and "she loves me not" alternately, like a complete fucking lunatic, and Rachel kinda conks her head like she's clearing the aural passageway for mayonnaise to get poured into her ear.
Finn reminds New Rachel that she told him to stop being such a "sad sack," which means everything stupid he's done since then is Rachel's fault. Finn goes on to inform her that relationships are just like flowers, because the way to make a relationship grow is to get a good seed, put it into the soil and give it water and sunlight. That sounds like a pretty gross relationship TBH. No wonder he's a sad sack.
Oh, the end of the speech is "Bam! Perfect bud!" so obvs he's a stoner now, predictable. Honestly this scene is super weird and I couldn't watch it again to recap it so I'm going by memory here. Finn tells Rachel that she's still in love with him and I think she believes him, because of all the mayonnaise that just got poured into her brain. I think.
---
We then transition into "We've Got Tonight," for which I must note the pacing was exceptional. Finn and The New Rachel sing onstage so everybody can notice exactly how much better Rachel is at singing and they can give each other moronic-eyes.
On the dance floor everybody slow-dances because slow-dancing is the new Friday.
Also slow dancing? Quinn and Santana, obvs! Quinn, sensing Santana's irresistible body heat, notes that she's never slow-danced with a girl before but she likes it.
I know that feeling, too — it felt so different to me, more different than I'd expected. Some of that was the absence of an extreme body-frame-disparity, but also it felt tender instead of solid and private instead of wide open.
---
Then we all pretend like these kids are old enough and rich enough to have reserved hotel rooms in their very own hometown in which they will be playing hide-the-salami all at the same time! Kurt and Blaine remain super-cute and hot.
Marley-Kate always acts like she's doing ecstasy for the first time.
Quinn and Santana topple down the hallway, giddy and giggling like two pretty girls who are about to strap on their scuba gear for an authentic muff-diving expedition. I know this hookup's been written off as a sweeps stunt, but it rings surprisingly true for me — you know the drill. You've got a bi-curious straight friend, you're both drunk, she's curious about ladies, you're the only lady-loving-lady she knows and, thanks to alcohol and the absolute irresistibility of women in general, you find that the line between friendship and flirting is thinner than you'd ever imagined, and easier to cross than you'd ever dreamed. Unlike apparently every other lesbian ever, I've never pursued a straight girl or wanted a straight girl to be my girlfriend, but still this shit happens.
Artie and the Kinda-Bitchy Girl With The Nice Rack get a room…
…and Finn & Rachel get a room!  Finn stands there like a potato and then Rachel takes all her clothes off.
Six to sixty minutes later, we return to our hormonal friends for additional intimate time. Blaine insists Kurt can't act like "this" doesn't mean anything, but Kurt maintains his debonair exterior. I'm like obsessed with them now.
Cut to Santana and Quinn's Bicuriosity Lovenest, post-sex, otherwise known as "the moment I realize we're never gonna actually see them kiss and therefore become kinda annoyed to the point where I was prevented from truly savoring this scene."
Quinn: "So that's why college girls experiment."
Santana: "And thank G-d they do."
Quinn: "You know it was fun, and I've always wondered what it would be like to be with a woman, but uh, I don't know I think for me it was more of a one-time thing."
I'm not active in the apparent "shipping" community, but I search the Glee tag on tumblr from time to time in search of aninmated gifs, and so I know enough to wonder if that line was intended to produce a very emotionally confusing day in Faberryland. But over here in Quintannaville, we celebrated the fuck out of this situation.
Santana: "Don't worry, I'm not gonna show up at your house with a U-Haul."
Yeah, because last week she showed up at Rachel's with a U-Haul, so it'd be totes awk to start U-Hauling her bitchass hotness all over town.
Quinn asks "what happens next" while indulging in a post-sex water bottle gulp, which's a detail I really appreciate. What happens next? Hm. well, "you continue developing flirtatious sexual tension with Santana for the next few weeks and possibly even fuck a few more times until it feels like it might become a 'thing' and then you'll back off a bit and mention boys at least five times per 20-minute period, and she'll be like, whatever, I never expected more from you anyhow, so I'm gonna go date somebody else, and then you'll have a freakout and realize that you have sort of confusing feelings and you'll yell at Santana about something else totally unrelated to your confusing period, and then there will be a cooling off period, and then you'll both turn into unicorns, fly over the rainbow and trot into a land where people are made out of cake mix. Or, um, "wait 'til next week's episode when we'll surely all be acting as if none of this ever happened."
Anyhow, Santana suggests Quinn walks out first — which'd be thrilling with the sex hair she's rocking right now — or "we could make it a two-time thing?"
Obviously they do, 'cause Santana and Quinn are hot. Damn I just wanted a Quintana kissing gif. Anyhow, welcome to the Sweeps Lesbian Family, you can collect your toaster OVEN on your way out. Here's a graphic of other ladies who, once upon a time, woke up in February and wanted to kiss another lady.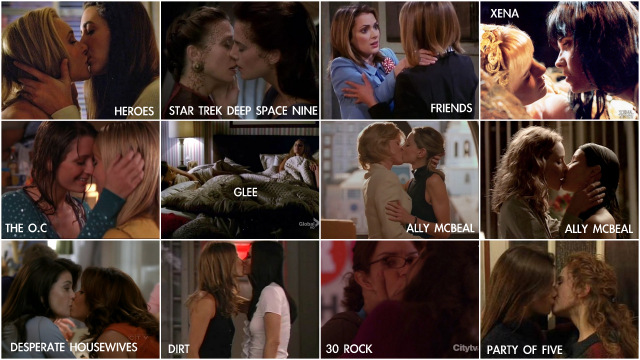 Also, New Puck and Marley-Kate didn't have sex, so if you had money down on that one then this is a sad moment for you.
Rachel leaves Finn in bed and teleports immediately to New York City. Geyerdean's raided The Dollar Store's 50-cent sale and shellacked the walls and cluttered the air with V-Day paraphernalia. I bet he spent the holiday alone watching a YouTube marathon of The Vagina Monologues as performed by at least twenty different feminist student groups at various American Universities.
Rachel says she can't yank the monkey tonight 'cause she's super bloated from all those nuts and dolts on the plane.
Geyerdean asks if she hooked up with anybody else in Lima, because, hello, it's Lima New Rock Sex City, and she says she saw Finn but he's far away so it's NBD. Geyerdean claims he spent the day watching weightlifting videos, but he actually spent it having sex for money. lol. Valentine's Day decorations don't grow on trees you guys!
---
Cut back to our favored Hallowed Hallways where Kurt's wearing an unfortunate sweater and is in high school for some reason. Tina apologizes for having the shittiest storyline ever. Luckily, she also announces that this storyline is over. Then Kurt reminds the group that he and Blaine are just friends.
Blaine says he'll help get Tina a boyfriend, because Tina's never had a boyfriend before, not ever, not even one or two times, and definitely like for basically the entire duration of this g-ddamn show until this season.
Kurt: "And, when I called you a hag, I was only drawing attention to the fact that you are honoring the noble and proud tradition of hagdom."
Elsewhere in these hallowed halls, Marley-Kate thanks Ryder Bieber-Strong for helping Jordan Catalano write those letters, noting that it'll be so cool one day when he does that for someone for real.
Then Ryder Bieber-Strong was like, "I am being real," and then he kisses her.
Honestly I barely care enough about these characters to not remember the fake names I made up for them, but why is Marley-Kate with New Puck? There's no chemistry, we've never seen them bond over anything besides how much they like each other. She's way smarter, she needs to be nurtured and he doesn't know how to do that.
---
Cut to the Teacher's Lounge, where Finn's lecturing Mr. Schuester about how to live his life and I squirt ketchup all over the television, buy a puppy, let the puppy lick off all the ketchup from the teevee, clean the teevee with Pledge Wipes, and when that's all said and done, Finn's still talking. He invites himself to remain a part of Glee Club.
Then The Not Actually Bitchy Girl With The Nice Rack shows up so she and Artie can make plans for a dinner and a movie date, sans dinner/movie, plus wild sex.
We then travel throughout the scenic McKinley High School area until we land, at last, in the auditorium for a rousing and triumphant episode-ending song, Ellie Goulding's "Anything Could Happen," for which the episodes' color scheme has been altered from reds/pinks to blues/purples and luckily, unlike Kurt at the wedding, Artie, Marley-Kate and Ryder Bieber-Strong have all brought changes of clothing to school today.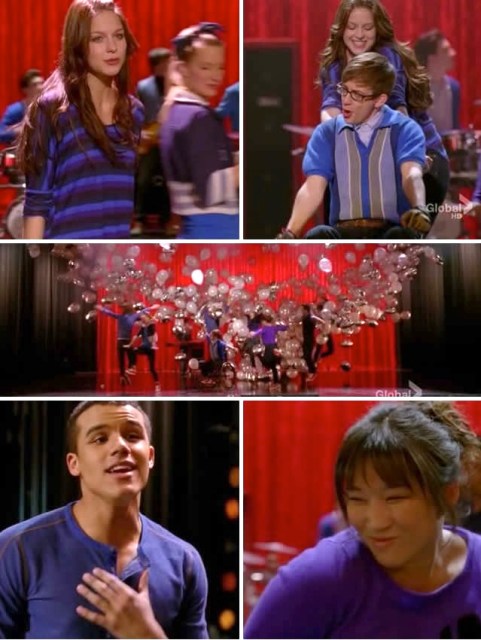 This song's so good and high-energy they almost trick you into thinking you liked the episode! Also, Marley-Kate's singing/dancing personality is really awesome, I wish they weren't burying her potential character under men. But I mean, also, this is Glee. 
Mr. Shue is looking at pictures of Emma on his phone.
Oh then Rachel takes a pregnancy test and she's pregnant because this show is totally fucking stupid.
---
Next time on Glee: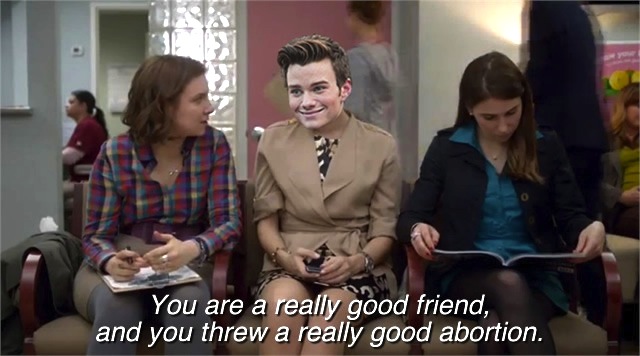 ---
Before you go!
It takes funding to keep this publication by and for queer women and trans people of all genders running every day. We will never put our site behind a paywall because we know how important it is to keep Autostraddle free. But that means we rely on the support of our A+ Members.
Still, 99.9% of our readers are not members.
A+ membership starts at just $4/month.
If you're able to, will you join A+ and keep Autostraddle here and working for everyone?
Join A+
Pages: 1 2 3See entire article on one page