Hello and welcome to the fourteenth recap of the fourth season of Glee, a delightful family television program about streamers, balloons, glitter guns, paper-hearts and the foolish teenagers who purchase and utilize said decor under the esteemed tutelage of Admiral Tater-Tot, who inspires them to lift every voice and sing. It's basically Joyful Noise, but without Dolly Parton or Queen Latifah. This week's episode, entitled "I Do," paid tribute to 56 of my least-favorite television tropes and provided Finn Hudson with far too much screen time.  In the upcoming words of our Patron Saintess Santana Lopez:

---
We open in an aggressively bedazzled Iconoclastic Northwestern Ohio coffee shop, where a yam in a sweater vest is yammering to The New Rachel about his manchild feelings while The New Rachel frets about his frazzled physical appearance and refusal to make eye contact.
Finn confesses that he put his tater on Ms. Pillsbury's tot and even though she didn't kiss him back, he's super self-involved and therefore can't stop obsessing over it and his inability to be Best Man now that he's established himself AGAIN as the Worst Man. He proposes telling Mr. Shue, because then Mr. Shue can be as miserable as Finn is and they can start an a capella blues jam group and spin off into outer space.
The New Rachel insists he keeps this slip-up on the DL and suggests Finn was motivated by his despair over her budding romance with a shirtless dicknail, but Finn insists not everything's about her. Which's unfortunate, because that'd be a hell of a lot more entertaining than everything being about Finn!
---
We then swing on over to Emma's office, where her private freakout over seating charts and the precise arrangement of items on her desk is interrupted by a stack of chili-cheese-fries named Finn Hudson and his manchild feelings. Finn's unsure he can handle being a best man because he kissed Emma and also, incidentally, is totally not the best man. You know who the best man is? This is who The Best Man is:
Emma's got no time for this:
Emma: "Look I'm really sorry I don't have a pamphlet ready for you right now but I'm pretty sure if I did, it would say something like, "Get Over It," okay?"
Emma suggests Finn's best course of action is to stay the fuck away and shut the fuck up, at which time Mr. Shue pops in to grace the room with his gummy smile and tasteful cardigan and to not help his wife feel one iota better about a goddamn thing.
Emma begs for seating chart help but he's gotta run to Glee practice which brings us to…
---
…The Glee Room!
The students greet their Prodigal Father with unnecessary levels of good cheer, including an embarrassing-for-all-of-us "Holla!" from Artie, and subsequently respond to Mr. Shue's gratitude towards Finn Hudson with even stronger levels of unnecessary good cheer.
Mr. Shue incites a near-riot of enthusiasm when he announces that week's theme will be "WEDDING!!!!!"
Mr. Shue explains that because Emma's handling all the WEDDING!!!! planning, he'll be handling all the planning of the WEDDING!!!! music, which he promptly handles by asking the children to do it for him.
Infathomably he also asks a baked potato to eschew a Best Man Speech in favor of A Best Man Song, which's a good or bad thing depending on where you come down on the "What's Worse: Finn Singing or Finn Talking" Debate of 2012.
---
We then cut to The Hallowed Hallways of McKinley High where Emma's on her knees in green dish gloves eliminating the faint suggestion of the faint suggestion of the possibility of a potential future involving, in some way maybe, Asian Bird Flu.
Emma's also giving Artie the low-down on her blonde niece, Betty, who will be sitting adjacently to Artie at the WEDDING!!!!!! and also has giant knockers. I'm imagining something like this, mayhaps?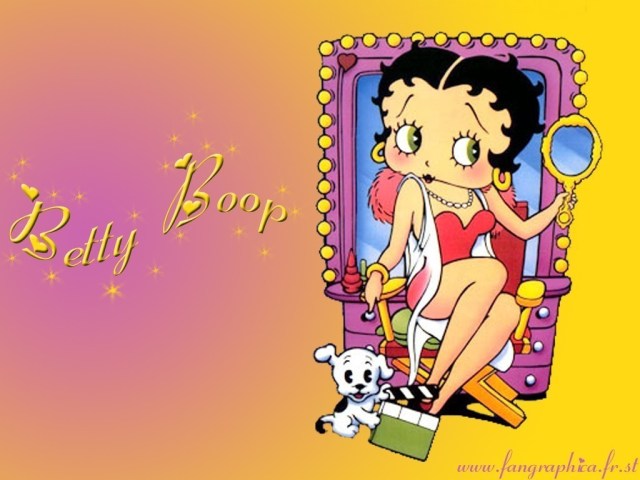 JK, Betty is blonde, so it's not Betty Boop, it's probs Betty McRae:
Wait! WAIT I KNOW WHO IT IS. It's Betty of "Betty and Veronica," a comic about lesbian lovers pretending to be straight:
Anyhow, we'll just have to wait and see because elsewhere in the Hallowed Hallways, Marley-Kate and New Puck are speaking words to each other while everybody who cares listens really hard and everybody who doesn't care sticks their face in a tub of squalid pickle juice for the next 45 seconds.
For Valentine's Day, Marley-Kate made New Puck special cufflinks out of a typewriter and New Puck pretends like he's got something special for her, too, but he's obviously lying and was totally planning on gifting her a Dick in a Box. Luckily Ryder Bieber-Strong is gonna pull a Brian Krakow this episode and puppet-master New Puck through making Valentine's Week a Magical Moment for Marley-Kate.
---
Elsewhere in this crumbling monument to educational tomfoolery, Finn's summoned The New Rachel to the auditorium to help him choose a WEDDING!!!! song from the Wedding Song Box.
The New Rachel suggests Finn improve his song by duetting with somebody who can actually sing, like The New Rachel. Finn smarmily adds that they've got some "pretty dangerous musical chemistry," which inspires The New Rachel to assert that she's in a mature open relationship now so the only danger she's worried about is the danger we're all worried about, which is random lunatics opening fire in a crowded room of civilians. Amirite?
---
Cut to, I believe, History of The American Bald Eagle class, apparently taught now by Mr. Shue, who's been back at McKinley for about 47 minutes but whatever.
Just in case all this eagle-talk wasn't already inspiring students to hop the first train to snoozeville, New Puck interrupts this educational situation to perform a song declaring his love for Marley.
New Puck, Ryder Bieber-Strong, Sam and Artie, dressed like cupcakes and accompanied by a puppy-eyed Marley-Kate, then treat us to an unfortunate rendition of Marvin Gaye's "You're All I Need (To Get By)" while students lob heart-shaped glitter and other discount party store paraphernalia onto the happy couple.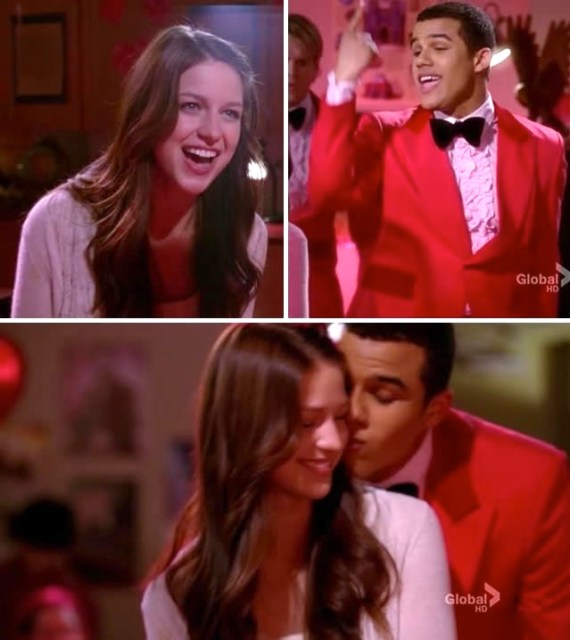 Luckily, the song ends and then so does the scene!
---
We then journey through space, time, and sixty thousand centuries of Industrial progress to The Church for Emma and Will's WEDDING!!!!.
Santana Lopez, who must be fucking Kara Thrace for all the air travel she's managed to squeeze into her budget these days, shows up with Quinn Fabray and promptly declares herself and the dead bear on her shoulders "clearly the hottest bitch in this lousy joint," which coincidentally is a fair representation of this show in general. Her alleged "best friend" a few rows up offers a meek hello and Santana throws some shade their way.
Despite her overwhelming hotness, Santana moans, she's stuck here all alone with Quinn, and Quinn just-so-happens to be wearing a holy jacket created to memorialize the great battle of Glitter Vs. Gay.
Quinn asks if Santana would like to be slapped again, and instead of saying "Yes! Harder!" Santana continues bitching about how much she hates weddings and Valentine's Day, which was "invented by breeders to sell cheap chocolate and false hope." AMEN, sister. "Do you know what I hate?" Quinn asks. "Men. Every single one of them." AMEN, SISTER! Actually the sentence is longer than that, but who cares.
She goes on to declare all men pigs, except Mr. Shue and Al Roker. Listen Quinn, I've got an advanced degree in Professional Man-Hating, which means I keep a handy list on my desk of Men I Don't Hate, and lemme tell you who's not on it: Mr. Shue and Al Roker. Lemme tell you who is on it: Ira Glass, Stephen Dunn, Sam Anderson, my brother Lewis and Obama, sometimes. Mr. Shue is totally weird and Al Roker said my least favorite p-word on television.
Quinn declares she's done letting men define her and reminds all of you ladies at home that "a woman without a man is like a fish without a bicycle." Coincidentally, a woman without a man is also a woman without a Glee storyline, but whatever.
Santana: "Al Roker is disgusting, by the way."
AAAAAAAAAAAMMENENENNNNNNNNN.
---
Pages: 1 2 3See entire article on one page