Comments added to "reblogs" of the following photograph of Rachel Maddow & Ira Glass, Together, published on Autostraddle Tumblr and taken from New York Magazine: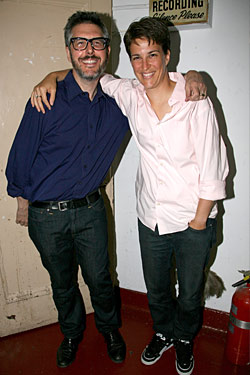 1. "Rachel and Ira look like the same ultra attractive person at opposite ends of the gender spectrum. UNF." (affably)
2. "If these two people had a baby i would want to look like that baby." (besttumblr)
3. "I am exploding into a big ball of melting Ira ice cream that doesn't even make sense." (seaponies)
4. "So they are not the same person." (teallikethecolor)
5. "This reminds me, I am going back to Smith College SO SOON. THANK FUCKING GOODNESS. Northern California, it's been… chill." (carborundorum)
6. "You are looking at my sexual desires all in one image." (delicate bone)
["listicle without commentary" title stolen from the awl]
---
Before you go!
It takes funding to keep this publication by and for queer women and trans people of all genders running every day. We will never put our site behind a paywall because we know how important it is to keep Autostraddle free. But that means we rely on the support of our A+ Members.
Still, 99.9% of our readers are not members.
A+ membership starts at just $4/month.
If you're able to, will you join A+ and keep Autostraddle here and working for everyone?
Join A+