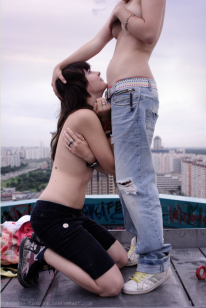 Three weeks ago on NSFW Sunday we talked about what lesbians don't talk about when they talk about sex AND YOU ALL HAD A LOT OF FEELINGS.
A few days before the aforementioned post we'd started an 'anonymous google doc' wherein Autostraddle team members asked their own questions and gave their own answers so that we could 'determine' what people 'want to talk about.'
Today is our last or second-to-last week of continuing to bring you this crucial insight. Last week we talked about tops & bottoms and two weeks ago we talked about wetness & orgasms and today it's about positions with bad reputations. BECAUSE WE KNOW YOU WANT TO SCISSOR, it's all you ever want, you're like fuck rocks & paper, let's scissor, right?
There was a poor confused lesbian who called into Dan Savage and wanted to know if people still scissored. Do you? Feelings?
* Scissoring is a thing. Yes.
* My girlfriend and I were talking about this the other day and we were like "This is really a thing? Really?wp_postsThen again, we have no experience with anyone but each other…
* I wouldn't be able to take it seriously, like, "Yeah sure let's scissor! Sorry I keep giggling, is that ruining the mood?"
* I still have no idea what scissoring is or if I've ever done it.
* I haven't because of the kinds of top-bottom dynamics that I generally establish in sex, but I have watched porn which involved scissoring. It looked hot. Would not mind trying at some point in time. (Perhaps when I'm roleplaying being the bottom in the relationship.)
* Yes, I've done it a handful of times. It can be kind of silly, but I think laughing during sex can be good/healthy and when it stops being silly, sometimes it's pretty hot. It's not something I would like request in bed, but don't knock it til ya try it. It's feels like a big wet vagina hug. In a good way.
* It's not the safest way to sleep with someone unprotected if you aren't 100 percent sure about their sexual health status; but if I know they test clean then yes.
* I think this has another name, right? One that doesn't suggest that you end up looking at the other person's feet. [Tribadism. That is a thing.]
*  A form of scissoring is hot. Actual scissoring is good for cuddling.
* I'm too scared to scissor. That shit looks awk.
*  Never done it. South Park has ruined it for me, never will do it.
* It was okay but South Park gave the whole experience a weird sense of shame.
* There are times when I' m playing around in bed and the mood is carefree and it seems like something I could initiate/pull off with minimal embarrassment. If you feel comfortable with the person and with yourself, why not? Sex shouldn't always be serious.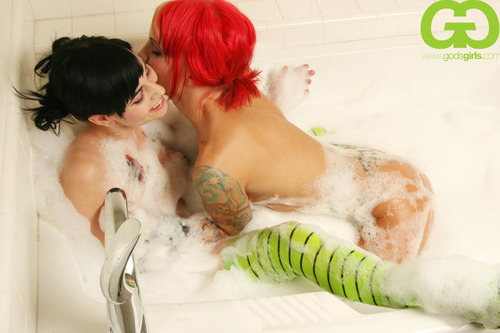 69ing. Is it a thing? Does it lead to getting off, or is it strictly for show/fun? Discuss:
* Um, yes. It's a thing that leads to getting off, at least in my bedroom.
* I've done it, but I feel like it's more to feel like you've done it. Like sexy Kilimanjaro. I wouldn't say it was the #1 best for getting off, you know?
* It's definitely a thing. I think it's super hot and kind of a once in a while thing, but I wouldn't want to do it with someone I'm not super intimate with. It's pretty intense! I think most sex is strictly for fun/not just about having the max amount of orgasms, so yeah. It can lead to getting off or to other things too.
* 69 is a thing that I like to do. I find that it only leads to getting off when it's done slowly and so admittedly it can be a little hit and miss, depending on what the other person is like.
* 69ing is a thing after a lot of yoga.
* It was a cool idea when I was a teenager, but now I find that it makes it difficult to focus on what you're doing and nobody ends up having the best possible time.
* It's a thing, but I've never gotten off with it. I honestly don't like the position and where our noses have to be. There. I said it.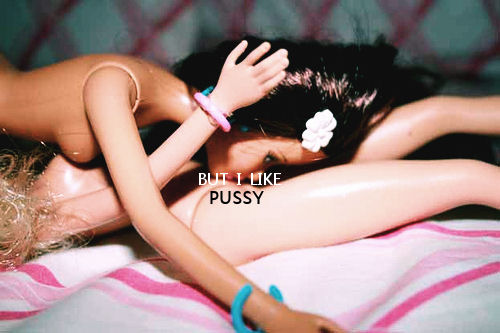 +
More on Positioning Yourself for SUCCESS: You've likely already seen the Barbie Sex Positions page, as it's one of the best things to ever happen on the internet and we've linked to it 2-3 times. College Sex Advice has LESBIAN SEX POSITIONS: OPEN SOURCE KAMA SUTRA in which positions are demonstrated by cartoon penguins. One of the penguins has pigtails. They are both very happy to be penguins, probably are in denial about global warming and overall universal cosmic apocalypse, coming in 2012.
The Encylcopedia Dramatica can be both offensive and informative on topics such as Scissoring. Wikipedia has a page on Tribadism with special drawings, b/c the internet is magic. Also here's some fanfic about the Golden Girls scissoring! For a quick brush-up on clit-clatting, mashing cookies and clam jousting; check out the lesbian kama sutra glossary. Also, there's a book for this: Lesbian Sex: 101 Lovemaking Positions.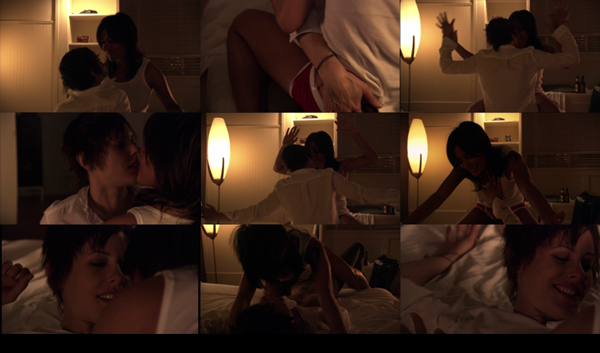 ALSO ABOUT SEX, AND THEREFORE OF INTEREST:
The Scavenger has a great interview with Jiz Lee and it's called Genderqueer feminist porn star: Jiz Lee.
We had an open relationship thread a few weeks ago, and this website wrote an unrelated article called Open relationships? like recently. Also a Rabbi said "In order for monogamy to work, it has to be 'dirty.'"
New York Times says they like your/our small boobs, here: For the A-Cup Crowd, Minimal Assets Are a Plus!
Violet Blue has your update on the week in the war on watching porn.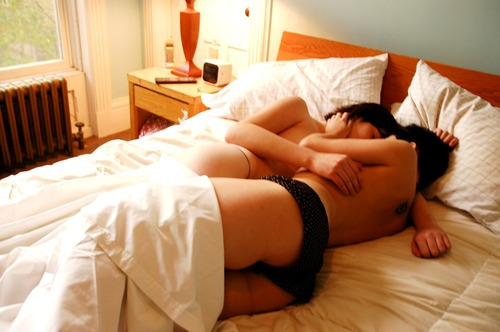 SEXY TUMBLR ALERT:
This might be my favorite tumblr of the 3rd quarter of 2010. It's called gazed! and it's about 'us', or you know, the imaginary 'we.' It makes me think of that poem, 'we real cool.' And it's not about sex or lesbians, but there's sex in it, and girls without their shirts off, and girls being amorous with other girls, and girls riding bicycles. everything happens in a sunlight-dappled place where the sky is beautiful, grass is plentiful, and the girls are pretty/soft and is captioned like; "we're strangers to ourselves" or we like a good rear view and we have to read the fucking manual again. Seriously. and we have something like this in mind and we practise and we reconsider our plans and we love our garden and we added police cars to our ignore list. a long time ago and we're listening to old mixtapes.
That's all, feel free to talk about yourself in the comments!