LAW & ORDER SVU RECAP:
(by riese)
I've watched approximately 5 bajillion/500 episodes of Law & Order. At any given time of day, I'm hoping Law & Order is on. As I age and consume more & more episodes, I worry about the eventual future when it'll be unlikely an episode of Law & Order I haven't already seen is on at any given time. 75% of my average weekly television intake is Law & Order. Though I usually catch the show in syndication, I anticipated this brand-new episode — in which Kathy Griffin plays a lesbian activist — with GLEEish fervor, though I'd already decided it'd probably be offensive.
See, tonight, Law & Order SVU dared to cover its designated topic area — "sexually based offenders," the detectives who investigate these especially heinous crimes, and the district attorneys who prosecute these offenders — using LGBT characters. If you've never seen the show 'til tonight, it may have seemed offensive. But let's remember this is a crime drama about offenders. If you watch enough L&O:SVU, you'll find the program is a relatively equal opportunity offender. There's a lot of Offense going on here, is what I'm telling you. Offenses, offenders, offensive… Tonight, in my opinion, was fair. At times, it was even heavy-handed in its fairness. I think they tried?

Twitter, however, sayeth that the episode sucked. Everyone but me hated it! Admittedly, I found Kathy's character relentlessly annoying and wanted Ice-T to give her ten Xanax, draw her a bath and sign her up for the Bette Porter School of Schooling. However, Kathy's bizarre performance, IMHO, was further evidence that the character of "Babs" was meant to be a hyperbolic parody rather than a true-to-life representation.
I understand why it seems that way, but I think that might just be the nature of the beast. See, when we think about our community's most damaging stereotypes, we think about crime (whether we articulate it that way or not). Our community's worst representatives are our criminals, and until homophobia ends or equality wins, we're going to cringe when the media uses LGBT characters in criminal contexts.
See; crime is legally sanctioned Wrong. Unlike plots regarding love, friendship, drinking copious amounts of alcohol in bikinis, religion, or illness, crime plots require a unanimously guilty person. There's no grey area of moral ambiguity for a crime drama's Baddest Character — in every episode there'll be one or more characters (whether they're the actual criminals or not) who have to be assholes, hyperbolic extremists, or otherwise embroiled in Special Disturbing Situations. You can't say that for How I Met Your Mother or Queer as Folk. With so much negativity already established, someone's gonna get scathed a bit, and sometimes it's gonna be gay people, because we exist.
Anyhow, let's break it down:
Evidence of Trying: (Gay psychiatrist) Dr. George Huang (B.D. Wong) & Olivia Benson (Mariska Hargitay)'s chat about "aggressives" and discussions about same-sex domestic violence were pretty carefully done. In fact, this dialogue was so fair and well-crafted it verged on Homo-Friendly Afterschool Special territory, but luckily I love Afterschool Specials & homos! However, they failed to note that the AG/Aggressive subculture is a QPOC community and specifically is used by Black queer people. In the show, having a white person as the "AG" was appropriative.
Benson: Are "Aggressives" known to be violent?
Dr. Huang: Not at all. Like everyone else, it all boils down to the individual. Which is why gays and lesbians aren't immune to domestic violence, substance abuse, rape — just more proof that we're all equal.
The Cool: They filmed in West Village lesbian bar Rubyfruit and called it "Kitty Corner," which is a throwback to former lesbian hotspot Meow Mix, a bar I tried to go to in the summer of 2004 during Pride only to find it'd gone out of business. So then I had to go home and be straight in my room.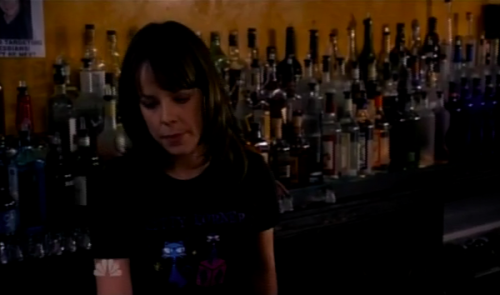 The Hot: All the jokes about Olivia's sexuality were delightful! (The first article I ever published on the internet, at a crap entertainment news website called "ElitesTV," was a gushy/lame tribute to Mariska Hargitay [I have no idea what happened with the natch/snatch situation there, thanks editors], I am totally biased/in love.)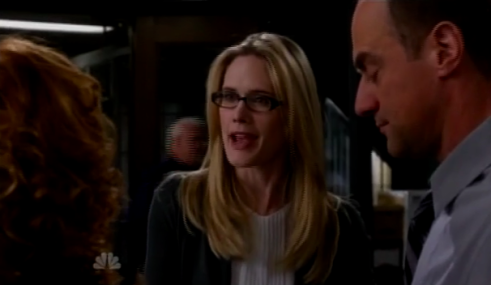 Also I enjoyed Kathy Griffin giving Cabot the sexy-eyed once-over and Benson pretending to be a lesbian to get the guy to confess. (Sidenote: it's always creeped me out when Stabler pretends to be a child molester or rapist to get a guy to confess).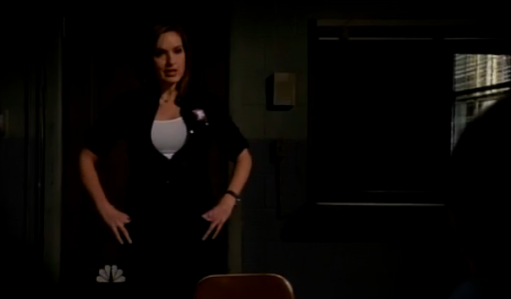 The Weird: Was LesBeStrong aiming to parody the Lesbian Avengers? If so, epic fail, Avengers had more fun and were far more complex. However: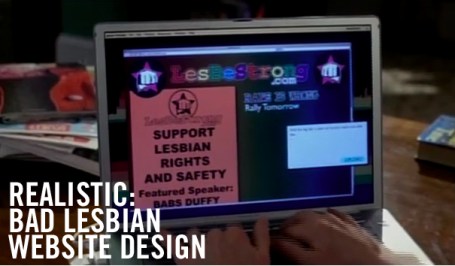 The Stupid: Honestly, I'm glad they cut the kiss, though the actual edit was laughably terrible (see video). I don't think the story warranted a full-on kiss and I don't need to see a straight girl pushing away a pursed-lipped eyes-closed lesbian, thanks! And Olivia was totally cool afterward and it later turned out to be Babs's personal problems motivating her, rather than her savagely uncontrollable lesbian lust & hunger.
+
However Twitter disagrees, and Lynne makes a good point: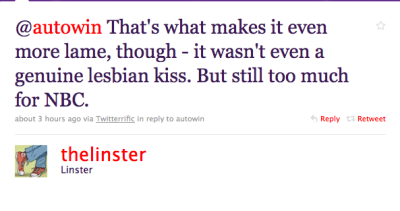 The Bonus: Hay! We weren't the criminals! It turned out that Kathy Griffin Lesbian Warrior was wrong about Olivia Benson's sexual orientation, but she was right that the perpetrator was targeting lesbians. You guys, L&O gave us a crazy lesbian activist, but it also validated her seeming "paranoia."
Final Word: I can't even talk about the bisexual part at the end aside from saying I think it was admirable that Benson spoke with enlightenment regarding Babs' potential bisexuality instead of it being a like, "of course you're going back to men, patriarchy rocks" situation.
You guys, and don't hate me for saying this, but Law & Order: Special Victims Unit sometimes does some really crazy-ass shit in the last seven minutes. See; that's the twist.
My token straight male friend @davelozo got the message, obviously.
HOUSEWIVES:
This however IS offensive! The headline is "Dana Delaney may exit Desperate Housewives: So far this season on "Desperate Housewives," Dana Delany has been a stalker, a psycho and now a lesbian." Read the article; it's actually about her getting a job on another show. (@reuters)
TEGAN & SARA:
A Take Away sat down with Tegan & Sara for an acoustic jam session featuring Nineteen, Alligator and Feel It In My Bones. Obvs they were adorable.
LINDSAY LOHAN:
Sit down for this one kids. La Lohan has graduated from Twitter and is now writing a full-fledged memoir. "I write a lot, and it's very therapeutic for me because then I can see what's happening on paper. I've started writing a book. It's going to take a while, all my life experiences. I started writing it a year ago. There's a lot to put down, you know?" Really, Papi. (@eonline)
HAVILAND:
Autostraddle BFF Haviland Stillwell is trying to raise some funds for her debut album. Check out the video:
JOHNNY WEIR:
Johnny Weir appeared on The Joy Behar Show and addressed the comments that he is "too gay" for figure skating and those remarks by Canadian commentators that he "needed a gender test." If you followed Weir in the Olympics this clip is a must watch, if only for Johnny saying "too gay? It's figure skating — hello!" (@cnn)
In other Weir news, Johnny Weir is strutting around New York City this week and looking fierce. (@dlisted)
LAMBERT:
Adam Lambert has confirmed that he'll be playing at Mardi Gras in Sydney this Saturday! (@samesame)
LADY GAGA: Gaga is on the cover of the new issue of Cosmopolitan and fills out the Cosmo Quiz. (@ontd) And! Alejandro is officially the song of the summer and will be the 3rd single!
JESSICA SIMPSON: After initially telling Oprah she wasn't angry, Jessica Simpson backtracked and admitted she was hella pissed about John Mayer's douchebaggery and said she "doesn't accept his apology" for describing her as "sexual napalm" to Rolling Stone. She also touched on the media's fascination with her weight, saying the fact that she was famous last year for gaining 10 pounds was "ridiculous." And those infamous "Mom Jeans" that sparked name-calling across the Internet? Simpson said they were a size 4. (@abcnews)