by carolyn & riese
Books! They are really great. You just won't believe how great they are. You may think that the Internet's great, but that's just peanuts compared to books. Welcome to Lez Liberty Lit, our new column about literary shit that's happening that you should probably care about. We're aiming to put one of these together twice a month.
The name "Liberty Lit" was inspired by the short-lived literary journal produced by Angela Chase at Liberty High School in 1994.
Header by Rory Midhani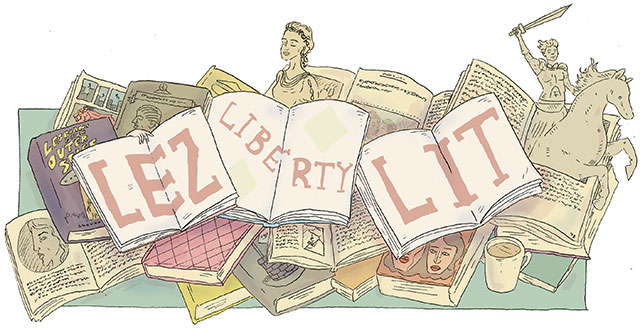 ---
Read a F-cking Book Club:
In case you missed it, the next Read a Fucking Book Club will be reading The Misadventures of Cameron Post by emily danforth, and emily herself is gonna answer your questions and do a giveaway! It's an amazing book that you will love, I promise. Get it and read it now!
+
Literary Internet Place of the Week: Poetry Magazine
Poetry Magazine has been around since 1912 and is dedicated to discovering new poetic voices as well as showcasing recognized ones. You can read every issue it's ever had online for free, as well as browse through its tumblr for a daily literary fix. Recently, it posted a poem by e.e. cummings and a comic about its female founders. You should read it for: finding new poets to read and remembering why you love old ones.
+
Lez Liberty Lit Links:
The Rumpus has a really fantastic interview with Michelle Tea that you should read immediately.
Juliette Tang is a photographer of books. She sets up these amazing photographs that sort of complement the world of reading the book, like little reading scenes for all these different books. You need to go check out her blog and look at all her photos, they're just amazing. See:
+
This Recording brings you In which Nancy Drew Is the Sleuth Of Our Dreams: "That was the thing above all else about Nancy Drew — she was smart. She never flirted for a tip, but relied on her intelligence to get the information, instead"
In By The Book, J.K. Rowling talks about literary genres, her childhood favourites, why she wouldn't want to meet Wodehouse, and more.
Lisa Hager discusses steampunk, gender identity, and sexuality at Tor. She argues that steampunk and other speculative fiction can welcome diversity in a way that mainstream culture finds more difficult, and can challenge ideas of gender and sexuality as a result.
A New York Times trend piece claims that spas and books are heading toward a natural partnership as spas introduce author appearances and book clubs.
If you plan on attending a literary convention or conference, Terrible Minds has 25 tips on how to get the most out of it. A few key points: find writers in the bar, take advantage of everything you can, say hi to your favourite authors without being weird or creepy, do tourist things, act professional, keep your manuscript and amateur-hour business cards to yourself, and walk away reenergized.
The Crunk Feminist Collective spoke with Drs. Ruth Nicole Brown, Chamara Jewel Kwakye and Bettina Love about their latest books, hip hop feminism as a pedagogy, and (in an upcoming part 2) the body and hip hop feminism as Black feminist thought.
Brain Pickings has excerpted Joan Didion's "Why I Write," a piece on meaningless moments, almost dropping out, sentences and more: "Had my credentials been in order I would never have become a writer. Had I been blessed with even limited access to my own mind there would have been no reason to write. I write entirely to find out what I'm thinking, what I'm looking at, what I see and what it means. What I want and what I fear. Why did the oil refineries around Carquinez Straits seem sinister to me in the summer of 1956? Why have the night lights in the bevatron burned in my mind for twenty years? What is going on in these pictures in my mind?"
At the Rumpus, Michelle Dean writes about the comfort of bad books: "I understand why, among writers, who are usually endless-appetite readers as well, the reading of books other than Real Books is a vaguely shameful activity. We all live on borrowed time, and there's DeLillo and Nabokov and Pynchon I'll never get to because of the hours I've spent reading… well, I'm even afraid to tell you their names. You can and will judge. But I do it anyway because sometimes I just need the comfort of falling into something that is ready to catch me. I need it to hold me. That feeling of is a little sacred to me, actually. I guard my escape quite jealously, because there are times when I need it to go on."
At the Lesbrary, Erica reviewed Malinda Lo's Adaptation and Kit reviewed The Miseducation of Cameron Post.
Lambda Literary interviewed Ivan E Coyote on queer youth, spoken word and writing; wrote about Dorothy Allison, Jeanette Winterson, Rebecca Brown and depictions of lesbian sex; and interviewed Amanda Kyle Williams about creating kick-ass women.
You can read samples from the 2012 National Book Award finalists, including Jennifer Egan, Dave Eggers, Louis Erdrich, Junot Díaz and Ben Fountain, for free on the Internet. The winner will be chosen November 14.
Discover has a roundup of female science writers in celebration of Tuesday's Ada Lovelace Day.
At the Awl, Jim Behrle writes about How to Win the Nobel Prize in Literature: "So you didn't win a Nobel Prize in Literature this week. Unless your name is Mr. Mo. Although, if you live in Europe, you did win a consolation Nobel Peace Prize at least. (Giving the Nobel Peace Prize to the European Union is like giving an Oscar to Alf.) Anyway, I know, it's total bullshit. You totally deserved it. But you might just be a calendar year away from getting the recognition you so obviously deserve. Let me show you the way."
Emily Books' pick this month is Promising Young Women, by Suzanne Scanlon, a fictional account of being hospitalized for depression.
National Novel Writing Month, the magical time of year when people all over the world decide to write a 50,000-word novel in a month, leading to a lot of Twitter-based word wars and sleep deprivation, is almost here. Are you thinking of doing it?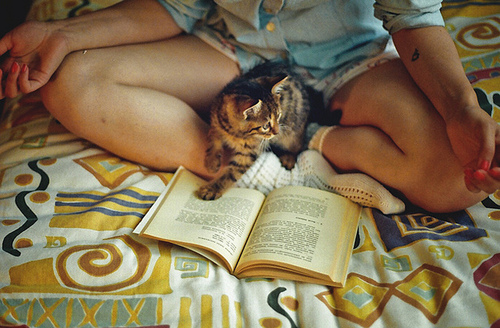 +
Books (And Events) To Watch Out For:
October 19, Oakland: Sparring with Beatnik Ghosts presents spoken word by Penelope Houston (of the Avengers), Chris D (of L.A.'s the Flesh Eaters) and Bucky Sinister at Awaken Cafe (1429 broadway at 15th st), beginning at 7:30 p.m. $5.
October 20, LA: Tomorrow, the one-shot magazine from several GOOD editors who were all fired together, launches at 9 p.m. this Saturday. RSVP for the location and confirmation.
October 18-28, Toronto: Toronto's International Festival of Authors runs until the end of next week and will feature tons of readings, roundtables, and signings.
October 21, New York: The NYC Feminist Zinefest presents Adventures Close to Home: Another Feminist Zine Reading, with Jordan Alam, Kate Angell, Elvis Bakaitis, Daniela Capistrant and Rachel Levy. At Bluestockings (172 Allen St.) at 7 p.m., suggested $5 donation.
October 23, New York: Sex and the Single Girl: The Life and Legacy of Helen Gurley Brown, with Edith Zimmerman, Cat Marnell, and Moe Tkacik, is at Housing Works at 7 p.m.
October 30, New York: Vittoria Repetto is hosting a pre-Halloween Women's/Trans' Poetry Jam and Open Mike at Bluestockings (172 Allen St.). The event starts at 7 p.m. and there is a $5 suggested donation.
October 30, Ottawa: Madeleine George, Alex Sanchez and Mariko Tamaki discuss LGBT YA at the Ottawa Public Library, 7-9 p.m.
November 8, New York: A.M. Holmes, bisexual author of Music for Torching, The Safety of Objects and May We Be Forgiven, will read from and discuss her new book at the Centre for Fiction (17 E. 47th St.) at 7 p.m.
November 15-January 31, New York: Strange Loop Gallery is collaborating with the Bureau of General Services, Queer Division, to create a pop-up bookstore and event space at Strange Loop Gallery (27 Orchard St.). The grand opening is Nov. 15 from 6 to 9 p.m.