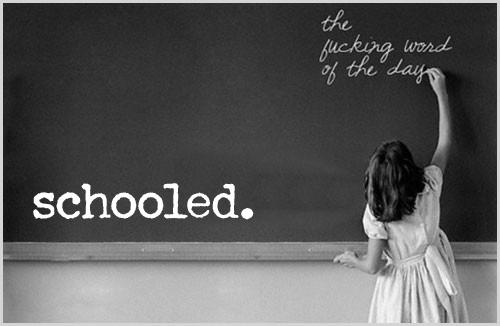 To ring in the new school year, Autostraddle's fall theme is SCHOOLED. We'll be posting stories about queer/feminist issues and experiences with learning, working and playing in and around the education system.

In college, I joined a sorority. Yes, it's true. I was a founding sister of a sorority named Theta Zeta Upsilon, and over my three years as a Theta, I was Pledge Master and Vice President. Perhaps you picture fraternities and sororities as real-life versons of Animal House or the House Bunny, but here's a lesson: life and art often do not resemble one another. In Theta Zeta Upsilon, we never had hot make out sessions in our underwear after epic pillow fights and our parties were never huge raging ordeals with $2,000,000 budgets. Basically, a group of my friends and I didn't feel like the one other sorority on campus fit our personalities, so we made our own. Easy as that. Actually, I take that back; it was a little difficult. Maybe you're thinking about joining a sorority, or even starting a sorority (I'd recommend it!). If so, here's some lessons I've learned from three years of being a Theta.
In Bronxville, New York, there are two colleges. One of them is famously liberal and lesbian-friendly and very rich. The other is really small and conservative and Lutheran and no one has ever heard of it. I attended the latter, Concordia College — New York. As a liberal, non-Lutheran lesbian, maybe this seems like a random decision for me, but those feelings are for a different post.
I remember being anxious about being gay at a tiny Christian college. My mom tried to comfort me by telling me, "They say 1 in 10 people are gay, right? There are 700 students at Concordia, so there should be 70 other gay students." Funnily enough, despite some rather awful anti-gay things that happened to me on behalf of my not-so-nice first roommate, there are a lot of gay, lesbian and bisexual students at Concordia.
I never tried to hide my sexuality at Concordia, and only a handful of people ever said anything negative to me about it (pre-seminary students will always try to save your gay soul, won't they?). No professor or administrator ever said anything about my sexuality. Half of my professors lived on campus and knew the first names of my parents, let me babysit their kids, invited me to eat dinner at their houses and yelled at me during lunch when I skipped their class, but not one of them ever told me my sexuality was wrong.
Yet, the year before I got to Concordia, when a group of students approached the administration with the intention to start a GSA club, they were told no. "Now's not the right time," "We don't want to garner any negative attention," "The Board of Directors might not like it," ad infinitum. Concordia is an LCMS-affiliated college, which means it belongs to the most conservative branch of Lutheranism.
When administration tells you no about a really good idea, you can either fight it or find a way around it. If you can't find a safe space to be queer among other accepting queers and allies, fighting isn't much of an option — you've got to take the detour. Because I couldn't join a GSA, I helped found an inclusive space in Theta Zeta Upsilon. Creating your own community can make it that much stronger; it's something worth fighting for because it belongs to you.
Theta Zeta Upsilon was the brainchild of two of my friends. There were two fraternities and one sorority on campus (the other recently-established sorority fell through pretty early on in its creation). The sorority on campus, despite being made up of many of my close lesbian friends, wasn't a good fit for a few of us. Lauren Beal, our first President, put up flyers around campus inviting interested women to attend a meeting about starting a new sorority.
During the first few meetings, sixteen women and I set some ground rules for our sorority. We were an accepting, relaxed Christian sorority (I wasn't the only queer girl in Theta). We borrowed our brother fraternity's Constitution as a starting point and began to write our own version. We decided to not be affiliated with a national sorority in order to keep our fees low and set our own rules. Plus, we really liked our Greek letters, ΘZY.
We elected an Executive Board and a handful of other positions (I was the first Theta historian, so I made a scrapbook. Is scrapbooking too heteronormative?). We took tests on the Greek alphabet, made a website and jumped through all of the hoops we needed to in order to be recognized as an organization. We made our own traditions and set precedents for future pledging classes by going through them ourselves.
Sometimes we cried. Sometimes we pointed fingers and got really mad. More than one time I wanted to give up, but most of the time we loved each other a lot and sang silly songs together. You call members of a sorority your sisters for a reason — however clichéd it might sound, they do become your family, and are sometimes a better and more accepting family than the one you were born into.
One of the best parts of being in Theta Zeta Upsilon was organizing events. We did a Dark Side of OZ(Y) screening, a 1999 dance, a winter ball, voter registration, several un-birthday parties, sumo wrestling in the quad, and heart disease and breast cancer benefits.
Although it's so rewarding, starting a sorority is really difficult; I won't sugarcoat it. We began in September and did not officially get our letters until February. If you're interested in starting one, consider having an affiliated fraternity or sorority within the college or university to assist you in your endeavor. It's easier to start sororities in smaller colleges, I've found, but that doesn't mean a large university Greek network won't be inviting.
Because we built Theta from the ground up, our path was bit different from joining an already established sorority. These are my tips if you're interested in joining one.
1. I recommend looking for a non-nationally affiliated sorority, unless your fraternity or sorority is dedicated solely to the LGBT community. Nationally affiliated sororities often have higher dues because you're paying people to have a day job and look after your sorority. If your sorority is unique to your college or university, you'll be allowed to have more input on how it is run and there won't be as many politics to deal with.
2. If you do want to join a sorority that is nation-wide because your parents were a part of it or because you like the way their letters look on sweatshirts or because they seem super nice and welcoming, make sure you do your homework and find out how much it's going to cost you to live in the sorority house and pay dues. Talk to lesbians around campus and see what sororities they are a part of, if any, because that will be your biggest clue to see which ones are gay-friendly.
3. If you decide to pledge or rush or go to bid day or whatever your university calls it and you no longer want to be a part of the organization, quit. You can talk to your Pledge Master or Recruitment Chair (I was a Pledge Master and talked one woman out of quitting while telling another it might be for the best) and you can quit. Don't let anyone tell you it's not allowed. It is.
4., Absolutely, by no means subject yourself to embarrassing things to convince other people to like you. Hazing is illegal in most states. Theta Zeta Upsilon pledges wore something as a symbol they were pledging and they had to wear it for around three months. No pledge ever had to chug beers until they passed out, run around the quad naked, sleep with anyone, etc. to get in to our sorority. Don't ever let sisters tell you that they did it so you deserve to do it too. Report any sorority hazing to the Greek and Pan-Hellenic Councils or Student Government Organizations through your university or college, because hazing should be taken seriously.
5. Do not date your sorority sisters. Do not do it. I know this is what bad movies and pulp fiction books of the 1950s want you to believe is sexy and a good idea, but it's not. Date girls from other sororities if you're seriously attracted to the Greek life girls, but do not date within your own sorority. It will make everyone miserable, including yourselves when you break up and can't stand to be in the weekly meetings together.
Each sorority is different. My sorority didn't allow us to be drunk at our own events, but some sororities encourage it. Do your homework and talk to the sisters of the sorority (not just the Recruitment Officer) to see how they feel about their own organization. There are a few sororities that give the rest of us a bad name, but in general, I find that sororities are very inclusive and accepting. There are definitely trans*-inclusive fraternities and sororities out there, I promise.
If you don't feel like you'd fit in with a sorority, I still recommend joining organizations and clubs you're passionate about, and of course, join the GSA or Pride club. That's where the intelligent, passionate, cute girls hang out.
---
Special Note: Autostraddle's "First Person" personal essays do not necessarily reflect the ideals of Autostraddle or its editors, nor do any First Person writers intend to speak on behalf of anyone other than themselves. First Person writers are simply speaking honestly from their own hearts.