Last week Prime Minister Julia Gillard made an impassioned speech against the Opposition Leader Tony Abbott and the world was set ablaze. Gillard justly called Abbott out for his sexist actions and remarks against women. Although many news agencies applauded her actions, other writers called her everything from a hypocrite to a slanderer.
The last criticism? Oh right, Gillard was defaming Abbott because he wasn't a misogynist — at least not according to the dictionary.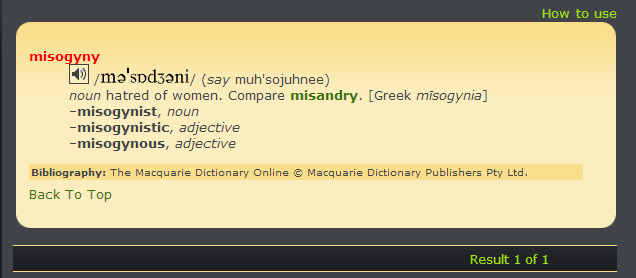 The Macquarie Dictionary is Australia's largest national dictionary and at the time of the speech, misogyny was narrowly defined as "hatred of women." So, if Abbott was able to stand in the same room as a woman, marry a woman or work with a woman (even if he happened to be demoralizing her along the way), he was just swell and peachy in the land of the pedants. In the same way you can't be racist if you're friends with a person of color or you can't be a homophobe if one of your friends happens to be gay, Abbott wasn't a misogynist because he doesn't hate women.
If Abbott had been the one to use that defense it would mean one thing, but infuriatingly enough, news agencies actually made the argument for him by debating semantics and completely overlooking the meaning behind Gillard's words.
Like the context that the speech was part of a deliberate, tested strategy of capitalising on the Coalition's relative unpopularity with women due to Tony Abbott's political aggression by conflating it with the unsupportable allegation that he actually hates females. – Sydney Morning Herald

I don't think [Abbott] hates women – Workplace Relations Minister Bill Shorten
Way to miss the point. Gillard called him as she saw him, that was that. Given his despicable actions, sometimes words like sexist aren't strong enough. Undermining Gillard's actions by painting her as a mud-slinger is simply revolting. If anything, Gillard's ass-kicking speech managed to hone in on a very important point:
If (Mr Abbott) wants to know what misogyny looks like in modern Australia, he does not need a motion in the House of Representatives; he needs a mirror.
Acts of misogyny go as far back as possible and sadly it looks like they'll be around for quite a bit of our future. Every time someone is treated as less than equal because she's a woman, there aren't enough words to express the injustice. Sometimes you have to rely on existing terms but subvert and massage their meaning. Anti-female actions don't feel like just discrimination or prejudice, they feel more like hate. As the world and the face of female-oppression evolve, Gillard was spot on to identify Abbott as a modern day misogynist.
Macquarie Dictionary Editor Sue Butler decided to redefine misogynist to turn the discussion from semantics back to where it belongs. She stated that the 2013 version would better reflect today's common use of the phrase. It would expand beyond the hatred of women to include "entrenched prejudice against women" as well. The dictionary was posed to redefine 300 words that have been evolving away from their printed definition, so Gillard's impassioned speech managed simply made the word more visible.
Misogyny was strict hatred of women and it probably does need a second definition to cover entrenched prejudices of women, as opposed to an out and out fundamental horror at women. We need to add a second definition, which is slightly stronger than sexist but heading in that direction towards entrenched prejudice rather than a visceral hatred. – Susan Butler
But of course, even there, in the face of logic and reasoning, there is still more criticism. Word purists have denounced the action saying words shouldn't be redefined, although other dictionaries have already broadened their definitions. Members of the opposition attacked Butler for redefining the word, accusing her of ceding to Gillard's whims as Macquarie modernized the term. For the criticizers, the word misogynist can only apply to "true" hatred of women, so anything less than that is watering it down.
Our language is a very live language, but in this particular case, you have just robbed the language of a word to use to describe what is truly the hatred of women as evidenced by the Taliban … It is improper to change the meaning of a word simply because Julia Gillard doesn't understand the correct meaning and usage of the words. – Mackellar Bronwyn Bishop
Languages evolve with use. In a perfect world, we wouldn't need to continue using words to distinguish between specific types of hate, but we aren't there yet. If someone is called out as bigoted, homophobic, transphobic, biphobic or misogynistic, the recipient knows exactly what was meant. Labels can be comforting, but they also aren't an impenetrable shield. Common parlance makes words what they are today, even if they don't jive with the ones originally printed in the book.
So even if Butler has to redefine her re-definition, I'll salute her anyways. If she happens to discover a more accurate word to refer to Abbott while doing so, I hope she publishes it.