Today, the 2nd Circuit Court of Appeals in New York became the second appellate court in the nation to rule the Defense of Marriage Act unconstitutional. The decision comes on the heels of May's 1st Circuit ruling against DOMA in Boston and pushes us one step closer to the Supreme Court.
A week after everyone's favorite octogenarian lesbian, Edie Windsor, won her case in June, both the Bipartisan Legal Advocacy Group (BLAG) and – despite arguing in favor of Windsor's lawsuit – the Department of Justice filed an appeal. Arguments before appellate judges Dennis Jacobs, Chester Straub and Christopher Droney began on September 27th and today, a 2 to 1 decision upheld the lower court's ruling.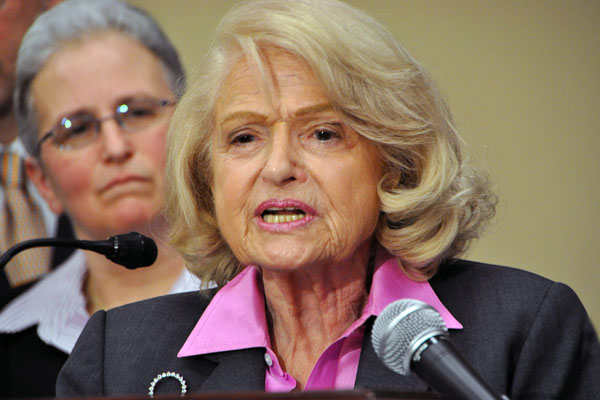 While the ruling has no immediate consequences for Windsor or other couples in the state, the majority opinion, written by George H.W. Bush-appointed, conservative Judge Jacobs, is groundbreaking. Unlike the Boston decision, which ruled against DOMA based on states' rights, the court acknowledged the discriminatory nature of the law and was the first Federal Appeals Court to decide that a case regarding LBG people should be subject to heightened scrutiny. If you harken back to the judgement daze of Prop 8, you might remember just how much of the trial was spent attempting to prove or disprove that LGB people belong to a quasi-suspect class, which would decide whether the case would be subject to rational basis review or intermediate scrutiny. Our legal eagle Jessica did an amazing job explaining all the ins and outs of levels of review to you (and me), but the short version is that heightened scrutiny transfers the burden of persuasion from the plaintiff to the government.
Reading Jacob's opinion is a validating experience. The arguments regarding LBG people as a quasi-suspect class ring true and include such gems as "But whether such discrimination existed in Babylon is neither here nor there." It's worth reading in whole, but to gloss over his breakdown of the case wouldn't do story justice. "To withstand intermediate scrutiny," the judge reminds us, "a classification must be 'substantially related to an important government interest.'wp_postsAmong the "important government interests" that BLAG provides are a desire to main a consistent definition of marriage, protect public funds, avoid "the unknown consequences of a novel redefinition of a foundational social institutionwp_postsand push for responsible procreation. One by one, each point is shot down. If the government is so concerned about consistency, why aren't there federal laws regarding divorce or age of consent? DOMA affects over a thousand federal laws; it would be impossible to argue that it's solely concerned with public fiscal matters. Tradition is, in a word, bullshit – or at least not a legal concept. And as for incentives that encorage responsible procreation for heterosexual couples? Well, it turns out marriage equality doesn't do anything to affect them.
The opinion ends with on a decisive note:
DOMA's classification of same-sex spouses was not substantially related to an important government interest. Accordingly, we hold that Section 3 of DOMA violates equal protection and is therefore unconstitutional.
Our straightforward legal analysis sidesteps the fair point that same-sex marriage is unknown to history and tradition. But law (federal or state) is not concerned with holy matrimony. Government deals with marriage as a civil status–however fundamental–and New York has elected to extend that status to same-sex couples. A state may enforce and dissolve a couple's marriage, but it cannot sanctify or bless it. For that, the pair must go next door.
 The dissent, written by Judge Straub, discusses his belief that the courts should not get involved in contentious matters and should instead leave them to a vote by the public.
Courts should not intervene where there is a robust political debate because doing so poisons the political well, imposing a destructive anti-majoritarian constitutional ruling on a vigorous debate.
It's another victory for all of us who continue to fight for equality, yet we still have a long road ahead of us. Windsor's petition the to Supreme Court is one of four currently waiting for review. It's expected that the Court will hear at least one in the next year. With the presidential election on the horizon and the promise of one or more Justices to the victor, it's uncertain what kind of climate such a case could encounter. For today, though Windsor's thrilled with the outcome; "I know Thea would have been so proud to see how far we have come in our fight to be treated with dignity."