By now, you've heard dozens of variations on jokes about Romney and binders full of women. Regardless of the content (binder halloween costumes! Bill Clinton popping out of nowhere excitedly!) the context is that Romney tried to use a single anecdotal reference that didn't make a lot of sense on the sentence level (it's hard to imagine that repeating "binders full of the dossiers of women campaign professionals" would have been as funny). Because of course, the point Romney was trying to make – that he's invested in women and feminist concerns because he made a concerted effort to hire women to his staff as governor of Massachusetts – is undercut by the fact that he didn't support the Lilly Ledbetter Fair Pay Act, along with a multitude of other facts, several of which Barack Obama has helpfully tweeted about.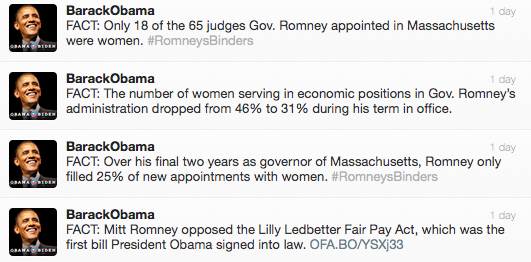 And there's one more fact, as explained by Ann Friedman at the NYT:
"Boston journalist David Bernstein reports that while Romney did indeed find himself with a binder full of women's names, it wasn't something he requested. The binder was put together by MassGAP, a bipartisan group of women who joined forces in 2002 to push Romney's incoming administration to hire more women. Did you catch that? The binder of women was assembled by women and pushed onto Romney's desk, unsolicited."
So we learn that while the "binders full of women" were in fact real, and not an imaginary item to be mocked, they weren't exactly something Mitt can take credit for (much like every claim he makes about how successful Massachusetts is as a state). And even after the binders were introduced, Friedman points out that Romney still didn't exactly promote the women in them to prominent positions within his administration:
 MassGAP claims that between January 2002 and July 2004, 42 percent of Romney's new appointees were women. Bernstein follows up with some sobering details, however: "Those were almost all to head departments and agencies that he didn't care about — and in some cases, that he quite specifically wanted to not really do anything. None of the senior positions Romney cared about — budget, business development, etc. — went to women."
For most of us, these revelations are not really revelations. The fact that Romney wants to defund Planned Parenthood and may well nominate Supreme Court justices who would repeal Roe v. Wade is enough to signal to us that Romney's vision of America doesn't really include equality or opportunity for women. But "us" in this sentence refers to a select demographic that is immersed in the feminist blogosphere, who furiously reblog Mansplaining Paul Ryan, and who had already decided we weren't voting for Romney before he had even won the GOP nomination. What about the person who actually asked the question that Romney was responding to with his binders? According to Salon, Katherine Fenton truly is the unicorn of our times, an undecided voter – and while she considers "women's equality in the workforce" and reproductive rights to be very important, she doesn't identify as a feminist. She's far from being alone. What does Romney's misleading answer mean to her?
When Salon asked her what her feelings are now on the respective candidates' approach to the wage gap, she said "I think people around the president making choices would be more more susceptible to action on that. I don't think Mitt Romney's people might be as concerned as they ought to be." As much as we sometimes want to gnash our teeth and shake our TV sets and shout about how transparent everything is, because we already know the answers. But it's important to remember that there are people who don't feel like the answers are already obvious, and that's really who the debates are for. One can learn more about parties' actual platforms and track records by reading fact checks of the debates than watching them. People who watch the debates for insight onto the candidates may not be looking for the facts or statistics outlined here; they may be looking more for what Fenton describes as her "gut" feeling about candidates. And so depending on how earnest Romney's binder explanation felt, it may not have been the huge gaffe that so many of us experienced it as. In which case we would have to hope that as far as addressing "the war on women," Obama's explanation of his stance towards contraception, fair pay and Planned Parenthood came off as at least as important and sincere as Romney's binders. Because while the facts may be on Obama's side (and ours) in this case, those unfortunately aren't always the deciding factor.