Welcome to the million billionth installment of Make A Thing,  where this ain't our first time at the rodeo and also we make handmade gifts for people. Or ourselves. Or our cats. Mostly our cats. Also this particular Make A Thing is happening on a Thursday instead of a Tuesday; we apologize for the delay.
Header by Rory Midhani
Hello makers of Things. I think we should rename Make A Thing to Hansen Loves Shiny Things (glitter and metallic ALL THE THINGS). Today we've got more metallic coming your way.
Last week, I was told one of my walls was boring because it was bare. I mean, it is boring to have blank walls, but what do you do with the awkward wall that surrounds your window? It's too small of a space to have a picture gallery but too big of a space to just hang a single picture frame. It's awkward. Does anyone else have this problem?
I've been drooling over metallic wallpaper for awhile but unfortunately, I rent so that's a no-go, but this weekend I realized I could just make some metallic wall decals. Duh. Don't you hate it when things are so glaringly obvious you have to roll your eyes at yourself for not thinking of them sooner?
These wall decals would be perfect for a dorm room or rental, because they won't damage your walls when you take them off.
Metallic Wall Decals
Supplies Needed:
+ Contact paper (Any kind will be fine, the spray paint completely covered the faux wood design I had)
+ Metallic spray paint (I used Krylon Metallic in Copper)
+ Clear spray paint (I used Krylon Crystal Clear)
+ Scissors (I cheated and used a circle punch because Mama didn't raise no fool)
Level of Difficulty: My sister is reading Anna Karenina right now, and I jokingly said, "Well, she dies in the end" thinking she already knew. She didn't. This is way easier than trying to say "Just kidding! Anna Karenina totally lives, it's fine!" with a straight face.
1. Lay your contact paper on the ground on top of newspaper. Secure it with something you won't mind getting spray paint on, such as empty beer and cider bottles. We obviously run a classy household over at Casa de Hansen.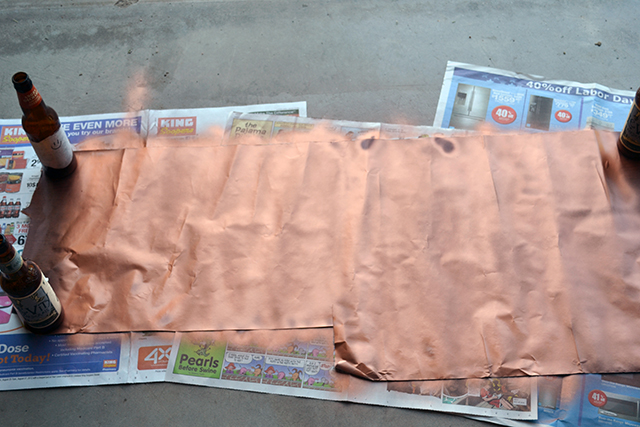 2. Spray your paper according to your spray paint's instructions. Do this in a well ventilated area, like anywhere not inside your house. I did three coats of copper and added a coat of clear after it seemed like the copper paint was rubbing off pretty easily onto my fingers.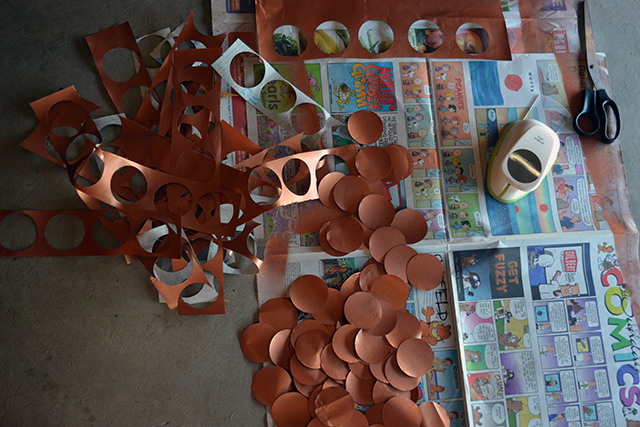 3. Wait at least two hours before you start cutting it. I just used my circle punch because it was handy, but maybe you'll choose to do squares or triangles, you party animal you.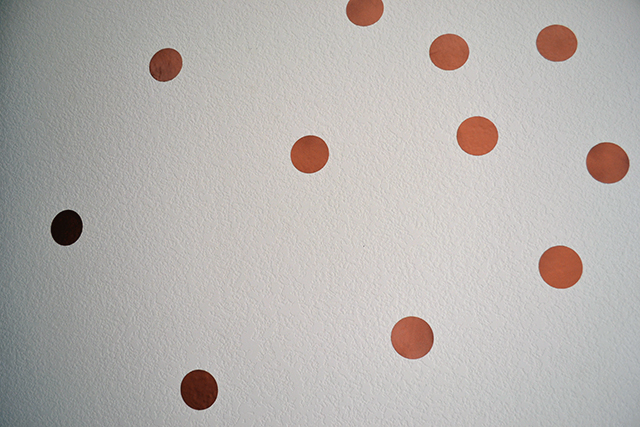 4. Peel off the backing and put them up on your walls. The best thing about contact paper is you can reapply it a few times without losing the stickiness. So experiment with placement and don't be afraid to just start sticking them on randomly.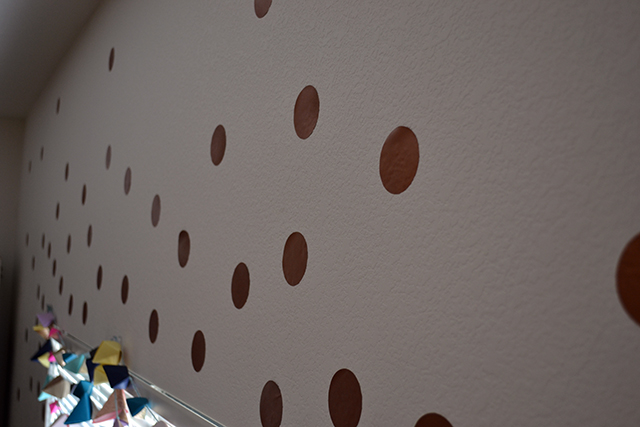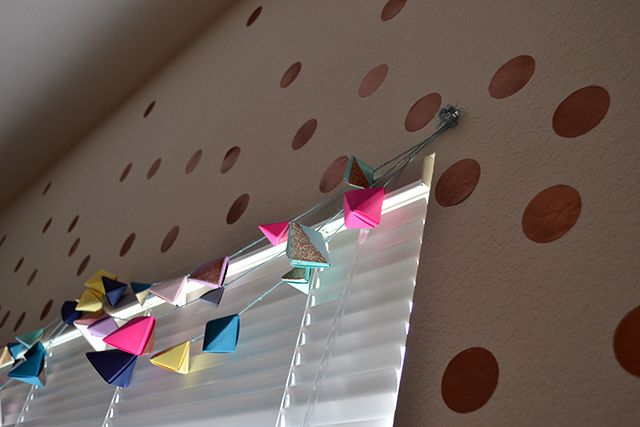 Oh hey, remember that garland we made once?
All done! Step back and admire your beautiful handiwork while you realize your bedroom now looks like a twee circus explosion, but you're kind of okay with that.