Welcome to the gazillionth installment of Make A Thing,  where we make handmade gifts for people. Or ourselves. Or our cats. Mostly our cats.
Header by Rory Midhani
I feel like it has been a really long time since I've posted a craft tutorial. I've missed you, is what I'm saying. Why don't we make something fun and easy to get back into the swing of things while I mourn that this is my last week of summer.
Constellation Pendant Necklace
I've seen these constellation pendant necklaces everywhere. I really like them, but every time I see them, I think "I could make that" which is my life's greatest downfall. I attempted to make this pendant earlier this week and failed terribly. I figured instead of busting out my dremel, I could just make the holes in the metal pendant with a hammer and nail. Unfortunately, the nail wouldn't go through the metal at all! I asked my brother what he thought I was doing wrong, and he laughed when I showed him I was trying to use a piece of cardboard under the pendant when I was nailing it. We found a block of wood and tried it under the pendant for stability instead. It worked! Hence the man hands in this tutorial. No shame in asking for help. Thank you, Kevin!
Supplies Needed:
+ Metal pendant blank (I found mine at Michaels in the bead and jewelry section)
+ Nail
+ Hammer
+ Stable surface, like a block of wood you happen to have lying around
+ Constellation of choice, astrological or otherwise
+ Wire or a jump ring
+ Chain necklace
Level of Difficulty: When I was younger, my brother convinced me that I was hatched out of an egg. This is easier than accepting that as truth.
1. Important step: find a block of wood. Can you skip this step? No.
2. Draw your constellation onto your pendant blank. I did Taurus, because I'm a Taurus and I am keeping this pretty thing for myself. I also made a Leo for my best friend but she doesn't know this yet. I freehanded mine onto the pendant in approximate locations, assuring myself that no astronomers would be reading this and rolling their eyes at me. Astronomers, I apologize in advance for my haphazard star placement and I have more respect for your star maps.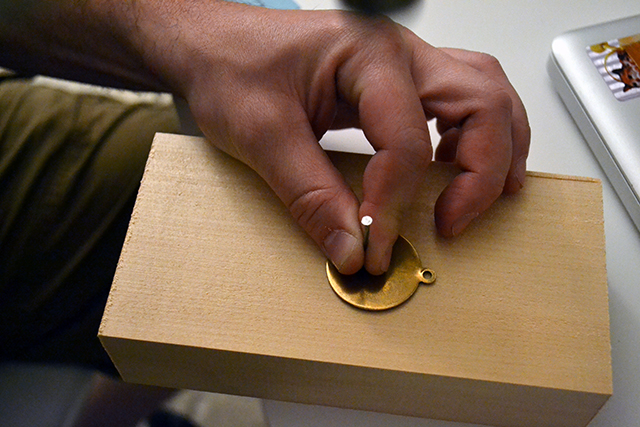 3. Okay, start nailing. I started with the biggest star in the middle of the constellation. Optional but not recommended step: keep your laptop really close to where you're hammering on your desk.
4. Make sure you hold the nail super straight because, as you can see, if you don't do that it bends and can hurt you. This is the only picture of my attempts for a reason, because then I bashed my thumb. Obviously I need more Butchin' It Up classes.
5. Keep on keepin' on. Your pendant may warp a tiny bit, but you can just pound it back into place.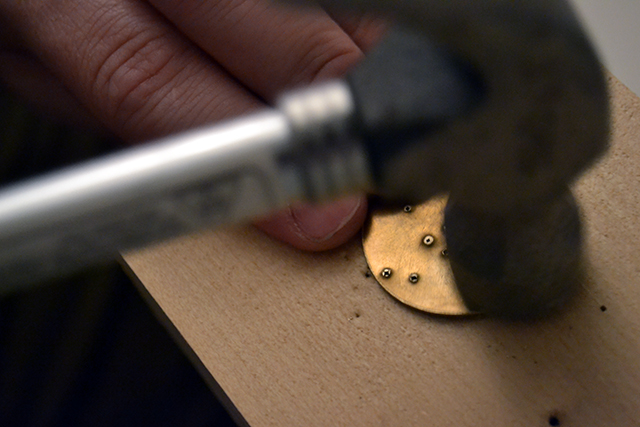 6. We also hammered the back of the pendant to push down the sharp edges of the holes from the other side.
7. I lacked jump rings, so I connected my pendant to my chain with wire.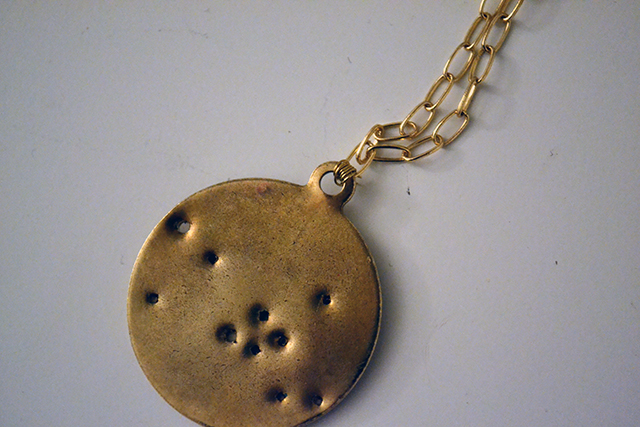 8. Tah dah! All attached and ready to be worn proudly by a Taurus!