"Dead parents. Random acts of shoplifting. Girls kissing girls in barns, in twisty slides on playgrounds, in abandoned hospitals. A Victorian dollhouse with all kinds of weird shit glued to it. The compulsive renting and watching of 99cent videos. Miles City, Montana. The 1990s. Swimming. Summer. Cowgirls. Dinosaur discovering. Ferris Wheels. Conversion therapy. Taco Johns. A girl named Jane Fonda and the hollowed compartment in her prosthetic leg. The way a mountain-toppling earthquake that happened some thirty years before keeps aftershocking our hero: Cameron Post. Yup: it's coming of age, it's coming of GAYge, it's a Bildungsroman, a novel of development, it's all of these things, none of these things, and it would be kick-ass if you gave it a whirl."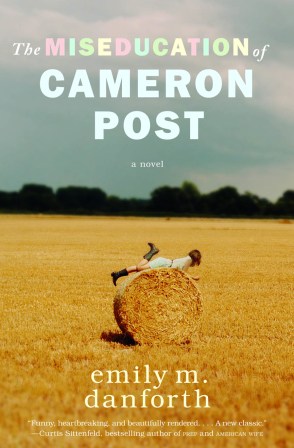 I didn't read the back of the book or the book flap or anything, I just opened the book and started reading it. It was that part of a flight where you can't use any electronic devices and I had The Miseducation of Cameron Post because it's this new incredible lesbian YA novel I've heard good things about. Nothing specific, just good things in general. I mean Nancy Garden — Annie On My Mind Nancy Garden — said it was "one of the best and most honest portraits of a young lesbian I've read in years" and asserted that "this is a story that keeps you reading way into the night — an absorbing, suspenseful and important book." Nancy Garden, you guys!
Then it was the part of the flight where I was supposed to be getting really upset that we were still sitting on the tarmac and I was gonna miss my connection in Atlanta, but instead I was reading this book. Then it was the part where I was invited to whip out my kindle or laptop, and instead I kept reading this book. I just barely made my connecting flight, by the way, but I made it, and then when I got to Ohio I stayed up 'til 5 AM reading this book. "Way into the night," just like Nancy. Nancy isn't alone in her affection for this book— as cited on danforth's website, Cameron Post "received starred reviews from Kirkus, Booklist, Publishers Weekly, and School Library Journal, and was praised in the LA Times, The Boston Globe, The Seattle Stranger, USA Today, Entertainment Weekly, and NPR, whose reviewer called it "a skillfully and beautifully written story that does what the best books do: It shows us ourselves in the lives of others."
Reading it just made me feel like I was at home, moreso than any lesbian novel I've read before or since, and the closest I've felt to any novel since The Perks of Being a Wallflower. It takes place in Montana, mostly in the 90s, and stars Cameron Post, a bright funny budding lesbian whose parents die in a car accident the same day she kisses a girl for the first time.
Speaking of first times, I want to read this book again for the first time — but I can't. So instead, I'm gonna have y'all read it and then live vicariously through your feelings about the book!
Which is why I am officially announcing that the next selection for the Autostraddle Read a Fucking Book Club is Emily M. Danforth's "The Miseducation of Cameron Post" and I am 86 kinds of excited for this.
So, here's how this is gonna work:
1) Get the Book!
If you purchase the book via amazon, Autostraddle gets a kickback, which's lovely and makes everybody happy. Overseas? Purchase the book via The Book Depository and Autostraddle will get a kickback, which ALSO makes everybody happy!
(If you'd rather purchase it in a brick-and-mortar bookshop though, we encourage you to patronize your local independent bookshops if you have one nearby!)
Pro tip: if the physical book is too pricey for you and it's not at the library, you can download a free app that enables you to read the less-expensive kindle version on your computer.
2) Read The Book and Think About Questions for Emily!
This time book club's gonna be super-special because emily m. danforth herself will be participating in Read A F-cking Book Club! Yup!
So, as you're reading, if there are any questions you'd like to ask emily, write them down, 'cause we'll be collecting them from you in November and that'll be a way to enter the Cameron Post Giveaway Contest we'll conduct on November 1st. This giveaway will include a Lindsey Lloyd care package like the kind she sends to Cameron in the book (which will include a Lindsey Lloyd mixtape, obvs), and you will understand precisely how kickass that is when you read the book.
3) Finish Reading the Book!
On November 8th, it'll be time to talk about Cameron Post together as a family. Be prepared.