Our September A-Camp Event included the ever-so-popular "Sex Panel," via which Sexual Experts Mollie, Sara, Intern Daniela, Riese, Ali and Carolyn answered pressing lesbosexy sex questions before an audience of 200 lusty ladies. We laughed, we cried, we came in our pants.
Now A-Camp is over but the feelings keep coming. Or having difficulty coming without a vibrator, depending on who you ask. We couldn't answer all your questions at the sex panel, so now it's your turn to answer them for each other, Formspring Friday style.
We also promised the audience at the sex panel that we'd put together a post featuring all the toys and resources we discussed during the panel, so we've also included all of that and more!
16 Questions From the Sex Panel for You to Answer This NSFW Sunday
1. Do people actually use dental dams? (Related: If your partner has a cold and goes down on you, can you catch it?)
2. Two-thirds of women I've been with are against any form of sexual penetration. Is this more or less common in the queer community?
3. Navigating threesomes: helpful suggestions?
4. How do you end a casual sexual relationship when one party starts to develop feelings for the other?
5. How do you approach trying new things with a more experienced partner?
6. I am a "lesbian virgin." I had sex with boys before I knew I was gay. I'm afraid to tell anyone. I only came out two years ago. Should I let a partner know before sex? (Related: I've been out for 10 years and am in my mid-20s. I think this leads people to think I'm more experienced. What is a non-self-depreciating way to say I've only had sex a couple of times, in 2008?)
7. How do I tell potential romantic partners that I'm not going to sleep with them right away? I'm a queer survivor but don't want to be like, "HERE'S BAGGAGE!"
8. Why can't my girlfriend cuddle more?
9. How (in a new relationship) do you bring up the subject of light bondage if you are a sexually awkward person? (Related: What BDSM resources are there beyond 50 Shades of Grey?) (Also related: How can I be submissive in bed sometimes but still get my partner to treat me equally outside of bed?)
10. What if my fingers aren't long enough?
11. I've never used sex toys. Am I really missing out?
12. How do you deal with the issue of having a girlfriend/partner who is unable to orgasm? Being an over-achiever myself. (Related: My partner hasn't been able to come for two months. Us having sex or her masturbating alone makes no difference. Can you give some advice?) (Also related: What do you do when you hook up with someone and you don't get them off? I feel like I want to apologize, but that seems awkward.)
13. I don't really get off with partners very often because I've become almost addicted to the way I touch myself when I masturbate and don't know what I like. What's the best way to explore? I'm afraid of giving feedback because it seems overly critical. (Related: Tips for getting off (clit) with only using fingers? It's hard for me to do it to myself (I love vibrators!) but it doesn't do it for me when someone else does it.)
14. My lady and I are very mismatched in terms of our desire for sex. She prefers once every six-ish weeks. I would prefer one to two times per week. How can we address this?
15. Lately I feel very reluctant to express anything about my sexuality (desires, opinions, creativity, etc.) because it feels like I'm "too much" or "coming on too strong." I feel like it would be more ok if I was attractive or cool or at least more normative. How do I figure out a good balance of self-expression, appropriateness, and deal with people's expectations of what a "proper," "erotic" person/expression is?
16. How do you know when it's time to go?
Toys
+ A portable under the bed restraint system helps you tie someone up even if there's nothing to tie them to (read Autostraddle's review).
+ A thigh harness is helpful if you have back or wrist problems, or just want another way to have sex.
+ Autostraddle is a long-time fan of the RodeOH Harness. We also like the Velvet Nest Harness if you want something femmier.
+ If you want to skip messing about with harnesses entirely, try the Feeldoe (though some panelists prefer the Share), which you keep in place with your Kegel muscles. The Sonic double dildo is also an option.
+ Smart balls are lots of fun. Part sex aid and part everything awesome, smart balls (or kegel balls) feel neat and help strengthen your pelvic floor. Try the Ami Silicone Kegel Exercisers or the Teneo Silicone Kegel Balls.
Resources
+ The Coalition for Toxic Toys is a necessary guide to safe and unsafe sex toys.
+ Scarleteen's yes/no/maybe checklist is a tool to help you talk about sex with your partner. They suggest rating the sex acts on the list with yes, no, maybe, I don't know, or fantasy. Instead, try rating from 1 to 5, with 1 being not interested at all and 5 being very interested. For things that aren't sex acts, answer the questions as honestly as you can so that when you talk to your partner about sex you've done your homework.
+ Scarleteen also has tips on how to talk about sex with a partner or potential partner, and a great beginner resource for kink and BDSM.
+ If you feel silly wearing a cock, Sinclair Sexsmith write about how to take butch cock seriously and being confident.
+ Books to look into include The Ultimate Guide to Kink: BDSM, Role Play and the Erotic Edge, edited by Tristan Taormino and The Seductive Art of Japanese Bondage, by Midori. Also try The New Topping Book and The New Bottoming Book, by Dossie Easton and Janet W. Hardy, How to be Kinky: A Beginner's Guide to BDSM, by Morpheous, and Susie Sexpert's Lesbian Sex World.
+ You can also check out NSFW Sunday's Bondage 101 or really, all of the Bondage Month archives.
+ Porn is a great way to discover things you might be interested in. Our recommendations include the Crashpad Series, the work of Jiz Lee, Sugarbutch, and past winners and nominees for the Feminist Porn Awards. For erotica, try Say Please: Lesbian BDSM Erotica, Best Lesbian Bondage Erotica, author D.L. King, and books edited by Rachel Kramer Bussel or Tristan Taormino.
+ Also: the answer to the question, How do you Autostraddle?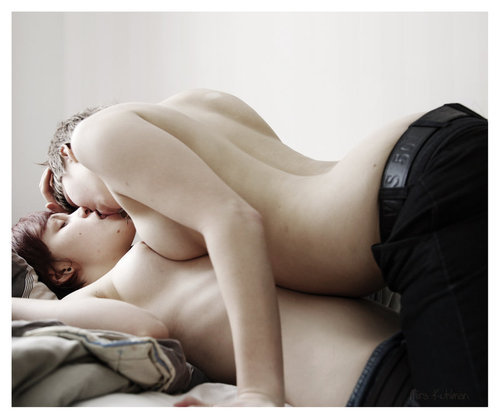 Disclaimer: All of the photographs on NSFW Sundays are taken from various tumblrs and do not belong to us. All are linked and credited to the best of our abilities in hopes of attracting more traffic to the tumblrs and photographers who have blessed us with this imagery. The inclusion of a photograph here should not be interpreted as an assertion of the model's gender identity or sexual orientation. If there is a photo included here that belongs to you and you want it removed, please email our tech director at cee [at] autostraddle dot com and it will be removed promptly, no questions asked.