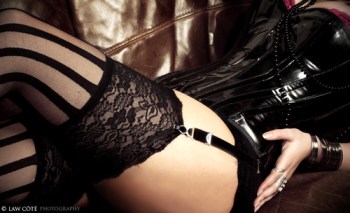 When we talked about how to have lesbian sex for the first time, we told you we'd keep it simple and vanilla. But it can be tons of fun to make things a little kinkier, which is why we've declared that February is Bondage Month on Autostraddle! Every week we'll publish a bondage-themed NSFW Sunday and a non-bondage-themed NSFW Sunday, which is double the fun for those of you who enjoy both. So far, we've talked about: + Bondage 101: A Lesbian Sexy NSFW Sunday Special + NSFW Lesbosexy Sunday Wants to Tie You Up 100 Times + Writing Dirty With Rachel Kramer Bussel: The Autostraddle Interview + NSFW Lesbosexy Sunday Wants You to Read a F*cking Book about BDSM: The Ultimate Guide + "Hogtied," by Sinclair Sexsmith Today, we're talking about toys! Let's get started.

A Note About Toys
It's fun to tie someone up, but even more fun/necessary to tie someone up in a way where they won't get hurt (accidentally). But it's also bad to focus to much on the mechanics of whatever you're using, rather than on the person you're using them with.
Impact toys are anything you might use to hit someone with, including floggers, paddles, canes and crops. You can generally tell what sort of impact a toy will have by its size and materials:
+ Deerskin floggers are lighter, while leather floggers are heavier and feel deeper. Rubber floggers feel snappy.  Shorter floggers are easier to control, generally. And the more tails something has, the more "thuddy" (on a scale from thuddy to sharp) it feels.
+ Paddles made from hard materials feel harder, while paddles made from leather can create anything from a thud to a sting, depending on how you use them.
+ Crops and canes feel sharp, mostly because they have flexible stems and can build up momentum (canes do this more than crops, since they are entirely flexible). If you have never used either, test them out on your own thigh first to get a feel for how hard they hit.
+ For a free alternative, use: your hands. As a queer lady/person, you should be familiar with using your hands (if not, my condolences to your activity partners). They won't have the impact that a wooden paddle will, but that is not always a bad thing.
+ To use impact toys, start slowly and gently and build up, using a steady rhythm. Aim for fleshy areas (her butt), and avoid joints, and her spine or lower back (read: kidneys). One of the best places, both because you won't hit someone's spine and because fun nerve endings are nearby, is her lower butt and the tops of her thighs. Also remember: pain tolerance goes up when you're turned on.
+ Also: communicate! Consider getting whoever is on bottom to choose a number of strokes or to rate them on a level of pain (1-10), which can be fun if they want to request "a number 7," and can be useful if you're just starting out and don't have a clear idea of what things feel like.
Nipple clamps are exactly what they sound like. The sensation can vary from light to severe (to "on vibrate"), and can often be controlled by something on the toy (like a sliding bar of intensity).
+ Clamps that look like claws or teeth will usually feel sharper.
+ Tweezer clamps, which look like thin tweezers or opened bobby pins, are better for people with larger nippes.
+ Clamps with a wide, flat mouth are more severe, and work for all sizes of nipples.
+ Because all kinds of clamps can feel intense even if they're lighter (and feel even more intense when they're suddenly removed), start with leaving them on for only 10 minutes or so, and build to leaving them on longer.
+ For a free alternative, use: your fingers. Your fingers are not ideal, since ideally you would be using nipple clamps so your fingers could be elsewhere, but they are a good warm up. Clothes pins do work, but if you're just starting out, I wouldn't recommend them.
Restraints include cuffs, rope, and cuffs/rope-like items such as the bondage tape reviewed below. They are lots of fun.
+ Cuffs are often made of leather or nylon, often buckle or velcro closed (buckles are harder to escape from), can come with connectors that let you attach rope or clips, and are the safest option for restraining someone. They are also lined, which is important for comfort.
+ Police-style handcuffs look and feel fun, but are best when you want to lightly restrain someone and they won't actually be fighting or pulling on them. Because they tend to be thin, they put a lot of pressure on a delicate/small area, which is Not Good.
+ Rope is a lot of fun, but make sure you read a book / watch a video / do your research first (here's our guide).
+ Unless you already have some soft nylon rope with at least a 1/2-inch diameter, there aren't really any free safe options for restraining someone. Pantyhose and scarves seem like good ideas, and can feel sexy, but they often continue to tighten once they're tied, which can cut off and damage circulation. Cuffs, however, are more expensive, so start with rope and a how-to video for basic rope handcuffs and go from there.
+ If you are tying someone up, have safety scissors (or the key to their cuffs, if there are keys) on hand, just in case. Never restrain someone by the neck, avoid joints, and check in often. If the restrained person starts to feel tingling or numbness anywhere, or to get cold hands and feet, that is Not Good.

Autostraddle Anonymous Sex Toy Review #15 to #18:
It's our 15th to 18th Autostraddle Anonymous Sex Toy Reviews! Over the last few years, we've been propositioned frequently by sex toy companies wondering if we'd like to review their toy in exchange for, you know, their toys. This week we have some cool restraints and steampunky nipple clamps from the Bondage and Fetish Toys department at Good Vibrations.
Description: "Turn any bed into a bondage playground in minutes — just slide the straps under the mattress and voila… you're fit to be tied. Restrain your partner's arms and legs from the sides or top and bottom of the bed with four 60″ straps and cuffs."
If you want to be tied to something and you don't have a headboard, the under-bed restraint system is probably like a gift from the heavens or something. Also though, if you do have a headboard and you agree that hearing it slam against the wall while you're struggling to free yourself is a huge turn-off, then this system is still a big deal. I never want to be That Couple, you know? The Headboard Couple you can hear through the walls. This restraint system allows you to thrash and pull without making a sound. The setup was super quick and easy. As someone who is really serious about my bedroom not looking like a sex den, I can tell you that the straps are easily hidden by just tucking them under the corners of the mattress. So on a visual level, your mom could drop in without you needing to scramble into the bedroom to hide everything. I feel like the same can't be said about a sex swing, so that's something. Ater I'd been bound to the bed and started struggling, the straps never loosened on their own, which is so nice because almost nothing is more disappointing than actually freeing yourself. When she'd unintentionally given me too much slack, my arms or legs would be yanked tighter with what seemed like one quick motion, so readjusting the straps won't really get in the way of what you're already doing. The cuffs are nice, unassuming little things with velcro closures, and while that ripping sound might be a little off-putting, it also means that the cuffs are entirely adjustable! They're pretty comfortable, too — I fought against them for an hour before we switched to the red light wrist restraints (below!), and my wrists and ankles weren't bruised or irritated the next day. If you're the type who wants to be bruised, I guess you could always try harder?
Description: These lush cuffs are made from soft, pliable leather with sturdy metal hardware to keep your prisoner of love securely bound to your desire, while the plush red lining keeps them in comfort. Solid metal D-rings allow these cuffs to be used with the included double clip or almost any other connector you prefer. Unique rounded fasteners on the buckles aid in quick release, making these cuffs ideal for your light and fantasy bondage adventures. Super soft and sexy, the Red Light Wrist Restraints are a sizzling way to pull out all the stops in your bedroom play.
Black leather with red fleece lining and metal hardware
8 ½" x 2 ¼" (21.6 cm x 5.7 cm)
Set of two wrist cuffs and double clip connector

+
This is my favorite pair of wrist cuffs ever and you will never convince me that there's a better set of wrist cuffs out there in the world. The red fleece lining is playful/sexy, but also super comfortable, while the outside is all business. They're a little cumbersome to put on and adjust in a hurry, so if you're using them in tandem with the under-bed restraints — and why wouldn't you, really — you should probably start out with these and then move to the velcro cuffs. But what makes them cumbersome is also what makes them hot as fuck: that buckle. The process of putting them on, or having them put on you, is possibly sexier than actually having them on. Does that sound crazy? It's not crazy. We used the included clip connector to attach my wrists to the o-ring on one of the straps from the under-bed system and that was a winning idea. I just really fucking love these cuffs.
Description: "These mandible-style brass nipple clamps feature two sturdy screw clamps joined together by a removable chain, and are patterned after Victorian Era surgical clamps to add an element of elegance to your erotic play. Rubbery PVC tips on each clamp hold fast to the body while screw knobs adjust the grip from very light to intense, allowing you to indulge in a variety of stimulating scenarios."
Let me be totally honest with you: nipple clamps scare me. I like sucking and licking and biting and pinching — I'll even go as far as flicking — but clamping, you guys. Clamping seems like serious business. I had zero previous experience with clamps and nothing to compare these to, which was neat! They're pretty, as clamps go. I felt a little like a steampunk sex slave, and I was ok with that. I learned a couple of things, too, like that I prefer friction on the tips of my nipples and not the sides. Additionally, I learned that my girlfriend really, really likes the way I look wearing these nipple clamps. Really.
Description: "This reusable PVC tape is designed to stick only to itself, making it easy to apply – just overlap the ends for superior staying power that holds tight until you unwrap it. The adhesive-free design allows for pain-free removal without snagging or tearing and can rolled back up for repeated use."
This tape is so fucking amazing, I can't believe it's only $8 and I can't believe I've never used it before. Do you know how many things you can do with this tape? No! No one does! There are so many things to do, we probably won't figure them all out in our lifetimes.  First of all, it's not sticky. I know the description states that it's adhesive-free, but I didn't believe them until I saw it. It's like a giant never-ending roll of colorforms, but for sex. You stick the tape onto itself and BAM. Stuck. Also, there are no scissors necessary, so you can just use your teeth like a barbarian. And! It's reusable! You just unwind the tape, maybe wipe it off because that's a good idea, and then it's ready to go the next time you need your ankles bound together. But wait that's not all! My girlfriend had used electrical tape before, but not bondage tape, and she was super happy that this tape didn't have a weird odor like electrical kind. So many perks, seriously. Did you forget to bring a blindfold? Bondage tape. No cuffs for wrist restraints? Bondage tape. Need a quick, sexy bra situation? Bondage tape. Wanna be a mummy? Fucking bondage tape!
Disclaimer: All of the photographs on NSFW Sundays are taken from various tumblrs and do not belong to us. All are linked and credited to the best of our abilities in hopes of attracting more traffic to the tumblrs and photographers who have blessed us with this imagery. The inclusion of a photograph here should not be interpreted as an assertion of the model's gender identity or sexual orientation. If there is a photo included here that belongs to you and you want it removed, please email our tech director at cee [at] autostraddle dot com and it will be removed promptly, no questions asked.